All of this week and next, every morning at 10am sharp a group of some two dozen bike riders clad in green-and-black kit assembles in the underground parking lot of a large hotel on the southern side of Gran Canaria. Gearing is tweaked, drinking bottles are collected and helmets adjusted as they prepare for the day's training. And among them, with a huge scar on his right knee from the crash that perhaps cost him this year's Tour de France, is Alberto Contador – the rival whom Britain's top stage racer Chris Froome recently identified as the "rider to beat" in next year's Tour.
Next July, in fact, will be the latest chapter of a duel for cycling supremacy between Froome and Contador which stretches back to early 2013 – and which has proved so enthralling because neither, so far, seems able to gain definitive domination. Contador, 32 tomorrow, was able to outpace Froome, 29, to win the Vuelta a España in September – after both had crashed out of the Tour de France. But, given Froome's decisive defeat of Contador in last year's Tour, the Spaniard knows it will be no easy task to do so again.
It is not surprising that Contador and his Tinkoff-Saxo squad have decided to start laying down early foundations for what promises to be a very arduous 2015, the warm weather for training being the real draw of the Canary Islands. As Contador tells The Independent, the fact that Froome has just confirmed, after some very public hesitation, that the Tour will definitely be his top objective next year, gives him added motivation – and will ensure the result, whatever it may be, is a more widely respected one.
"I wanted him to decide to do the Tour. We all know what it's like, when the participation isn't as high-level as it might be in a race, a lot of the time people start to question the result," Contador argues. Indeed, a good example of that is this year's Tour, where Vincenzo Nibali, with neither Froome nor Contador present for long, took a well-deserved, but somewhat tediously  one-sided triumph.
"[They say] 'and if so-and-so had been there, or if this and this had happened…' I'm sure that if me and Chris had been on this year's race, Nibali's status would be even higher than it now is following his Tour win," he adds.
However, it is Froome on whom Contador will be focused next year, to the point he says: "There will be other rivals, but the rider who will be the most difficult to beat in the Tour will be Froome. And it doesn't matter whether there's a long time trial [a discipline in which Froome has excelled and lacking from the 2015 Tour route] or not."
Contador rubbishes the idea that Froome will be at a disadvantage with less time trialling in the route, something another Spanish former Tour winner, Pedro Delgado, recently claimed, calling 2015 "an anti-Froome Tour". After all, the British rider, as Contador points out, has turned in some devastating mountain rides in his time.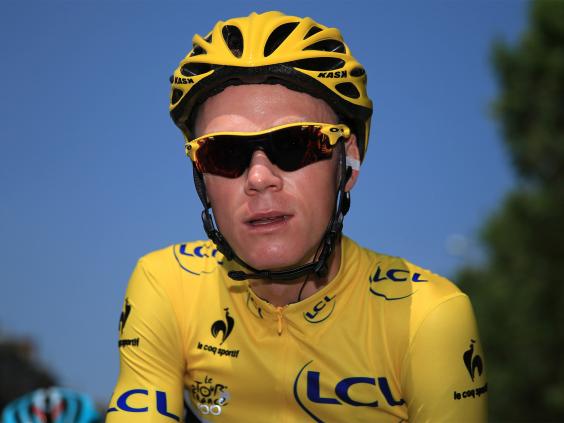 "He's won on really tough climbs here, there and everywhere. Take the Tour of Oman this February for example, he wanted to win there and so to do that, he broke away on its toughest climb and won. Alone.
"So what does it matter [to him] if it's a really mountainous Tour? It makes me smile when people say, 'Ah, it's not good for Froome'. He's a superb climber who's also an amazing time trialist."
Contador is cautious, too, about how big a morale boost beating Froome in the Vuelta will be for him next July. "Undoubtedly, he is one of the big reference points in the Tour, and with a better level of participation, the more motivation you have. But you have to remember that every race is different, every season we all start from zero, even  if [and he smiles] for your head it's better to finish first than second."
Froome and Contador will first cross swords in the mountains in mid-February  for the five-day Tour of Andalusia, which has two summit finishes and – by happy coincidence for the fans – both riders have selected as their first race of the season. But it is a sign of Contador's continuing ambition that he not only wants to beat Froome in the Tour in 2015.
The Spaniard also aims to become the first rider to win the almost equally difficult Giro d'Italia, Italy's equivalent three-week race, and then triumph in the Tour since the late Marco Pantani in 1998.
"When it comes to the Giro and Tour, for me neither has priority over the other," Contador says. "It's going to be all out for the Giro and then I'll have to recover as best I can. I know it's risky, with such a short period of time between the two, but it's a challenge, it's something that I've never done before as a deliberate choice.
"In 2011 I only did the Tour after the Giro because I was told I had to go there at the last moment. But I didn't plan it. Let's see if it's possible to win one, both... or maybe neither," he adds with a smile.
"Everybody thinks I will win it, and if I don't it's a disaster. So it's extra pressure. But you want to do something different and the last time [somebody took both Giro and Tour] was in 1998. So whether it's good or bad, that's my choice." And it will be one which could prove critical, too, in the next chapter of the Contador v Froome saga – perhaps the most intriguing of them all.
Reuse content