Barcelona are a brilliant side full of world-class players, but on Tuesday night Arsenal effectively knocked themselves out of the Champions League, and not for the first time.
This was the fourth year in a row when Arsenal lost their last-16 first leg at home, simply because they were too desperate to win a game they could have drawn. In each of the last three years, a 0-0 at the Emirates, combined with their second leg away result, would have sent them through to the quarter-finals.
But this Arsenal team do not learn. They are an experienced side, not that you would not know it from how they play: naive, panicky and anxious, especially at home and also when they do not take an early lead. This is more likely than anything else to cost them the Premier League title this season.
Arsène Wenger's side go to Manchester United on Sunday and if it is 0-0 at half-time, as it often is at Old Trafford these days, Arsenal must keep their heads, stay calm, and not chase the game so hard they expose themselves to the counter-attack.
That is what happened on Tuesday. Wenger said before the game that 0-0 at home "is not a bad score", and that his team had caused their own problems recently by conceding in the first leg. And in the first half, Arsenal looked to have taken that message on board. They were tactically perfect, and did not allow Barcelona a single shot on target. When one full-back went forward, the other one stayed back. When one central midfielder attacked, the other one sat. The game plan was working.
Arsenal 0 Barcelona 2 player ratings
Arsenal 0 Barcelona 2 player ratings
1/22 Arsenal: Cech 6 out of 10

Was not needed for the first 50 mins but proved himself to be supremely reliable when called upon to save from Neymar as pressure grew.

2/22 Bellerin 6 out of 10

Yet again the youngster raised his game under the pressure of an elite opponent. Neymar gave him plenty to worry about but Bellerin kept coming back.

3/22 Mertesacker 7 out of 10

Gobbled up the never-ending stream of crosses Barcelona fired towards him in the first half. Set the tone for a impressive defensive effort.

4/22 Koscielny 6 out of 10

Hurled himself in the way of any ball aimed at Arsenal's goal and had doubled up well on Messi for 70 minutes. Then he tired and the hosts defence collapsed.

2016 Getty Images

5/22 Monreal 6 out of 10

Earned himself 85 minutes on a tightrope with a needless booking for fouling Rakitic but he dealt well with the pressure and kept a close eye on Messi.

6/22 Coquelin 7 out of 10

A disciplined, commanding display at the heart of the Arsenal rearguard. He wasn't afraid of getting physical in slowing Barcelona's attacks, and it worked.

7/22 Ramsey 7 out of 10

The embodiment of so much that Arsenal got right tonight. Ramsey was committed in defence but drove forward to provide support to Giroud through the middle.

2016 The Arsenal Football Club Plc

8/22 Oxlade-Chamberlain 6 out of 10

Full of industry but somewhat lacking in quality in critical moments, as typified when he missed a dream chance from close range on 22 minutes.

2016 Getty Images

9/22 Ozil 6 out of 10

This wasn't a game suited to Ozil's qualities, with Arsenal rarely having the ball for long enough for him to settle. Impressive in patches but no more than that.

2016 The Arsenal Football Club Plc

10/22 Sanchez 7 out of 10

Much improved from his recent indifferent spell, he powered at the heart of Barcelona's defence, giving Pique plenty of cause for concern.

2016 Getty Images

11/22 Giroud 7 out of 10

Embraced his aerial dominance over Mascherano and Pique, offering his team-mates a vital outball when the pressure became too much to bear.

12/22 Barcelona: Ter Stegen 7 out of 10

Arguably the busier of the two keepers, he saved well from Oxlade-Chamberlain in the first half before diving low to block Giroud's header on the hour.

2016 Getty Images

13/22 Alves 5 out of 10

Guilty of firing cross after cross onto Mertesacker's head no matter how often Arsenal resisted his deliveries. Offered little going forward and struggled to tame Sanchez.

2016 The Arsenal Football Club Plc

14/22 Pique 7 out of 10

Found himself mopping up behind his full-backs more often than he would have liked but he did it with supreme composure.

2016 Getty Images

15/22 Mascherano 7 out of 10

Dived in to deny Giroud a great goalscoring chance on the hour in what may have been a crucial tackle in the course of the match.

2016 Getty Images

16/22 Alba 5 out of 10

Could have been a greater threat going forward but in truth Alba offered little to this contest bar a petulant attempt to get Giroud cautioned.

17/22 Rakitic 7 out of 10

Neat and tidy in possession and impressive when Barcelona got on the front foot, he helped dictate Barcelona's attacking play at its best.

18/22 Busquets 8 out of 10

Superbly marshalled the space Arsenal looked to break into, making several critical interventions when Sanchez looked to threaten ter Stegen and company.

2016 Getty Images

19/22 Iniesta 7 out of 10

Took his time to take command of the game but in the second half he kept finding the space in behind Arsenal's tiring backline.

20/22 Suarez 5 out of 10

Spurned his fair share of chances when it looked like Barcelona were going to be held at bay and should have had two goals at least.

2016 Getty Images

21/22 Messi 8 out of 10

After a quiet 72 minutes he found himself in the right place to convert when the chance fell to him, calmly taking a touch then firing past Cech.

2016 Getty Images

22/22 Neymar 8 out of 10

The most dangerous of the trident, he seemed to have blown several presentable chances early in the second half but was inspired for Barcelona's opener.
But when Arsenal get to half-time at 0-0 something happens. On Tuesday the players decided they had to win on the night. Instead of digging in and holding on to their 0-0, they tried to go hell for leather, opening themselves up to the counter-attack. All their discipline and compact organisation went out of the window.
Even though Barcelona had more possession, they knew they could wait for Arsenal to expose themselves to the break. Javier Mascherano admitted as much. So it proved when, after 71 minutes, Per Mertesacker took himself out of the game, giving Barcelona a 3 v 3 situation which they fully exploited. Another mistake by Mertesacker gifted Barcelona's second.
When Arsenal go to the Nou Camp on 16 March they have to win, knowing if they attack they will get picked off. A 0-0 draw would have been a very different story.
Unfortunately, this has been the story of Arsenal's last three years in the Champions League. They keep knocking themselves out by losing the first leg at home, because they are too desperate for a lead. 
Last year Arsenal lost 3-1 to Monaco at home, before winning 2-0 away and going out on away goals. In 2014 they lost 2-0 to Bayern Munich, before drawing 1-1 away. The year before that they lost 3-1 at home to Bayern, and won 2-0 away. In each of those years, their second-leg result would have sent them through if only they had drawn 0-0 at home. But they did not have the intelligence or patience to manage that.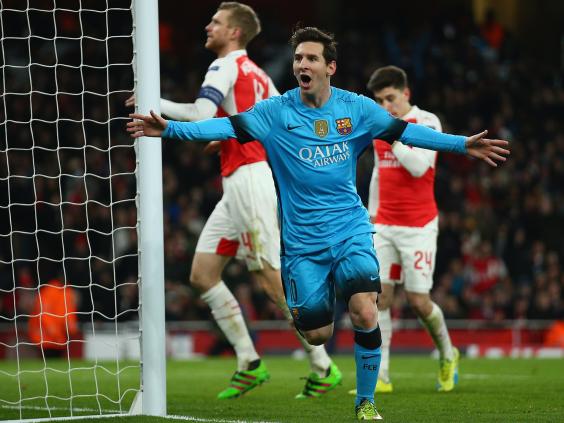 This problem goes far deeper than those four games. Arsenal are a team who need to take an early lead, or else they panic and cause themselves problems. Look at their home record in the Champions League group stage since the start of the 2010-11 campaign. In 13 games they have been ahead at half-time, of which they have won 12 and drawn one. But in the eight games where they have been drawing at half-time, they have won only three, and lost four. In the four games where they have been behind at half-time, they have lost three. Clearly, this is a team that struggles when they have to chase the game in the second half. No team in Europe are more vulnerable when attacking than Arsenal.
The same thing holds in the Premier League. They have won all seven home games this season when they had the lead at the break. But they did not win either of the games when it was level at half-time, and have won just once out of four from behind.
There is a glaring lack of game management and intelligence in this team, and a desperate rush to desperate measures when the game is still in the balance. 
When things are not going your way, you need good leaders, talkers and organisers, to make sure that the team keep their heads. Arsenal teams used to have that, players like Tony Adams, Patrick Vieira, Martin Keown, Emmanuel Petit and Gilberto Silva in the spine of the team. But now they do not.
Mertesacker is an experienced defender who has won a World Cup, but he has been in and out of the team so is more worried about his own game than anyone else's. Laurent Koscielny is a fantastic defender but even Wenger has admitted he is not a talker. Hector Bellerin and Francis Coquelin are just young players who still need direction. But if every man plays his own game, the team are exposed.
Arsenal need to win at Old Trafford, far more than United do. Ten of the last 12 games at Old Trafford have been 0-0 at the break. If this one is too, Arsenal need to stay calm.
Allardyce's defensive nous will keep Sunderland up 
This is a big day for Sam Allardyce, taking his Sunderland back to Upton Park, where he was in charge for four years. He has made a real difference at Sunderland, which is why they will stay in the Premier League.
Attacks win you titles, but good defences keep you in the league. Allardyce seems to have grasped that better than any other manager in the relegation zone. That is why they signed two defenders in January, Lamine Koné and Jan Kirchhoff, both of whom have impressed me so far. Their big rivals Newcastle, in contrast, have conceded just one goal fewer, but signed attacking players last month, Andros Townsend, Jonjo Shelvey and Seydou Doumbia.
I don't think that is the right approach. The hard fact is you cannot score your way out a relegation battle, but you can defend your way out of it. Just look at Queen's Park Rangers, where Charlie Austin had a brilliant season last year, scoring 18 Premier League goals. They finished rock bottom.
Allardyce's teams have the mentality that they go on with one point, and they fight to keep hold of that. Thirty-eight clean sheets mean 38 points, as he always says. A strong Allardyce team reminds me of Stoke in our first season in the Premier League. We were defensively strong, first and foremost, and it kept us up. I think the same thing will happen for Sunderland.
Reuse content