Saturday will be the eight-year anniversary of the sacking of Jose Mourinho first time around at Chelsea, a suitably solemn occasion for the Stamford Bridge faithful who gave every indication that they did not wish to see history repeat itself.
The pressure over the last few days might have got to Mourinho, who has sought to assert his credentials with the absence of any grace, but he could not have hoped mid-slump for a more suitable opponent than the hapless Maccabi Tel Aviv - no more than a minor irritation to the English champions. Eden Hazard could even afford to lodge an early contender for the season's worst penalty miss.
In the second half, Mourinho gave his acknowledgement to all sides of the ground as they stood up to offer him their support. It will be of great satisfaction to him that the three other English sides in this competition have lost their first games, including Arsenal who come to Stamford Bridge on Saturday for a league game of significance for both clubs.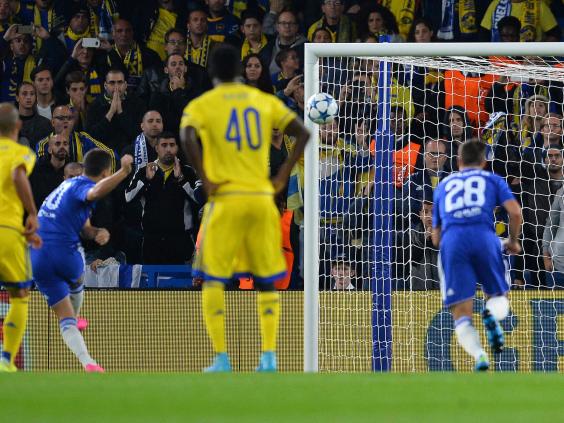 Until Chelsea start winning games like the one on Saturday they cannot pretend to be back to anything like the level to which they aspire. Back in September 2007, Mourinho went into his final game as manager against Rosenborg in the Champions League having won just one of the four previous league games and with Avram Grant lurking over his shoulder. Modern Chelsea's most improbable manager was again at Stamford Bridge, but this time at a safe distance in the television studio.
Mourinho was able to rest John Terry, Nemanja Matic and Branislav Ivanovic although how many of them make it back into the team for Saturday is now a serious debate. Of the new boys it was, from an English perspective, encouraging to witness such an assured performance from Ruben Loftus-Cheek who glided around the midfield for 80 minutes as if looked like he belonged - in spite of a very harsh booking within the first minute of the game.
The Lewisham boy who has seen all his football development at Chelsea's academy was arguably the man of the match. But only if Mourinho picks him to play against Arsenal will we know that he has truly earned the trust of a manager who has found it hard to put his faith in the new Chelsea generation.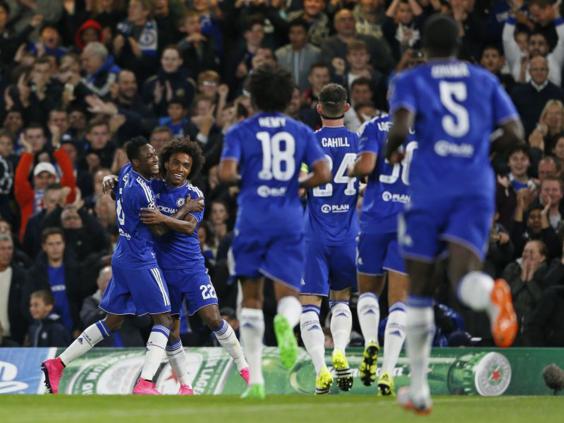 Diego Costa came on for the injured Willian in the first half and scored his second goal of the season, following goals from the aforementioned Brazilian and then Oscar from the penalty spot. Cesc Fabregas added a fourth with 12 minutes left although there had never been any doubt over the result from the first goal. The Israeli champions will find their European adventure a struggle, especially away from home.
The first half was a strange old episode that ended with Chelsea two goals to the good, although the most memorable moment was Hazard sending a sixth minute penalty in the direction of the Fulham Broadway. It is not every day you see the English game's best player – last year at least - miss a penalty. But this was more than a conventional miss – this one was just a bit embarrassing.
The most obvious explanation was that Hazard seems to be so in thrall to the practice of what is colloquially known as "giving the goalkeeper the eyes" that on this occasion, he lost all sense of the goal's location. On the touchline Mourinho reacted by leaping forward and manically encouraging his team. Presumably because the alternative was just too depressing to contemplate.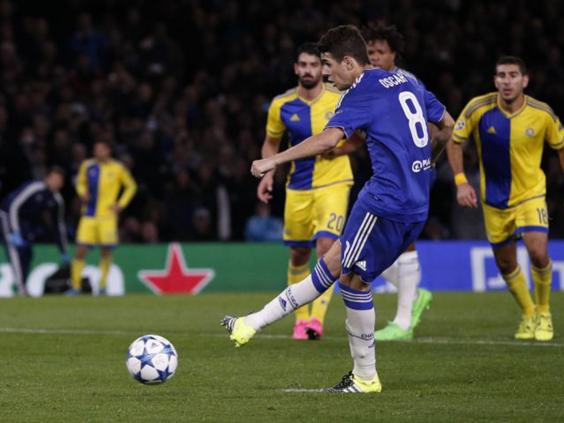 Chelsea's good fortune on this occasion was that as bad as their form has been of late, they were nowhere near as bad as Maccabi Tel Aviv who were way out of their depth for much of the first half. The 19-year-old Loftus-Cheek as well as Baba Rahman and Kurt Zouma were all in the side and played well against a very poor opponent.
Mourinho went berserk when the German referee Felix Zwayer did not dismiss Maccabi's Serb goalkeeper Predrag Rajkovic for the foul on Willian for the penalty that Hazard missed. With the covering defenders, however, it was the correct decision just to book him.
Rajkovic is a highly-rated goalkeeper but it was a terrible first half for him. He was badly at fault for Willian's goal on 15 minutes, a free-kick 40 yards out that no-one got a touch on but which the Maccabi goalkeeper misjudged nonetheless. It passed him to nestle in the far corner when one glove thrust out to his left would have stopped it, and really that just about captured Rajkovic's miserable performance.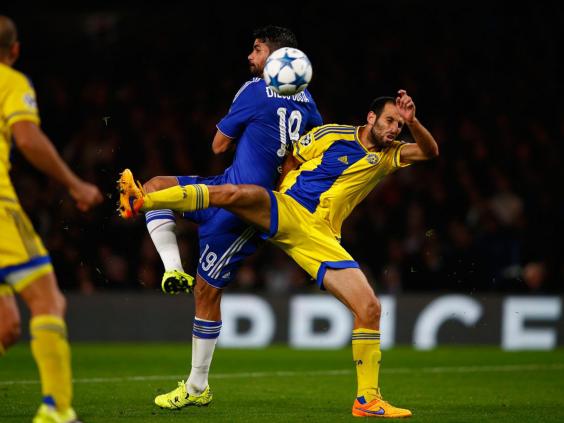 A minute before half-time he should have got his second yellow card for tripping Loftus-Cheek when the latter ran onto Hazard's pass, which would have earned Chelsea their second penalty of the half. As it was they soon got that second penalty, in time added on, when their former player Tal Ben Haim – the more senior of the two Maccabi players with that identical name – fouled Diego Costa, on as a substitute for the injured Willian.
This time penalty duties were passed to the more composed Oscar who sent Rajkovic the wrong way and scored with the last kick of the half. Aside from one header from their captain Eran Zahavi, Maccabi had not laid a glove on the English champions.
The second goal of the season for Costa was a 2014-2015 throwback to the days when Fabregas and his Brazilian amigo were the irresistible combination at the heart of Mourinho's team. Against a Maccabi team slowly falling to pieces in face of the onslaught this was still very nicely executed: a chipped cross from Fabregas hit first time by Costa with a little shin on the shot, but enough to take it past Rajkovic and in off the bar.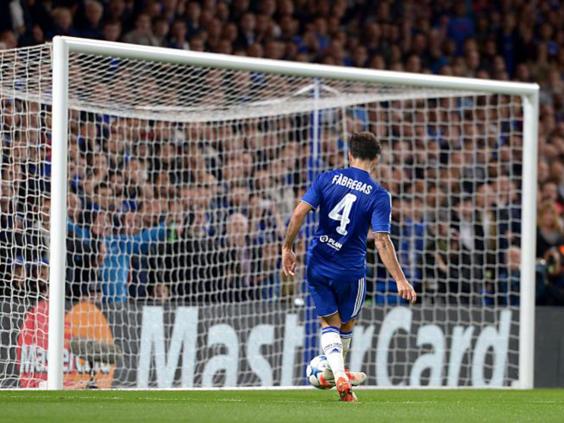 The final goal was a break in which Loic Remy had the first shot, saved by Rajkovic who could only push it into the path of Fabregas. Even Bertrand Traore got his Chelsea senior debut in the final minutes, the boy from Burkina Faso who the club have put such resources into signing and developing. At least on this occasion, Mourinho had given the youngsters a chance.
Chelsea (4-3-3): Begovic; Azpilicueta, Zouma, Cahill, Rahman; Fabregas, Loftus-Cheek (Traore 80), Oscar (Ramires 65); Willian (Costa 23), Remy, Hazard.
Maccabi Tel Aviv (4-1-4-1): Rajkovic; Shpungin (Peretz 71), Ben Haim I, Tibi, Ben Harush; Alberman; Ben Haim II (Micha 64), Mitrovic, Igiebor, Rikan (Radonjic 64); Zahavi.
Referee: F Zwayer (Austria).
Att: 40,684
Booked
Chelsea Loftus-Cheek
Maccabi Tel Aviv Rajkovic, Ben Haim I, Igiebor
Reuse content