1) Experienced heads prevail
Tottenham started well and were the better team in the first half, aided by a defensive Jose Mourinho team selection that encouraged Spurs onto the front foot. But even before John Terry scored an unlikely deflected goal right on the stroke of half-time, the Blues were never out of control. Tottenham looked more threatening but apart from a brilliant Christian Eriksen free-kick (that Petr Cech may even have had covered) they created nothing. Of the 11 Chelsea players that started, Kurt Zouma is the only one without a cabinet full of winners' medals and experience on the very highest stage - the Champions League and the World Cup. Chelsea know what it takes to win, Spurs are still learning.
2) Zou beauty
When the team sheets were handed it out there was some confusion as to whether Mourinho had decided to go for three at the back or whether he would play 20-year-old Kurt Zouma or England defender Gary Cahill as a holding midfielder. Cahill had done it briefly in the 1-1 draw with Manchester City and was the consensus pick. It was the raw but talented Frenchman who got the nod, and he was a revelation. While Cahill is better technically than Zouma, the Chelsea No 5 was able to get around the pitch and disrupt the Spurs midfield - specifically playmaker Christian Eriksen. The Dane's only moment of note was the free-kick, he was marked out of the game by Zouma, who also impressed in possession, keeping it simple and giving it to the more talented players around him.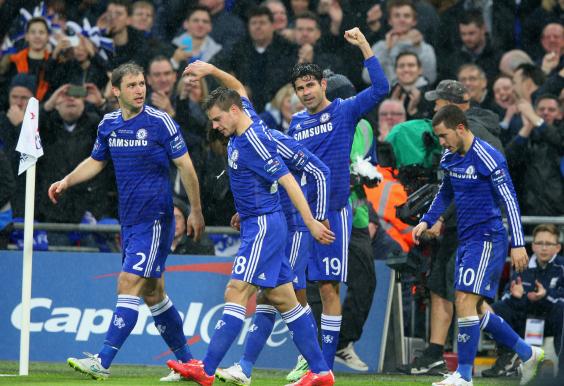 3) Power moves
With Zouma in midfield, Chelsea effectively played four centre-backs; it showed. Mourinho's team dominated when the ball was in the air and at the set-piece - their only threat in the first-half came from the late free-kick from which Terry scored. Spurs had their heart in their mouths every time the ball went into the box, while they were able to defend corners and crosses they faced with relative ease. But it wasn't just those four, the 6ft 5in Cech was able to go where opposite number Hugo Lloris (6ft 2in) was not, Ramires and Willian aren't the biggest pair, but their athleticism and work rate are unmatched, while Diego Costa played the pantomime villain again. Chelsea won loose balls, 50/50s and outfought Tottenham, who couldn't match their bigger, more wily opponents.
Chelsea 2 Tottenham 0 - Capital One Cup final player ratings
Chelsea 2 Tottenham 0 - Capital One Cup final player ratings
1/24 Petr Cech

Trusted ahead of Thibaut Courtois, Cech played precisely as expected: with calm assurance, making a few comfortable saves during Spurs' spell on top. 6

GETTY IMAGES

2/24 Branislav Ivanovic

Did all the dirty work required of him, throwing himself in front of shots and opponents as Chelsea saw off Spurs' early pressure. 7

GETTY IMAGES

3/24 Kurt Zouma

Drafted into midfield by Jose Mourinho, he did not influence the game much with the ball but stuck attentively to Christian Eriksen, restricting Spurs' attacking options. 6

GETTY IMAGES

4/24 John Terry

Had to defend well in the first half but it was his power at the opposite end which set up the 13th trophy of his time at Chelsea. 7

GETTY IMAGES

5/24 Cesar Azpiliqueta

Occasionally left isolated by Eden Hazard's attacking, especially in the first half, but he coped with Andros Townsend and Kyle Walker with all his characteristic solidity. 6

GETTY IMAGES

6/24 Ramires

His energy and effort in midfield helped to restrict Eriksen and Chadli's opportunities, ensuring Chelsea did not get overrun as they did back on New Year's Day. 6

GETTY IMAGES

7/24 Gary Cahill

Back alongside Terry at centre-back, he coped impressively with the threat of Harry Kane and then saw out the win in the second half. 6

GETTY IMAGES

8/24 Cesc Fabregas

Only produced a few decisive moments in possession – but did nearly beat Hugo Lloris with an overhead kick early in the second half – but it was enough. 6

GETTY IMAGES

9/24 Willian

He ran hard up and down the right flank, pinning back Danny Rose even if he did not delvier a decisive moment in attack. 6

GETTY IMAGES

10/24 Diego Costa

Spent almost an hour running and scrapping before he settled the game, winning space and beating Hugo Lloris – via a deflection - from a tight angle. 7

GETTY IMAGES

11/24 Eden Hazard

Chelsea's only player to produce any real quality in a poor first half but kept teasing Spurs at 2-0 and nearly scored a brilliant third. 7

GETTY IMAGES

12/24 Best of the Bench: Juan Cuadrado

Ensured that Chelsea's energy levels did not drop in the final minutes, shuttling up and down the wing after replacing Willian. 6

GETTY IMAGES

13/24 Hugo Lloris

His selection ahead of Michel Vorm was ultimately irrelevant, as he was powerless to keep out either goal, deflected away from him at close range. 6

GETTY IMAGES

14/24 Kyle Walker

Looked nervous every time Eden Hazard ran at him, and lacked the confidence to produce any quality in attack. Deflected the second goal past Hugo Lloris. 4

GETTY IMAGES

15/24 Eric Dier

This was a difficult afternoon up against Diego Costa and while he deflected the first goal past Hugo Lloris, he coped better than some centre-backs have this season. 5

GETTY IMAGES

16/24 Jan Vertonghen

Rarely uncomfortable despite the stage and the opposition. Will be disappointed not to have influenced the game more in either penalty area. 6

GETTY IMAGES

17/24 Danny Rose

Defended solidly enough against Willian and Ivanovic but he could not deliver the quality with his crosses that Spurs needed. 5

GETTY IMAGES

18/24 Nabil Bentaleb

Hard to believe that he is a 20-year-old rookie, after another midfield performance of impressive maturity and authority. Probably Tottenham's best player. 7

GETTY IMAGES

19/24 Ryan Mason

Provided important impetus to Spurs' play, running from box to box, but his clumsy passing and shooting was symptomatic of their lack of quality in the final third. 6

GETTY IMAGES

20/24 Nacer Chadli

He was crucial to the 5-3 win two months ago but today he did not have the same sharpness or the burst of pace, rarely threatening Chelsea. 5

GETTY IMAGES

21/24 Christian Eriksen

After hitting the bar with an early free-kick, Eriksen slightly faded in this game, struggling to find much space or to pick the right passes. 5

GETTY IMAGES

22/24 Andros Townsend

Preferred to Erik Lamela and while he delivered a few bursts of pace down the line, he could not provide the crucial moments of quality that Spurs needed. 5

GETTY IMAGES

23/24 Harry Kane

This was not another edition of Kane's comic-book story. He was largely frustrated by Chelsea's first-half defending and could not drag Spurs back into the game. 5

GETTY IMAGES

24/24 Best of the Bench: Mousa Dembele

Added some presence to midfield but could not create the chances that Spurs needed to turn the game. 5

GETTY IMAGES
4) Kane not able
Tottenham's biggest hopes rested on the broad shoulders of their brilliant young striker Harry Kane, but he failed to make a real impact on the game. Kane, the in-form striker in the country, was expertly marshalled by Cahill, but especially Terry. The former England captain won the majority of aerial balls and afforded the youngster just enough room to stop him from wreaking true havoc - in the 5-3 game at White Hart Lane, Terry attempted to get close to Kane and the younger man exposed his lack of pace. Terry learnt and this time Kane was able to receive the ball but never get on the front foot, he was always going backwards. Only once, early in the game, did Kane drive at the defence, going past three players to earn a dangerous free-kick. When the 21-year-old - who has to start for England next month - finally did get some room in the box late in the game, it was Terry who produced a perfect last-ditch sliding tackle to thwart him.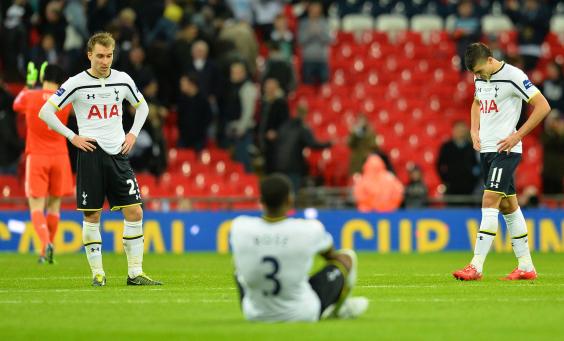 5) Tottenham's bright future
Tottenham may have lacked the know-how to win the 2015 Capital One Cup final, but playing - and playing pretty well - is only going to help them in the next stage of their development. The oldest player in Mauricio Pochettino's starting team was captain Lloris at 28, while nine were 25 or younger. Players like Bentaleb (20), Kane (21) and Dier (21) have only become first-team regulars in the last year or so and are only going to get better the more they play in games of this magnitude and intensity. They might have trudged off the Wembley turf with envious stares at their more storied opposition, but Pochettino and his players are heading for a bright future.
Reuse content