Theo Walcott ducked the brickbats on Saturday after a listless performance against Malta at Wembley because one man, of course, was the target for all the missiles. While Wayne Rooney was labouring through midfield, the Arsenal player was steaming into blind alleys on the wing to the extent that he was withdrawn after just over an hour.
It was only Rooney who was booed at Wembley – a smattering of fans showing their displeasure. Walcott, a less divisive figure, was spared such abuse. Incidentally, on Tuesday, as the players warmed up ahead of the Slovenia tie, "Rooney, Rooney" rang out from the stands. There's nowt as fickle as a football fan. But when Walcott's time is up in an England shirt, one doubts it will divide a nation and lead the sports news. He is too invisible to be a target.
In Ljubljana, Walcott was a mixture of the so-so, the bad and the anonymous. The theory went that he would have more space to use his blistering pace to run in behind the home defence than he had against the Maltese massed ranks who sat so deep. 
In fact, the way England played didn't suit Walcott's strengths. When the visitors had the ball Eric Dier dropped into defence and the two full-backs became wing-backs forcing Walcott and Jesse Lingard inside. Gareth Southgate had bemonaned the lack of width against Malta. This was his solution – although it confused Walcott and Lingard. 
The Arsenal man's use of the ball when he did get it was erratic at best. He was eventually withdrawn after 61 minutes after failing to click with Walker. Arsenal and Tottenham struggling to gel? Who would have thought it?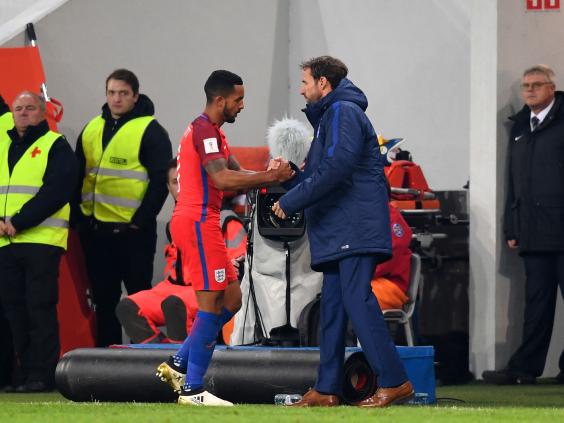 Walcott won his place in the England team for this double-header due to his blistering start to the season in which he has scored five goals in eight games for Arsenal after taking the summer to work on his fitness. But against Burnley in the Gunners' last match he was careless in possession. It was that form, rather than the two-goal demolition job he did on Basle in the Champions League, that he brought into these matches. 
Roy Keane, in his role as a brilliantly cutting television pundit, pointed out recently that Walcott should be judged over a season – not after a few games. "Try playing well for the next seven, eight, nine months when the real crunch games come. I wouldn't get carried away about Walcott. He's got to keep doing it over the next year or two," he said.
He did little to convince Keane over two hours against Malta and Slovenia that he was wrong.
Walcott made his debut 10 years ago in 2006 then scored a hat-trick in 2008 in a 4-1 win over Croatia in a World Cup qualifier. It looked like the dawn of a brilliant career. It took four years for him to score again. He now has 46 caps and eight goals. His England career, like his Arsenal one, has always threatened to take off – but he still finds himself sitting on the runway aged 27. 
As early as the fifth minute Walker was gesticulating to Walcott about his movement – or lack thereof. It actually took 7min 40sec for Walcott to touch the ball and when he did he ran straight into the Slovenia defence with it. 
Moments later, Walcott dummied to go long, turned for the ball to feet but Dier hit it deep having bought Walcott's feint. Once more, Spurs and Arsenal on different pages.
On 17 minutes, Walker looked down the line in search of Walcott but he'd drifted infield forcing the Spurs man to turn and play back to Gary Cahill at centre-half. Cue more gesticulating.
There was one lovely curled cross along the six-yard box from Walcott after a penetrating Jordan Henderson pass, but no one on the end of it. There was the occasional first-touch turn when tightly marked to win a foul or create space.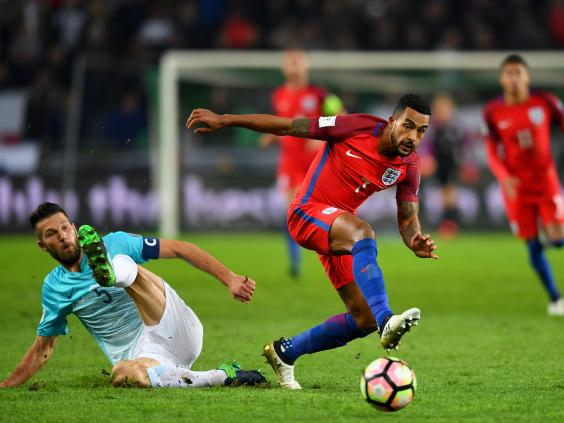 But then there was the loss of possession on the edge of the area from a quick Henderson free-kick (first touch good, second bad). During the subsequent Slovenian break Dier was forced to bring his man down and earn a yellow card. 
There was the odd run from right to left as he did against Malta when he almost scored - but he was rarely found by England's harried midfield. In the 22nd minute he found space to fizz in a shot but it was always rising – then he undercooked a five-yard pass to Walker. There was a poor cross, cut out by the first Slovenian defender, a horrible miscue in his own box to concede a corner. It was that sort of night.  
On 61 minutes Walcott used his strength to hold off a challenge but immediately lost the ball. And that was that. Andros Townsend was on and another so-so night had come to an end for the Arsenal man.
Townsend immediately forced the Slovenian keeper Jan Oblak into a save. He then whipped in a dangerous cross. Walcott can hardly have zipped up his tracksuit top and already the Crystal Palace man had threatened twice. 
There'll be no inquest if Walcott is dropped for the Scotland match. 
Reuse content