England secured an important and impressive victory at St Jakob-Park, thanks to two goals from Arsenal's Danny Welbeck. Jack Pitt-Brooke takes us through the five things the win showed England fans.
1. Delph escapes with a yellow card on red-letter day
Everyone admires Fabian Delph's dynamism but there have always been concerns about his tenacity at the top level and he did little to dispel those last night on his first England start.
He could have been sent off after just nine minutes, and it was only the generosity of referee Cuneyt Cakir which kept him on the pitch. In the opening minutes, Delph was chasing Valon Behrami back and put in a tackle that was late and high. Delph was fortunate to escape punishment.
Switzerland 0 England 2 - player ratings
Switzerland 0 England 2 - player ratings
1/11 Joe Hart

Returning to his imposing best. Underworked in first half as Lichtsteiner shot over. Strong saves from Seferovic before being rounded by Drmic. 7/10

EPA

2/11 John Stones (left)

Forced to play out of position again but not unduly troubled. Turned easily on occasion but overall was unfazed on the biggest night of his career. 6

Getty Images

3/11 Gary Cahill

More experienced centre-back and held backline together with authority. Struggled on turn at times. Trademark clearance off line from Drmic. 7

EPA

4/11 Phil Jones

Fell into Seferovic to halt one Swiss attack. Ceded possession before being bailed out by Hart. Close with header and cleared from under how own crossbar. 6

Getty Images

5/11 Leighton Baines

Caught late by Shaqiri in opening minutes but was danger with delivery from left side. Enjoyed freedom to spend large periods in the Swiss half. 6

Getty Images

6/11 Jack Wilshere

Too easily robbed of possession but enjoyed space to influence proceedings. Clever ball to Rooney came to nothing and had shot deflected past post. 7

Getty Images

7/11 Fabian Delph

Handed competitive debut and too hyped early. Left foot in on Behrami before diving in on Lichtsteiner. Rarely gave ball away and should have won penalty. 7

Getty Images

8/11 Jordan Henderson

Overcame injury worries to maintain place in centre of the park. Tidy in possession and aided forward momentum as England prospered on counter. 6

Reuters

9/11 Raheem Sterling

England's latest great hope kept the hosts occupied with his quick feet and canny movement. Played major role in move for Welbeck's opener. 7

Getty Images

10/11 Wayne Rooney

Failed to control Wilshere pass in front of goal and close with header before dropping back to orchestrate move for opener. Best showing for a long time. 8

Getty Images

11/11 Danny Welbeck

Arsenal new boy replaced Sturridge. Chose wrong option after steaming in off right wing but showed composure to find net twice to earn the points. 8

Getty Images
Just a few minutes later, despite the warning, Delph jumped in on Stephan Lichtsteiner with a tackle that was even higher and almost as late. It was his second tackle worthy of a yellow but produced only his first card.
Delph knew he had been lucky but even then he continued to snap into tackles. He got away with it, but he might not have been so lucky.
2. Hodgson's pack of hunters put England on attack
Roy Hodgson's England have often been accused of being too passive and reactive, of waiting in their banks of four for the opposition to make a mistake or present an opportunity. Last night, though, was slightly different, with the front three – Wayne Rooney, Danny Welbeck and Raheem Sterling – actively hunting for the ball and setting up England's best moments when they broke.
The goal came after Welbeck harried the ball away from Gokhan Inler in midfield before Rooney took over, found Sterling, who set up Welbeck to finish. Before then, England had other excellent chances thanks to similar situations: Welbeck pinched the ball from Steve von Bergen to set up the best first-half opening, only for his pass to be just out of step with Sterling's run. Sterling himself nearly set up an opening goal when he took advantage of a poor ball but mis-hit his pass to Rooney. The hunger for the ball, though, was certainly impressive.
3. Holding role in diamond is not Wilshere's best position
Jack Wilshere showed against Norway on Wednesday that he is at his best when carrying the ball forward, playing brisk one-twos and setting the pace of England's play. So he was rather unfortunate last night to be moved to the base of the diamond – a role Jordan Henderson played briefly at Wembley – which stopped him from playing his natural game.
Hodgson's decision did make sense – Henderson and Fabian Delph, who were given the shuttling roles, are both better athletes – but Wilshere did look out of place sitting at the base of the midfield. He has never been a holding midfielder, nor does he have the range of passing to direct play from the back. But he could not come too far out because then he would have had to abandon his post and expose his centre-backs. It cannot have been a very enjoyable 72 minutes from him before he was substituted, through little fault of his own.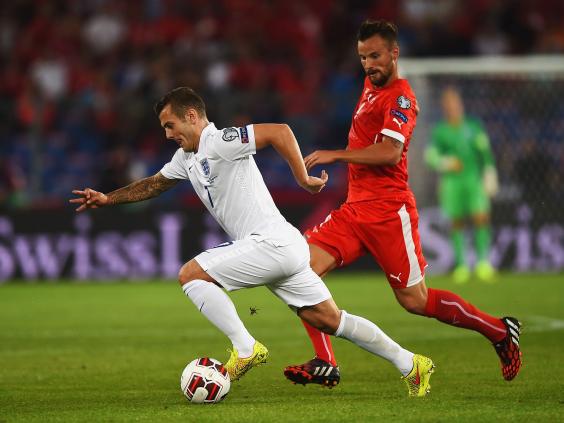 4. Baines and Stones shine in system not suited to them
The potential downside with a diamond midfield is that it means the attack lacks width and exposes the full-backs and yet Everton pair Leighton Baines and John Stones gave performances yesterday that more than made up for any shortcomings in the system.
Baines has been a consistent performer for years – even if he did have a difficult time at the World Cup against Italy in Manaus – and here he dealt very comfortably with everything Switzerland threw at him. His fellow Everton defender, Stones, howeever, was even more impressive.
This was his first competitive start for England, and at right-back to boot. He has played more often at centre-back for his club, and yet he looked very assured, leaving England at no point obviously missing first-choice right-back Glen Johnson. Of course, Stones is only 20 years old, and there are other candidates for the role in Phil Jones, Calum Chambers and Chris Smalling. But as a start it could not have gone much better.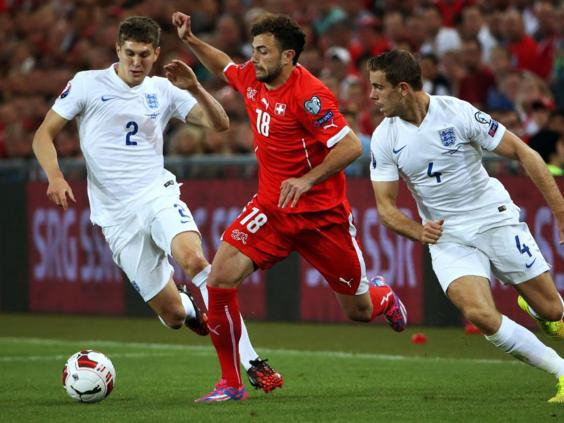 5. Welbeck shows his class rather than physical clout
There has always been an assumption about Welbeck that his gifts are merely physical – he is strong, fast and powerful and so forth. That undervalues his skills. Ever since he came through at Manchester United, Welbck has shown flashes of real imagination, vision and technical quality. The challenge for managers has been to give him a long enough run in the team – in a forward role – to lift his confidence and bring out that side of his game.
While Welbeck's finish for the first goal was instinctive, his second was exceptional, curling the ball away from the goalkeeper and into the corner of the net, suggesting the player he might yet become.
If Arsene Wenger trusts him up front and draws that side of the game out of him, Welbeck's move to Arsenal could be the making of him.
Reuse content