Kieran Trippier is young, fit, enthusiastic, English and modest. He is a team player, a hard worker, a quick learner and a natural athlete. He is, in short, everything Mauricio Pochettino expects from a Tottenham Hotspur player. If his £3.5m move from Burnley last summer was a surprise, it should not have been.
Because Pochettino and head of recruitment Paul Mitchell do not choose players lightly. They knew what they were buying in Trippier, an alternative to Kyle Walker at right-back, with a full season of Premier League football behind him. Spurs play in a way that demands relentless energy from their full-backs and that is exactly what they get from Trippier every time.
After being eased in with Europa League and Capital One Cup games for the first half of the season, he has been playing in permanent rotation with Walker, one game on, one game off, since Christmas. He has now started 17 times for Tottenham, most recently in a difficult evening at Borussia Dortmund on Thursday. Speaking before flying out for that game, Trippier  was full of enthusiasm about his growing role at White Hart Lane.
"I knew it was going to be difficult when I first came here, and I've been waiting for my time," he says, on the indoor pitch at Spurs' Enfield training base. "After Christmas I've been getting  more games. Whenever I'm called upon I will always make sure I'm ready to give 100 per cent."
Trippier, 25, spent the first few months of the season watching and learning, getting a sense of the special role the full-backs have in this side. In Spurs' 4-2-3-1 formation, the wide attacking midfielders, whether Dele Alli, Son Heung-min or Erik Lamela, play very narrow, trying to drag the opposition full-backs inside with them. This opens up all the space on the wings for Spurs' full-backs to attack. It makes it a very physically demanding job, which naturally took a few months to get used to.
Tottenham player ratings vs Borussia Dortmund
Tottenham player ratings vs Borussia Dortmund
1/11 Hugo Lloris - 6 out of 10

The Frenchman had little else to do other than pick the ball out of his net. Had no chance for the goals.

2016 Getty Images

2/11 Kieran Trippier - 5 out of 10

The full-back had a torrid time defensively and was often overrun, which is likely to have knocked his confidence.

2016 Getty Images

3/11 Toby Alderweireld - 5 out of 10

Not the Belgian's best night. He was, understandably, often caught in two minds whether to drop off of Aubameyang or stay tight.

2015 Getty Images

4/11 Kevin Wimmer - 5 out of 10

Often lived dangerously in possession. Came up short in the air and lost Subotic's run for Dortmund's second goal.

2016 Getty Images

5/11 Ben Davies - 6 out of 10

Defended relatively well but rarely got forward due to Durm's impressive display, which forced the Welshman back.

6/11 Ryan Mason - 5 out of 10

The Englishman was always fighting a losing battle as Dortmund's midfield dazzled and left him on the fringes of the game.

7/11 Tom Carroll - 5 out of 10

Booked for a high challenge and looked all at sea at times. Large question marks remain over his ability to control the game in midfield.

2016 Getty Images

8/11 Joshua Onomah - 6 out of 10

An admirable display from the youngster. He stated brightly but was unable to make a significant impact in the final third. Far from overawed.

9/11 Christian Eriksen - 5 out of 10

Stung Weidenfeller's fingertips early on but failed to find his passing rhythm. Starved of possession in the areas which he can do most damage from.

10/11 Son Heung-min - 5 out of 10

The South Korean was unfortunate not to win a penalty after a clumsy challenge from Bender but endured an uneventful night otherwise.

11/11 Nacer Chadli - 5 out of 10

Struggled to get into the game both up front and on the flank. No surprise to see the Belgian withdrawn early.
"The style of play as full-backs is very different to when I was at Burnley, so I've had to adapt to that," Trippier says. "You are basically playing as a winger here. At Burnley we were always in a battle last season. This season we are always on the front foot, pressing high, as full-backs. There are lots of little pieces the  manager wants us to do."
Now that Trippier is up to speed, Pochettino can rotate him with Walker, as he does with Ben Davies and Danny Rose on the other flank. The policy is a recognition of how physically demanding the role is, and has allowed the full-backs to keep playing with speed and energy while some of Spurs' other players start to look tired. Trippier has been an attacking threat, setting up Son's late winner at Watford in December and scoring the only goal in a hard-fought home win over the same side.
Pochettino's policy has also allowed the full-backs to learn from each other as they try to improve their own game. Rose revealed last week how he has learned from the timing of Davies' forward runs. Davies, in turn, has picked things up from Rose – who said Walker would be thankful that Trippier joined, because of his excellent contributions going forward. Trippier speaks enthusiastically about developing thanks to the man he job-shares with.
"Obviously you need competition to make yourself a better player," he says. "I am becoming a better player with Kyle there, as he has been there a long time and is a very good player. With the competition in full-back areas, we are just pushing each other on, making each other better players. I've learned a lot about defensive work from watching Kyle from the bench."
There is little sense of rivalry between the pair. They have been good friends ever since they played for the same England team at the European Under-19 Championship in Ukraine in the summer of 2009.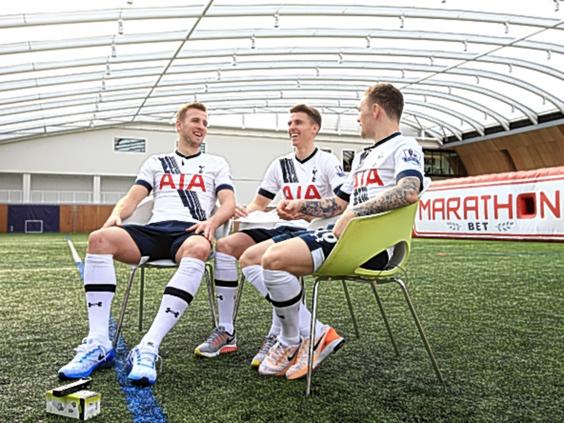 "We're really good mates," Trippier explains. "We played together for England, and I've played against him many times too. If I'm playing, if he's playing, we're always encouraging each other. It's not rivalry. We want to do what is best for the team and the club. Whoever is called upon will give 100 per cent, like he's been doing when he plays, and hopefully I've shown everyone that I have."
Of course Trippier, like everyone else in this Spurs team, is only able to run so much because of the ferocious fitness work put into the players by Pochettino and his staff. Trippier signed from Burnley in June, in time to join pre-season from the start.
"It was really tough, we were running from the first day," he recalls. "Everyone can see the improvements now. We're the fittest in the Premier League. Towards 80 minutes or the end we're still fit, still running. The stats don't lie and they show how fit we are as a team.
"I'm in better shape now, in terms of body fat. I feel so much fitter. I always look at my individual stats after a game, my running stats and high-intensity stats. I feel much stronger and more powerful. I can run further. And you need to be fit playing for a club like this. Whenever I'm called upon I'll leave everything on the pitch."
All of this comes from Pochettino and Trippier speaks about his manager with just as much admiration as every other Spurs player does. In their first meeting after Trippier joined the club, Pochettino told him "about the way we want to play, and what he expects of me". 
The immediate impression was very positive. "I thought he was a quality manager," Trippier says, "the way he speaks, individually and to a group, and on the training field, where he is making everyone into better players, and a good team."
Trippier speaks just as admiringly about his former manager, Sean Dyche at Burnley. "In terms of fitness, they are the same. Dyche loved his fitness and all the boys there are as fit as anything. But the manager here is a lot more attack-minded in the way that he wants you to play and press, always on the front foot."
Trippier played for Burnley for four years, in the Championship and in the Premier League, and considers Dyche "a quality manager and a great man". He says: "As soon as he came in he had the respect of all the players. He respects you and he's honest, which is the best thing about him. He is an honest manager and I loved playing for him."
One moment that stands out was the game on Easter Monday 2014, when Burnley sealed promotion to the Premier League. They were 2-0 up against Wigan Athletic at home. "I was just trying to fly up and down," Trippier remembers. "Dyche went mad at me because there was just one minute left, and if we hadn't won we might not have gone up." 
But Burnley did win and did go up. Trippier is still in the top flight, and is here to stay.
Go to marathonbet.co.uk for some of the best football odds in sports betting.