There are not two managers in the business who avoid a handshake with more carefully-calibrated timing and brimming ego than Jose Mourinho and Arsene Wenger. You only had to watch them as the Arsenal players came down the steps and Wenger ducked left, avoiding the trap that Mourinho had set for him and the latter decided against breaking right and chasing his quarry.
Such a brief moment but what a story it tells of their enduring rivalry, of the two touchline megalomaniacs who can turn the most perfunctory social interaction into a competitive event. The game was an early-season dust-up that went Arsenal's way, an unpolished contest between players of varying degrees of match-readiness. But the friction between the two managers? That was straight out the proverbial top drawer. They have hit the ground running.
Once again, Wenger professed indifference at Mourinho's unbeaten run over him and finally having broken it at the 14th attempt. "As long as I got it [the run] served every time in press conferences it could have an impact on the team," he said. Mourinho looked anything but indifferent to defeat, making a great show of congratulating every Arsenal player as they came down the steps and then tossing his losers' medal to a kid who was leaning over the tunnel, as the Chelsea manager made his exit.
Arsenal 1 Chelsea 0 player ratings
Arsenal 1 Chelsea 0 player ratings
1/24 ARSENAL: Petr Cech

Up against his former side, didn't even have to make a save in the first half. When finally called upon by a great Oscar free-kick, was able to match it. 7

Getty Images

2/24 Hector Bellerin

Too casual at times, giving away the ball on the edge of his own box and failing to adequately see the it out. Weakest link at the back. 4

Getty Images

3/24 Laurent Koscielny

Strong and authoritative at the back, getting blocks in and helping create an air of assurance during periods of Chelsea pressure. 7

Getty Images

4/24 Per Mertesacker

Used his height to good effect to intercept balls and win battles with first Remy and then Falcao in the second half. 6

Getty Images

5/24 Nacho Monreal

Limited the threat on the left of Arsenal's defence, blocking a few crosses from Ivanovic. Got forward when he could and nearly scored. 6

Getty Images

6/24 Francis Coquelin

A menace in midfield, breaking up play whether through tough tackling or fouling his opponents. Both were effective but his style earned him a booking. 8

Getty Images

7/24 Santi Cazorla

Well involved, particularly in the first period when he displayed incredible ability with a no-look volleyed pass out to the wing. 7

Getty Images

8/24 Aaron Ramsey

Playing in the central role he covets the Wales international showed awareness, eye for a pass and ability to make a tackle. Shot into side netting from a tight angle. 6

Getty Images

9/24 Alex Oxlade-Chamberlain

Cut inside before hitting an unstoppable shot into the roof of the net with his left foot. Showed great pace and awareness throughout a man-of-the-match performance. 8

Getty Images

10/24 Mesut Ozil

Displayed brilliant touch and awareness and had a hand in Chamberlain's goal with a visionary pass across field in the build-up. 7

Getty Images

11/24 Theo Walcott

Playing in a central role looked sharp and eager to impress but had few opportunities to do so in front of goal. Claimed assist for Chamberlain goal. 6

Getty Images

12/24 From the bench: Olivier Giroud

Strength immediately providing a different element to Walcott. Shot over the bar when probably should have done better. 6

Reuters

13/24 CHELSEA: Thibaut Courtois

Could do little about Chamberlain's rocket of a goal. Did all that was required to keep the score at 1-0 including fine injury-time save from Gibbs. 6

Getty Images

14/24 Branislav Ivanovic

Saved his side from going 2-0 down in the first half with a brave header off the line with Monreal ready to pounce. 6

Getty Images

15/24 Gary Cahill

Dominated the aerial battles but wasn't overworked by Walcott. Solid display from the England international. 6

Reuters

16/24 John Terry

Strong early tackle on Walcott sent out a message then used experience to keep things tidy for Chelsea. For once didn't go the distance, replaced late on. 6

Reuters

17/24 Cesar Azpilicueta

Forced to take a booking when beaten for pace by Chamberlain, who gave him a torrid afternoon that he will want to forget before going off after 69 minutes. 3

Getty Images

18/24 Nemanja Matic

Won numerous tackles in the middle of the park and enabled the more creative players to operate around him. 6

Getty Images

19/24 Cesc Fabregas

Given time on the ball in deep positions from where he pulled the strings for Chelsea, including brilliant passes for Falcao and Hazard. 7

Getty Images

20/24 Ramires

Should have scored but headed over the bar with a header from six yards. 'Friendly' nature of match passed the Brazilian by with nasty fouls on Cazorla and Ozil. 5

Getty Images

21/24 Willian

Arguably Chelsea's best player, making bursting runs from midfield and creating opportunities for his team-mates. Great energy. 7

Getty Images

22/24 Eden Hazard

Shocking miss by Hazard's standards when put in on goal by Fabregas, blazing the ball over Cech's goal from close range. Was kept well shackled by Arsenal. 5

Getty Images

23/24 Loic Remy

Standing in for the injured Diego Costa, the Frenchman provided a brilliant pass that Ramires should have converted. Was offside too often. Taken off at half-time. 5

Reuters

24/24 From the bench: Radamel Falcao

Offered more of a target than Remy for Chelsea's midfielders to aim at, eager to get in good positions and make an impact. No clear opportunities. 6

Reuters
In between his big show of gallantry and the medal-chuck, Mourinho and Wenger conspicuously missed one another for their handshake. It looked as if Wenger broke first and then, seeing what was unfolding, Mourinho made sure that he was not left with his hand fluttering in mid-air. No-one would argue that it behoves two grown-ups but what entertaining stuff.
Mourinho said later that Wenger's team had "abandoned their philosophy" in sitting back and defending the first half lead given to them by Alex Oxlade-Chamberlain. Wenger conceded that his team had been determined to defend well but on the thorny question of philosophy said that his side had "abandoned nothing".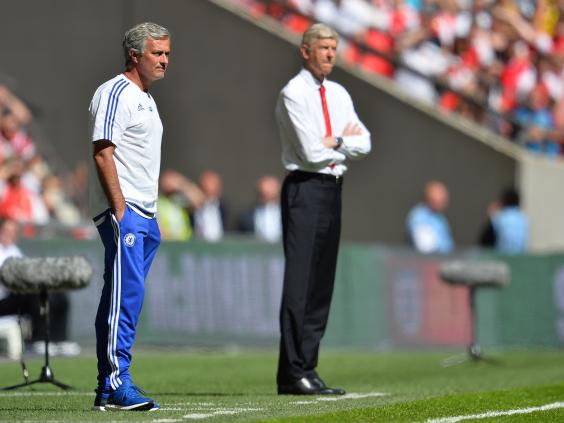 What was not in doubt was Mourinho's displeasure at losing. He switched and reorganised his formation throughout the second half, eventually settling on a three-man defence with the substitutes Radamel Falcao and the lesser-spotted Victor Moses deployed from the bench in search of the equaliser.
Oxlade-Chamberlain's part was telling given that this was the man whom Mourinho would have liked to sign as part of the deal that took Petr Cech to Arsenal. The England international has struggled with injuries for well over a year now yet with the benefit of a solid pre-season he looked well capable of delivering on his potential.
As for Cech, he kept a clean sheet - which is exactly what Mourinho fears he will do on a regular basis at his new club. On this occasion it was not as if the champions pushed their old comrade to the brink. Eden Hazard was off-key. Falcao, a second half sub, barely had a sight of goal. Diego Costa did not figure at all. In the game's hectic later stages, it was Arsenal, not Chelsea, who created more chances.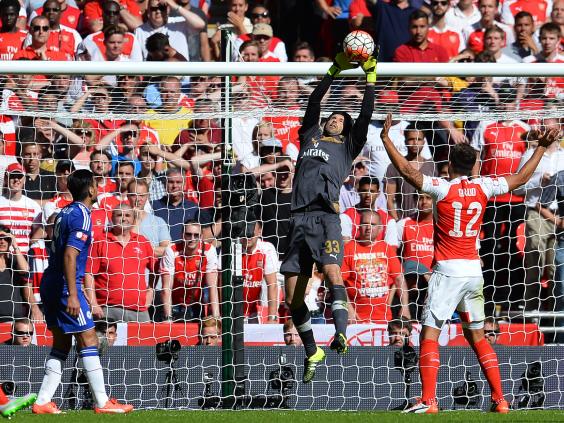 Mourinho was cryptic on Costa, saying that the striker had been ready to play but had changed his mind on Saturday. There seemed to be the hint of a reproach about Mourinho's words, although it was difficult to tell. Wenger said that Cech's effect was such on the Chelsea players that he thought they looked as if they needed to "score the perfect goal".
What does it mean for Arsenal? They pumped three goals past the 2014 champions Manchester City in this game last year, and then started the season sluggishly. This time they took their chance in the first half and then absorbed the best that Chelsea could throw at them after the break.
Oxlade-Chamberlain's goal on 24 minutes was the kind that Chelsea usually make a habit of not conceding. The ball was moved from left to right from Mesut Ozil to Theo Walcott and on to Oxlade-Chamberlain who took it inside onto his left foot where Cesar Azpilicueta's efforts to tackle or block might best be described as lacklustre.
Oxlade-Chamberlain took his chance well, hitting a shot that accelerated sharply past Thibaut Courtois. The Englishman played just six games post-January as the club tried to solve a groin problem that would not go away. He was excellent in the first half, getting down the right wing on 42 minutes to cross under the Chelsea bar, where Branislav Ivanovic had to be brave to get the ball away.
Chelsea had their moments before the break, including a suspicious looking foul by Per Mertesacker on Cesc Fabregas on the right side of the area that went unpunished. Ramires could have done better with a Loic Remy cross that he headed over at the end of a fine, flowing move.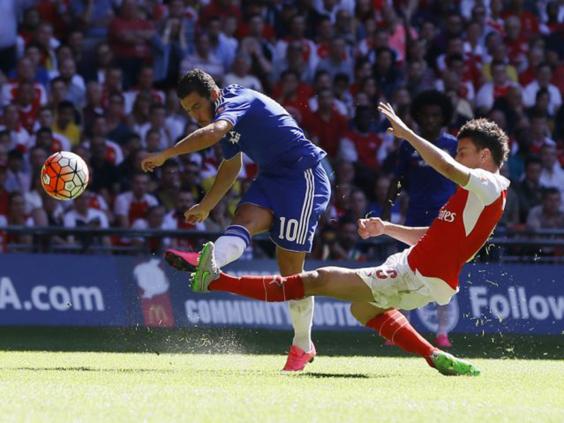 Although they started the second half better than they had the first, Chelsea struggled to create the goalscoring chances they needed. The obvious one, a clever throughball by Fabregas to Hazard, the current player of the year conspired to dig out from under his feet and strike wildly over the bar. This was not his best afternoon's work.
It was worse for Azpilicueta, one of Mourinho's key men last season. Given a bad time of it by Oxlade-Chamberlain he was out-sprinted by the Arsenal man on 65 minutes and responded by dragging him back by his sleeve. Mourinho substituted him not long after, preferring instead the unlikely figure of Kurt Zouma at left-back. Azpilicueta would hardly have needed telling that better was expected.
Cech was required to push a free-kick from Oscar, a second half substitute, around the post on 69 minutes, although even then it did not feel like he was at full stretch. At the other end Courtois made two fine saves from Santi Cazorla and then substitute Kieran Gibbs as Chelsea found themselves over-run at times on the counter-attack.
While Mourinho could argue that his team had the more of the attacking play, it was Arsenal who had the better chances at the end of the game and they really should have scored from one of them. As for the unbeaten record going, Mourinho's point was that one swallow does not a summer make. "One game is one game and has no relation with other games," he said.
"Thirteen matches is an eternity, it's too much." Even so, no-one could be in any doubt that he had taken the result of game No 14 harder than most.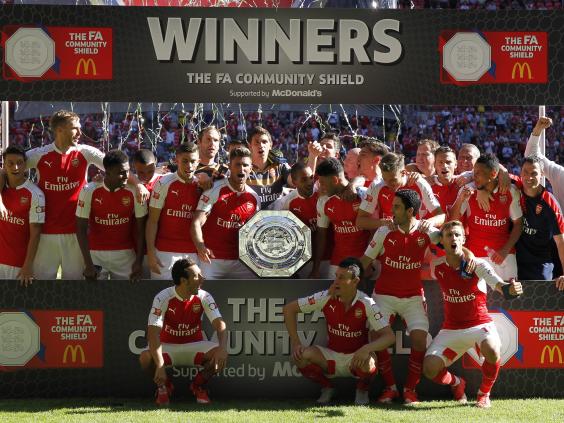 Arsenal (4-2-3-1): Cech; Bellerin, Mertesacker, Koscielny, Monreal; Cazorla, Coquelin; Ramsey, Ozil (Gibbs, 82), Oxlade-Chamberlain (Arteta, 77); Walcott (Giroud, 66).
Chelsea (4-2-3-1): Courtois; Ivanovic, Cahill, Terry (Moses, 82), Azpilicueta (Zouma, 70); Matic, Ramires (Oscar, 54); Willian, Fabregas, Hazard; Remy (Falcao, ht).
Booked:
Arsenal - Coquelin
Chelsea - Azpilicueta
Referee: A Taylor
Attendance: 85,437
Reuse content