Gus Poyet was invited to turn on the Christmas lights in Sunderland last year, just a few days after his team beat Manchester City at the Stadium of Light. It was a happy coincidence that was not lost on the man charged with saving a club that looked doomed to relegation in October.
"They asked me to do the lights and I said 'Already? You don't have anyone else?'" Poyet says. "And so it turned out I did it after we beat Manchester City. How lucky am I? Because you do it after losing two or three games, it's not nice. To do it after beating Manchester City? I was like 'Yep, give it to me!' It was great. There were 15,000 people there. Mamma mia ..."
It has been high pressure ever since Poyet started with a 4-0 defeat to Swansea having inherited a club that had earned just one point from seven games under his infamous predecessor Paolo Di Canio. Poyet says that he is working so hard that had there been a bed for him at the Academy of Light, the club's training ground, where we meet this week, then he would have stayed there overnight, too.
As it is, he lives in Sunderland, the first of the club's managers to do so in some time. His wife Madelon has stayed at their home in the south with their younger son Diego, 18, a professional at Charlton Athletic. His older son Matias, 20, is at Leeds University studying economics and gets to most Sunderland home games. The next generation of the Poyet family is English to the extent that Diego has even captained England Under-17s against his father's native Uruguay.
As for Poyet himself, he is focused on saving Sunderland from relegation. It would be, he says, "the greatest achievement of my career as a manager". At 46 he has changed little from his days as a player. He is lean, intense and full of restless energy. He speaks in the idiom of the English footballer, albeit twice as fast.
Poyet built his managerial reputation taking Brighton and Hove Albion from 20th in League One to fourth in the Championship, developing a sophisticated style of football along the way, before the club ousted him in bizarre fashion in the summer.
"People ask 'Will you die with that philosophy?'" he says. "I wouldn't go that far. There is not only one way. My teams will care about the ball. We will pass it more or pass it less depending on the players and the game and the position on the table. But they will care about the ball. The ball is priceless. I like to say I want the ball to be happy with us. If the ball talks he will say, 'OK, I want to be with that side.' The more time I get, the more clear that idea will be."
Time is tight. There are 16 more games after today's against Southampton. Poyet has taken 16 points from 14 games, including wins over Newcastle, City and Everton but the club are still 19th, albeit with the lower half separated by just six points. Sunderland have won their last three and they face Manchester United in the Capital One Cup semi-final on Wednesday, leading 2-1 from the first leg. Crucial league games against Hull and Stoke are coming up.
The club sacked Roberto De Fanti on Friday, the director of football who was an unusual choice for the job and presided over 14 summer signings, who have made little impact. His removal does not affect Poyet's position or the club's pursuit of the Brighton midfielder Liam Bridcutt.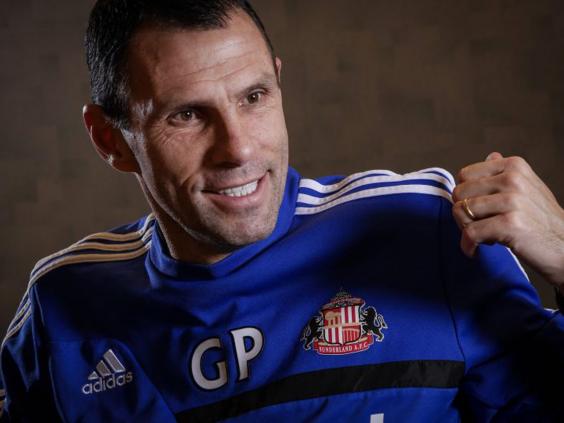 It has been a long journey for Poyet since he came to England to play for Chelsea in 1997 just a few months short of his 30th birthday. Over seven years first at Stamford Bridge and then Tottenham, he was a great success. He tried living in Uruguay when he quit as a player in 2004 but found the pace of life too slow and returned to  England.
He had first left his home country at 20, destined for Nice in France. His late father, Washington, had been a hero in Uruguay for his performances for the nation's basketball team at the 1960 and 1964 Olympics. Gus was originally a centre-forward and when he arrived at Nice they were unable to offload either of their two designated foreign players and could not register him.
He ended up in Grenoble, then a Second Division team, an experience that, he says now, shaped him more than any other. "I played terrible. Whatever the excuse it doesn't matter. I was bad. Poor. I scored a few goals, but I didn't perform. My hardest time as a person was those eight months in France on my own. I used to say if the airport was next door to my house I was gone. But because it was an hour away, no."
He eventually went back to Uruguay and returned to Europe the next year, 1990, as a midfielder for Real Zaragoza. They won the Copa del Rey in 1994 and then the European Cup-winners' Cup the following year against Arsenal in Paris with Nayim's famous long-range winner. For the early part of his time at Zaragoza he played alongside the Everton manager Roberto Martinez, who became one of Wigan's "three amigos".
"At the time we laughed about it in Spain! It was incredible. We couldn't believe that the three [Martinez, Jesus Seba and Isidro Diaz] were going together. At that time Wigan were low down the leagues. How much life has changed for Roberto. He was an intelligent player, a midfielder who knew the tempo of the game. What a good decision Roberto made. Those decisions can change your life, define your life."
Poyet says that after their victory over Arsenal, the Zaragoza players reconvened a few days later at the club's stadium to try to recreate the Nayim goal. "No one was able to put it so close to the crossbar. We could put it in the goal but he hit it so clean and so close to the fingers of David Seaman and the  crossbar. We tried 50, 60 times."
In the summer of 1995, he went back to Uruguay and won the Copa America with his country as his father had once done in the basketball equivalent. These were the formative years of his career and by the time he moved to the Premier League, with a young family in tow, he was ready. It also prepared him for the challenges of management he faced when he took over a beleaguered Sunderland squad.
"First you ask them to commit and believe in what you do. Commitment has to come first. I say, 'Believe in me and time will prove us right. If you don't commit yourself it will take longer'. I try to convince them to go with me. 'I'm here. Believe. Trust me.' Those are the words. I trust them and expect them to go with me.
"By the end of my time at Brighton it was so clear. There was one way. Teams would plan to play against us because of the way we play. They wouldn't play their normal game. I used to say to the players, 'They [the opposition] will train this week to play against you. They will do something specific because of you.' That's something nice, especially if what you do works. Not if you lose every game!"
He served his time as an assistant to Dennis Wise at Swindon and Leeds United and then with Juande Ramos at Spurs. He likes the idea of doing an apprenticeship in management. "People ask me, 'Would you like to manage Uruguay?' Yes, but before there is a process. You need to be manager at the highest level for a few years with stars, with egos, with everything that comes with a national-team player and then maybe you can put yourself in the frame."
The story of how it finished for Poyet at Brighton, with the gross misconduct charge against him, and that dramatic sacking while he was live on BBC television has been well chronicled. It came down to the club finding a way to get rid of their manager over an innocuous email he sent to staff. It is the only shadow across a very happy life for him and his family in his adopted country which has taken him all the way to the North-east.
He has always had to adapt to new customs, especially those peculiar to the English, and it has made an impression on the way he works. "At first it's little things, like driving in a certain way," he says. "In my country you drive one way. In England it is totally different. You need to know what to do. In other countries there are no rules on the road. It is the strongest, the quickest, the bravest!
"Then you start enjoying the differences. [In English football] you don't cheat, don't go down, don't take advantage, don't score a goal with your hand. I did everything to win a football game before I came to England and that changed. You start seeing a different football, you see the reactions and you adapt one way or another.
"In crazy moments you try everything because you go crazy, you're mad. But before the game you know the rules. Nayim [previously at Spurs] helped me a lot. Before I went he said, 'Don't do this, don't do that.'
"Once you understand the life you know why a Christmas party with the players is so popular," he adds. "In other parts of the world it's a simple dinner. The Christmas party in England is not a Christmas party. It's madness. The first Christmas party at Chelsea, I drove there in my car. My team-mates were saying 'You don't drive to a Christmas party. You're going to drink and you can't drink and drive.'
"I said: 'What a couple of beers in seven hours? No? You're going to drink 20 beers?' I never said no, I was always part of that and I enjoyed it."
There have been times when he has thought over the last four months, Poyet admits, "Why us?" – like the dismissal of Wes Brown against Stoke, later rescinded. There has also been the frustration of one good performance followed by a bad one. But the latest run of three wins gives him hope. "After two wins in the cup we played in the league and [against Fulham] put a stamp on it for the first time," he says.
And as a football man, proud of his Uruguayan heritage, he is touched by the fervour of the support in the city. "In most places in this country, you get some people who don't have a clue about football, or they like cricket. Not in Sunderland. You can look at someone, man, woman, tall, small, 20 or 80 years old and say, 'OK, he or she, they don't care about football'. Then it turns out they do. They always do. It's everybody."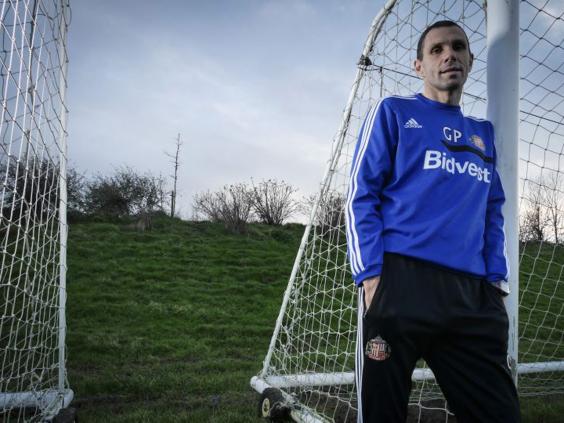 MY OTHER LIFE...
My golf is rubbish now. It improved dramatically in the summer. I was playing off 12. I don't even have my golf clubs up here with me. Let me win a few more games and then we'll see if I can play a round.
Reuse content