Results ultimately dictate a football manager's career, but woe betide those who believe that their fate boils down purely to what happens on the pitch rather than off it.
Kevin Keegan created one of the most exciting teams in the Premier League era with Newcastle United in the 1990s and came close to delivering the league championship to Tyneside, but when it all went wrong, a post-match explosion in front of the television cameras proved to be Keegan's defining image.
Rafael Benitez secured Liverpool's fifth European Cup in 2005 and guided them to another Champions League final two years later, but an ill-judged attempt to divert the narrative of a title battle against Manchester United in January 2009 by delivering a series of "facts" in a pre-match press conference inflicted untold damage to the Spaniard's reputation and left the watching Steven Gerrard to admit in his autobiography, "I was grabbing the couch, digging my fingers into the arms, feeling embarrassed for him."
Football management and coaching is no longer merely about balls, bibs and cones. It is also about avoiding the mistakes made by Keegan, Benitez and countless others.
Dealing with the pressure of media scrutiny, being prepared for a hostile interrogation in the midst of the most difficult scenarios and facing down your inquisitors has become such a crucial element of a manager's job that it is now a key element of the Football Association Uefa Pro Licence course, whose current students include the likes of Brad Friedel, Jimmy Floyd Hasselbaink, Mark Warburton and Scott Parker.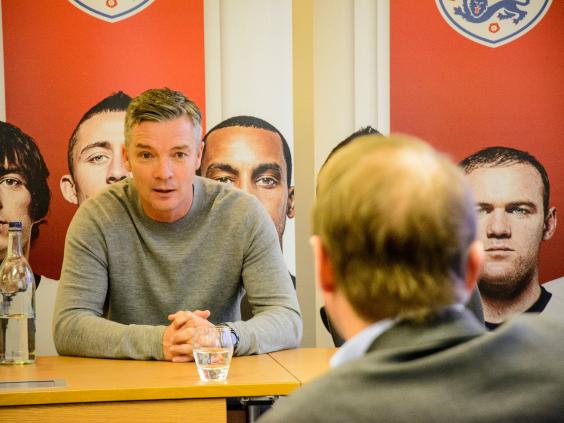 At £7,500, the course does not come cheap but, as one of seven national newspaper journalists earlier this week, I was invited to St George's Park near Burton to give the Pro Licence students a taste of what to expect from the media when their team has lost 6-0 after going unpaid or discover how they would cope with the revelation that the girlfriend of their star striker has sent an angry 2am tweet calling for the manager to be sacked.
There were some Keegan moments as prospective managers allowed themselves to say the wrong thing – Parker's suggestion that the tweeting girlfriend "was probably drunk" was a gaffe that the former Chelsea and Tottenham midfielder admitted was a result of the pressure of the mock questions being fired at him – while former Republic of Ireland forward David Connolly felt himself pinned against the ropes after claiming, in a scenario about his players going unpaid, that he and his coaches had received their money.
When Connolly glared at me before shaking his head with a smile, it felt as though a line had been crossed, before he admitted to learning a crucial lesson from the experience.
"I knew as soon as I had said it that it was the wrong thing to say, but it's tough up there," admitted the former Watford and Wimbledon striker.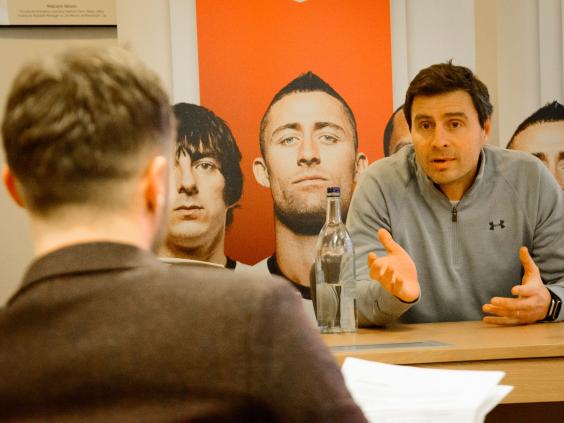 Mark Sampson, who guided the England women's team to the World Cup semi-finals last year, was another who struggled to roll with the punches, trying to fend away questions about a "meeting with a rival club chairman who has just sacked his manager".
Miguel D'Agostino, Mauricio Pochettino's first-team coach at Tottenham, gave a masterful performance when faced with the tweeting girlfriend scenario, seemingly able to straight-bat every question which came his way over a five-minute period.  But once his interrogation was over, D'Agostino leant back, blew out his cheeks and  said, "Fucking hell, guys, that was hard!"
For many of those on the course, the importance of being able to deal confidently with the media was not a priority when beginning the coaching journey, but Parker, now at Fulham, admits it has become a crucial area for prospective managers to master.
"You don't realise how big the media side is," Parker said. "Certainly, as a manager, you are not just speaking for  yourself, it is the whole image you are giving off and this course has been really helpful for me.
"We did a presentation the last time on communication, how you get your message across, and it was the first time that I felt quite uncomfortable. When you are pushed out of your comfort zone and when you are in certain situations, that is when you realise that you may have to learn a little bit.
"During that part of the module I thought, 'You know what? I am going to have to get better at this', because if I want to go and engage in the next part of being a manager I am going to have to engage with bigger groups and prepare right.
"It has been good in that sense. I have never used Twitter – I am not into social media and if anything is going to get my back up, it is something I am alien to and don't like – but I understand it is a massive part of things."
John Peacock, the former England Under-17s coach who leads the Pro Licence course, has overseen the evolution of the qualification since it was first rolled out by the then technical director Howard Wilkinson in 2001-02. Peacock admits that the growth of the game's profile since the turn of the millennium has made it imperative for media training to become a key pillar of the course.
"Alan Pardew said this week that when we started in 2001 the media side was only a small part of the course," Peacock said. "Fifteen years on, the media is now such that you can get football 24/7 and that's a massive input.
"So in terms of the number of press conferences, interviews and other media-related activity, a head coach has to understand that is a huge part of what is involved in the job.
"We looked at that and realised how important it was, so we have tried to get as close as we possibly could to replicate that environment, by having the top football journalists in the country, a first-class media training partner and our own FA press officers to give them the best possible understanding of those situations.
"Over the last three years, this country has produced as many coaches as any other European nation, and that is indicative of how our coach education framework is viewed across the rest of Europe.
"We are really moving forward and developing a really strong product for education in England that is as good as anywhere else, in my opinion."
Parker, who captained England and won the Premier League with Chelsea, has experienced life at the very top of his profession as a player, but nonetheless admitted to apprehension about the 10-step walk from the door to the press conference table to face a group of journalists.
But despite the grilling and sense of being out of his comfort zone when faced with a room of journalists, the 35-year-old insists he is ready to embrace the challenge of management if the opportunity arises.
"It has taken me six years to get in the position I am now [with my coaching qualifications]," Parker said. "You play so many games, big games, but then coaching is so much different and it is quite difficult.
"There is an art to it and getting your message across. The little things you have learned and what comes instinctively on a football pitch – teaching that to someone else is sometimes quite difficult.
"The course finishes in June and, hopefully, I will be qualified, but there is going to be plenty more learning to do and plenty more awkward situations.
"But at least when June comes, I have done the work and I can move on."
Reuse content