Football's lawmakers have delayed live trials of video technology at matches for at least 12 months.
The Dutch FA had wanted to use its system in the Dutch Cup next season but the International FA Board meeting in Belfast wants more information before giving the green light.
Football Association chairman Greg Dyke had been keen to push forward live trials but other delegates were more cautious which means it will be at least another year before the go-ahead can be given.
A move to change the 'triple punishment' has been agreed in principle, so that a player who is sent off for a straight red card for denying a goal-scoring chance when conceding a penalty is no longer suspended for the following match.
Key players in the Qatar World Cup bid controversy
Key players in the Qatar World Cup bid controversy
1/5 Mohammed bin Hammam

The Qatari was the Asian Football Confederation president at the time of the 2010 vote. The Sunday Times alleged that documents showed he made payments to officials as part of a campaign to win support for the 2022 World Cup bid. He insisted he had no "official or unofficial" role with the bid. Fifa imposed a second life ban on him in December 2012, after his decision to quit all his football roles. This came after the Fifa ethics committee investigation found him guilty of "repeated violations" of the ethics code on conflicts of interest, while he was AFC president and while a member of the Fifa Exco between 2008-2011.

AP

2/5 Jack Warner

The Trinidad & Tobago politician was forced to resign as a Fifa vice-president in 2011, after he and Bin Hammam were alleged to have paid bribes of £600,000 to Caribbean associations. He is also alleged to have helped Bin Hammam bribe Caribbean officials in return for support in his aim to oust Sepp Blatter.

Getty Images

3/5 Sepp Blatter

The long-standing Fifa president oversaw the bidding process to award Qatar the World Cup. Has since admitted awarding Qatar the cup was "a mistake". He set up an executive committee task force to look into the World Cup in Qatar being moved to the winter because of the extreme summer temperature.

Getty

4/5 Lord Triesman

Former FA chairman. Alleged that, in exchange for voting for England to host the World Cup, Warner asked for money to build an education centre in Trinidad and to buy World Cup television rights for Haiti, and that Paraguay's Nicolas Leoz asked for an honorary knighthood in exchange for their votes.

Getty Images

5/5 Michael Garcia

Former New York district attorney Michael Garcia was named Fifa's chief independent ethics investigator. He spent a year investigating the organisation, and delivered a 350-page report on the 2018 and 2022 bidding processes in September. Called for greater transparency and culture change in Fifa.

Getty Images
Irish FA chief executive Patrick Nelson told a news conference: "IFAB did agree that this punishment is too harsh and that we must find a solution to the matter. IFAB has tasked Fifa to look into the feasibility of implementing this on a global level."
Proposals to allow a fourth substitute in extra-time, which had been put forward by Fifa, were rejected.
"IFAB remains of the view that three substitutions is adequate," said Nelson, but the issue has been referred back to its technical panels for further analysis.
Fifa secretary-general Jerome Valcke said caution was needed as the implications of the rule change were so vast.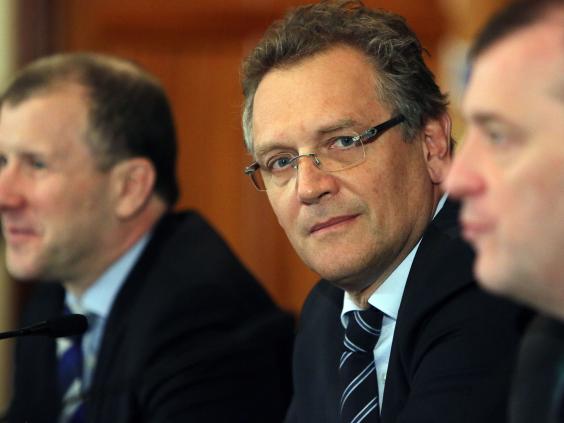 He said: "I think it needs a lot of discussion - if the referee just relies on information that he is getting [from the video official] is there a risk he becomes not as strong and always asks for confirmation?
"It's the biggest decision which will come out of IFAB ever. It's not a question of years, it's making the biggest decision ever in the way football is played."
PA
Reuse content