'There wasn't so much analysis or preparation then. You just got to the game and found out who was playing when the teamsheet went up an hour or so beforehand. That's when I found out I was marking Cyrille Regis."
Garry Monk is recalling his debut in professional football. It was  4 November 1995 and Monk had been plucked from the obscurity of the Torquay United youth system. Torquay were 92nd in the four  divisions and had an away game at  Chester City, where Regis was  seeing out his formidable playing days. Central defender Monk was 16, just over 11st and had zero  experience; Regis was 37, over 13st and had vast experience.
Monk's recollection is: "It was a great day. I think I did well, gave as good as a I got." Chester won 4-1. Regis scored the first. "Obviously from the result, that might not be the case," Monk adds dryly.
He laughs at his memory, then makes a serious point: "The good thing then was that I was 15, 16 playing reserve-team football against men, proper established pros.
"I think that was the best education you can have, that's what we're lacking now. Those situations – playing against Cyrille Regis – you're in a man's world. It makes you grow up. You didn't get the protection you get in the under-21s league now, where it's quite a technical game. That's what I remember most from those days – they were men."
Fast-forward almost 20 years and again the deep end beckoned Monk. Following Michael Laudrup's abrupt departure from Swansea City, Monk, 34, with zero experience of being a manager, was asked to oversee Swansea's last 13 League games of last season as interim manager. They  were two points above relegation. The first game was against Cardiff.
Swansea won 3-0. By May they were nine points above relegation. This season they are safe again and when Swansea host Liverpool tomorrow night, and their former manager Brendan Rodgers, it is with an eye on a best League finish since the John Toshack days of 1982.
"I didn't really think about myself as a manager," Monk says, "I thought about all the people who work at the club. Of course you've to do management things, and lead, but I led more as a club figure, not as a manager. It was about this club and this city. Swansea's unique. When you come here, you live in Swansea. The players aren't spread out across a big city. They're all here and in Swansea, everyone supports Swansea. You can't get away from it.
"You feel what it means and I think that's great – especially in this league. Here you live and breathe the responsibility every day. It's special."
The appointment worked. Swansea finished 12th, not only ensuring £74.2m in Premier League TV and prize money, but that the Laudrup rupture is barely mentioned.
In the last week of the season, Monk signed a three-year contract. In a league addicted to volume, the now 36-year-old has progressed quietly and this May could be its highest-placed English manager.
Sitting in his all-black Swansea tracksuit, Monk is measured and modest. Only when the tape-recorder goes off does he address the notion that he is part of a group of talented young British managers who have been forged at lower-league level. Even then, it's to say it's too soon for such talk.
That is different from diffidence. "Not once have I had second thoughts," he says. "You have days when you question things, but in terms of  doubt, no. It's come earlier than I thought but I felt ready, I've always felt ready.
"I was 26 when I first started thinking about management. I'd a serious knee injury. I was on a hospital bed and the surgeon pretty much said your career could be over. Big shock. I got back from the injury but that's when I really started paying attention, doing my badges – I'm finishing my Pro  Licence in September. Since I was 26 I've been preparing for this part of  my life."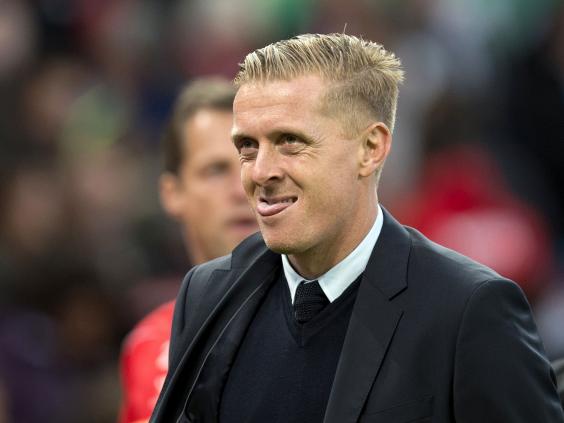 Change had begun: personally, professionally, permanently. A month after that Cardiff game, Monk's wife Lexy gave birth to twin boys – they already have a daughter - and in the midst of that "chaos" as Monk calls it, he had to present his vision to the Swansea board. 
Fortunately they knew each other inside out. Soon after that Torquay debut, Monk had joined Southampton, then went back to Plainmoor on loan, where he played alongside Chris Waddle briefly. It was the first of a few loan spells over eight years at the Dell and in 2004 he signed for Swansea, then in League Two.  
Monk (left, playing for Swansea)  then immersed himself in the club as they went from the Vetch Field to the Liberty Stadium to the Premier League in seven years. He was made captain under manager Kenny Jackett in 2006 and it stayed like that all the way to Wembley in 2013 when Monk and Ashley Williams lifted the League Cup together.
Jackett, Roberto Martinez. Paulo Sousa, Rodgers and Laudrup, Monk observed them all – "Brendan's the  most complete, the most rounded of those I've worked with.
"My values are more old-school – honesty, which Brendan had. His professionalism, the discipline to do your job the best you can every single day. His man-management was brilliant. Then there's the technical, tactical side of it. All those things, Brendan did very well. And he  was approachable, likeable, enthusiastic."
But this was Monk's moment.  "When we got safety last season," he says, "then it maybe dawned on me more, not to think selfishly, but to think: 'Am I going to do this [permanently]?' I discussed it with my family and you do have to think of the worst-case scenario, but I'm confident."
Validation came swiftly when in Monk's first match as permanent  manager, Swansea won at Old Trafford on a day meant to be about Louis van Gaal's coronation.
"It was significant for me, yeah," Monk says. "Players need to feel success, that the work they're doing is vindicated. I felt that very much on that first game. The best thing about it was that we won on merit. You need that feeling. For the majority of the season we've felt it." It was Ryan Giggs who invited Monk for a post-match drink, not Van Gaal.
Monk's changes saw 12 players leave and eight come in. That alone alters a club, but Monk also went  behind the scenes. New-school thinking complements his old-school values.
"The analysts' department had to change drastically," he says. "I was going to work in greater depth when analysing teams. Training is now filmed every day, every bit of data comes back. The medical department needed extra experience, I brought in a sports psychologist, a new goalkeeping coach. It was a lot, a different methodology."
Bafetimbi Gomis's collapse at White Hart Lane last week was a test – "Of course you're concerned but we understood the situation, there was no panic" – and Monk places emphasis on the role of the psychologist, Ian Mitchell.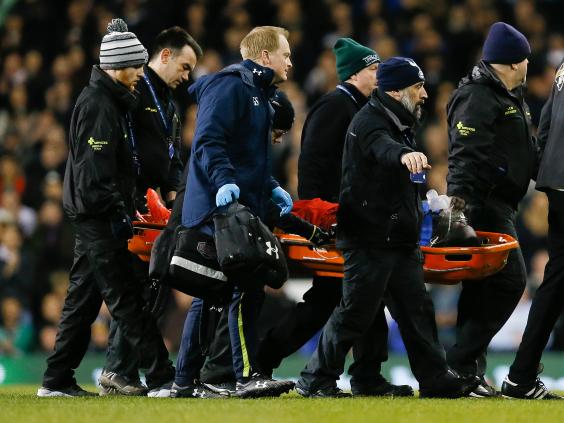 As a Southampton player, Monk worked under Glenn Hoddle – "I thought he was ahead of his time tactically" – but Monk shared in the Eileen Drewery scepticism. Now he sees Mitchell, who played for Hereford before entering academia, as essential. 
"Ian works closely with me," he says. "It's quite a lonely job - I'm not saying 'I'm lonely!' but you need someone to talk to. I speak to everyone but he's good at making me plan it.
"Ian works on triggers with players, how they can think about the game quicker, clearer. A difference [to other clubs] is that he's here every day, he's pitch-based with us. Ian's played the pro game, he's got all his coaching badges, and he's from teaching – he's got both."
Part of Swansea's change under Monk is a reversion. In those Vetch days, the players would not be fed by the club and would meet in a Spanish café called Paco's. There the chat would be about life and tactics. Bonds were formed.
Today the players' dietary needs are catered for but in search of unity of purpose, Monk makes them leave the dressing room together not just at matches, even in training.
Another part of the change, inevitably, are his relationships with former colleagues. "I'm the manager now. There is a line. I roomed with Leon Britton most recently and I suppose our relationship has changed, yes. It's difficult when you reflect on it. I do miss that relationship with Leon, or others I was very close with. But I understood and they understood."
And another change is style. Monk talks of previous "blind faith" in  possession and offers the counter- attacking win at St Mary's last month as evidence of "the need to be adaptable. We'll always fight for possession, and pass, but you can't be predictable.
"I'm not changing Swansea, I wouldn't, I'm adding to it. I know  exactly what the club stands for, where we've been and what we've come from. I've been a big part of that – involved."
Apart from the football... I read coaching manuals
I don't get much time now. The twins were born on 4 March. Chaos. I was a keen golfer until a year ago. Now I spend time with the family. Boring stuff. I'd love to say I was a poker shark or something.
But I'm constantly reading coaching manuals, books on leadership. I've just started Pep Confidential. It's good. John Wooden (right) is a college basketball coach in America and his level of detail was insane.
He wrote about how he would tie the players' laces. He'd tell them how to wear socks right so they didn't get blisters. We're going back years here. His time-planning. Incredible.
Reuse content