Eric Cantona was a state of mind, a lifestyle choice. Evaluating him solely as a footballer is as superficial an exercise as assessing Tommie Smith entirely on his athletic achievement or judging the importance of Francois Pienaar on his impact as a back-row forward.
Each features in an image which crystallises an issue and defines an era. Smith's Black Power fisted salute at the Mexico Olympics in 1968 signalled the radicalisation of the modern athlete. Pienaar's acceptance of the Rugby World Cup from Nelson Mandela in 1995 symbolised sport's healing power.
The reverence with which Sunday's 20th anniversary of Cantona's kung-fu kick at an abusive Crystal Palace supporter is being marked tells us what football, and by definition his former club Manchester United, has lost in an age of commercially driven orthodoxy.
Cantona's immortal imposition of summary justice at Selhurst Park wasn't the most significant event on  20 January 1995 – the Russians had earlier come close to launching a nuclear attack after a Norwegian research rocket was mistaken for a US Trident missile – but it lodges in the national consciousness.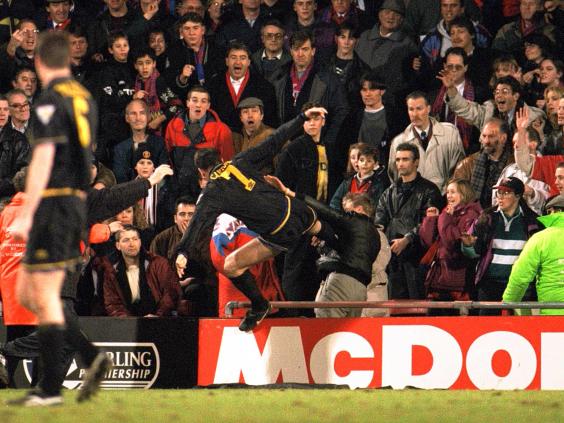 If such a confrontation happened today, the perpetrator would be buried beneath the slurry of social media. He would be clickbait, a convenient apostate driven out of the game by an unholy alliance of opportunist politicians, panic-stricken administrators and malicious mediocrities.
They could be relied on to overlook the irony that dangerous emotions like envy and hate have become marketing tools used to sell overpriced football boots. Rancour is routinely reduced to its lowest common denominator,  so-called banter regurgitated by the intellectually challenged.
Since Cantona was a starburst of colour in a monochromatic world, it was inevitable his anti-heroism would be commercially exploited. His aura sold satellite dishes and gave the Premier League the soap-operatic plot it yearned for, to broaden the market.
Finally he was alienated by United's growing corporatism, the enslavement of the club's heritage by the superstore. Celebrated as a warrior king, he played up to the role of philosopher so convincingly that his secondary career as an actor was a natural outlet.
Modern brand-builders would attempt to package him as a harmless maverick, like Zlatan Ibrahimovic. Fame increasingly involves airbrushing character; Martin Odegaard, the Norwegian prodigy, deleted the admiring references he had made to Barcelona's Lionel Messi on his Twitter account after signing for Real Madrid for fear of offending cultural and commercial sensitivities.
Inevitably, the Cantona anniversary has encouraged a revisionist view of his place in the pantheon. These pieces tend to be written by those whose TV viewing in 1995 was limited to Count Duckula or Sabrina, the Teenage Witch.
You had to be there to appreciate Cantona's role as the catalytic converter in Sir Alex Ferguson's first great United team. The visceral nature of his influence cannot be put into context by Prozone statistics or captured in YouTube compilations.
He didn't hang around for the improbable drama of the Champions League win in 1999 but he set enduring personal and professional standards for the young players around him.
Bridging eras is a hazardous business, but it is safe to assume the respect Cantona had for Ferguson would not be reciprocated for Louis van Gaal. The Scot knew when to frighten and when to finesse. The Dutchman, by contrast, uses the force of his personality as a blunt instrument.
A player of Cantona's gifts and inclination would be affronted by the dull, one-dimensional football which led to United's goalless draw in the FA Cup at Cambridge United on Friday night. The lack of leadership and lustre was an insult to his memory.
He was a supernova who burned brightly at Old Trafford for five seasons. How we could do with some of his warmth and incandescent light today.
Amir swings opinions
Mohammad Amir was described by the judge who jailed him for six months as "unsophisticated, uneducated and impressionable". He was 18, extravagantly talented but uniquely vulnerable to a culture of casual corruption.
An innocent abroad in the spot-fixing scandal in the Lord's Test between England and Pakistan in 2010, he succumbed to the malign influence of his captain, Salman Butt, and his fellow bowler Mohammad Asif.
Released after serving half his sentence in Portland young offenders' institute, he could return to domestic cricket as early as next month, since the ICC are set to sanction his reintegration before the expiry of his five-year ban in September as part of a revised anti-corruption code.
The quality of mercy has been highlighted lately with the case of convicted rapist Ched Evans. Amir deserves his second chance because, unlike the footballer and his entourage, he has grasped the fact that remorse is central to his rehabilitation.
He has undergone an educational programme and provided invaluable information to the Pakistan Cricket Board and international investigators. He met the ICC on Friday and reiterated the debt he owes to a sport which propelled him from poverty.
At 22, his life lessons have been harsh but of enduring value. He promises to be an important ambassador for cricket in the future.
Yabba dabba don't
It seems Fred Flintstone is alive and well and conducting interviews at the Australian Open tennis. Eugenie Bouchard, prevailed upon to explain her relationship with Justin Bieber last year, was asked to "give us a twirl" after her victory in midweek.
Her immediate riposte, that Andy, Rafa and Co should get their pecs out for the girls, was well judged. But the issue will not go away while female athletes are routinely objectified.
The checks in the post
It takes comic genius to rival golfer Robert Allenby and his "kidnap" ordeal, but let's hear it for Domenico Scala. He's not an operatic icon, but a functionary whose solemn duty is to oversee Fifa's presidential election.
Nominations close on Thursday, but he warns that confirmation of the candidates will take a while because of the need to instigate "integrity checks". Insert your own punchline....
Reuse content