To all the wonderful images of this World Cup is added one that may prove as powerful as anything done with the ball: the 2006 finals are remembered as much for Zinedine Zidane's headbutt on Marco Materazzi as for any of the goals.
The film is not conclusive, but probably evidence enough for most juries, and they would not be told of the accused's previous offences. The immediate question is what will Fifa do about it? Zidane was fined 7,500 Swiss francs and handed a three-match ban but as he had retired from playing he instead had to do three days of community service for Fifa. He was subsequently rehabilitated and even helped front Qatar's World Cup bid.
A headbutt, however, though reprehensible, is not that uncommon on the pitch and is usually met with a red card and three-match ban. Fifa's most serious punishment was the eight-match ban handed to Mauro Tassotti in 1994 for breaking Luis Enrique's nose with an elbow. Elbows are not so uncommon either. Biting is rare, with Suarez responsible for the last three well-known incidents. He bit PSV Eindhoven midfielder Otman Bakkal's shoulder in 2010, when playing for Ajax, and the shoulder of Chelsea's Branislav Ivanovic while playing for Liverpool last year. He received seven and ten-game bans respectively.
Fifa can punish players retrospectively for incidents the referee has missed, and did  so in 2006 following a post-match brawl when Germany beat Argentina in the quarter-finals. This time it will surely take strong action. It is likely that Suarez's World Cup is over – even if Uruguay reach the final they would only play four more games. The ban could also extend into Uruguay's 2018 qualifying campaign – or the Copa America, South America's equivalent of the European Championships.
Then there is his club career. With Suarez having looked so sharp, the odds on Real Madrid or Barcelona moving for him were shortening. This may put them off but, even if it does not, Liverpool's bargaining position has been hugely weakened. Their £70m asset is tarnished anew. Can they justify keeping Suarez after this? It may have happened on international duty, but the United States has woken up to the World Cup this month. The club's fans may forgive him – after all, they forgave him trying to engineer a move to Arsenal – but the American owners are unlikely to welcome the publicity that will follow their star player's latest outrage. This assumes, too, any ban is not extended to club football.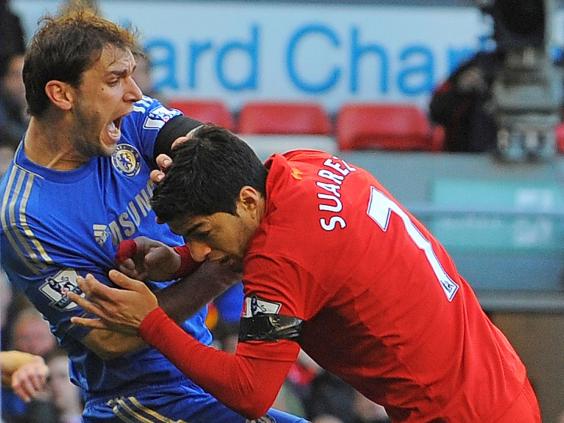 It had looked as if Suarez had tamed his 'inner chimp', to use the analogy Steve Peters, Liverpool's in-house sports psychiatrist would use. Last season he played superbly and for the most part behaved impeccably. There was his Easter resurrection after claiming to be injured at Carrow Road but, by and large, even the diving stopped. He deservedly won the players' player of the year award and the Football Writers' Association's Footballer of the Year award – which stresses the winner should set an example as well as perform.
Now this. Suarez is clearly a recidivist. Over the last decade many a forward would have wanted to take revenge on Giorgio Chiellini, one of those old-school Italian defenders, but while some will have 'left a foot in' none would have dreamt of biting him.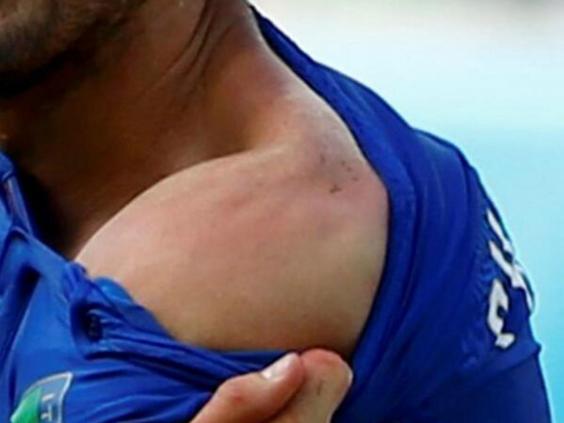 After he had made his apologies for the last offence the BBC spoke to sports psychologist, Dr Thomas Fawcett, of the University of Salford, who said: "I would think that in five years' time if there was a certain nerve hit or chord rung with Suarez in a different situation he would react in the same way." He was right, but too cautious by four years.
Reuse content