In the build-up to the first leg against Paris Saint-Germain last month, Jose Mourinho said that his Chelsea side could already be considered "a great team", a remark that struck me at the time as premature, to say the least.
Great teams do not play away in Europe and create just one goalscoring chance in the course of a game, as Chelsea did in Paris. And great teams certainly do not fail to beat opponents reduced to 10 men at home, as Chelsea did on Wednesday night.
Having been in Paris for the first leg I felt that PSG were a good side and should have won that match. I wrote in these pages then that they were likely to score in London. What I did not envisage was that they would be able to do so without Zlatan Ibrahimovic. That said, getting through difficult two-leg ties despite adversity is what good sides do in the Champions League.
Even down to 10 men, PSG carried on creating chances, like the one in the second half that ended with Edinson Cavani hitting the post. That's what the top teams do, even away from home. Chelsea's failure to create chances in Paris, and then again this week, shows how far they have to go to be considered among the very best in Europe.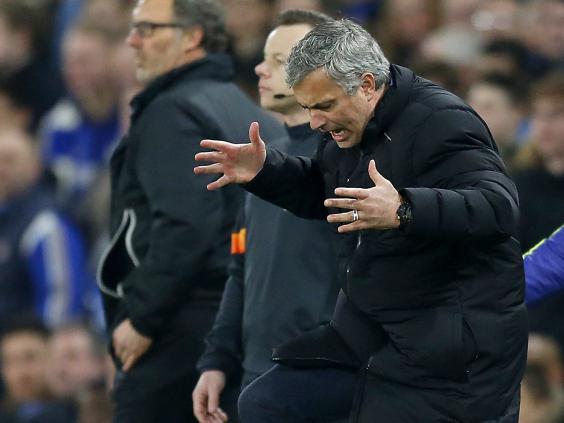 It has the potential to be a bleak seven days for the Premier League, with Chelsea already out of the Champions League and Arsenal and Manchester City both chasing defeats from their first legs, in Monaco and Barcelona next week. We might have the most exciting league in the world but the quality at the very top end does not compare with Real Madrid, Barcelona, Bayern Munich and PSG.
Chelsea will most likely win the league this season, although their football has not been outstanding. Of all the teams in the Premier League it is City who play the most attractive football when they are on song, but they have been at their best too few times this season to stay on top of the league. There has not been a consistently excellent side in the Premier League this season, and that has been reflected in the Champions League results.
As for Wednesday's game, I hardly need to say that it was not a red card for Ibrahimovic. I could tell that he knew he was going off when he looked up and saw every single outfield Chelsea player around the referee telling him to get his red card out. Chelsea have been doing it all season – if it is not the players trying to referee the game, then Mourinho does it from the touchline.
Chelsea 2 PSG 2 player ratings
Chelsea 2 PSG 2 player ratings
1/24 Thibaut Courtois

Outstanding showing in France kept Chelsea in tie; tested little in first half. Rounded by Cavani before fine stop. Rooted to spot for Luiz and Silva headers. 7/10

GETTY IMAGES

2/24 Branislav Ivanovic

Serb opened the scoring in Paris three weeks previously but was not afforded space to roam, policed well by Maxwell. Blocked Matuidi shot. 6

GETTY IMAGES

3/24 Gary Cahill

Chosen ahead of Zouma and kept occupied by Cavani all night. Assisted first-leg goal and had shot blocked at a free-kick before swiping in opener here. 6

GETTY IMAGES

4/24 John Terry

Relishes big occasions and stood up to challenge well as PSG took time to impose themselves. Vital block on Cavani but beaten at the end. 7

GETTY IMAGES

5/24 Cesar Azpilicueta

Eager to help in attack but careful not to be caught out of position as PSG pressed. Unable to make impact as French side dominated to progress. 6

GETTY IMAGES

6/24 Cesc Fabregas

Knocked over by Motta and unable to exert influence as easily as he did in first half of season. Knocked off ball too easily by stronger visitors. 5

GETTY IMAGES

7/24 Nemanja Matic

First game in over a fortnight after last month's red card and aided defensive efforts. Crucial interceptions and strong tackles before being taken off. 6

GETTY IMAGES

8/24 Ramires

Energetic as ever, ferrying the ball between defence and attack, but did not offer as much imagination or spark as Willian might have. 5

GETTY IMAGES

9/24 Oscar

It was a challenge with him that resulted in Ibrahimovic being dismissed. Overreaction angered PSG players. Hooked at interval when on a booking. 6

GETTY IMAGES

10/24 Eden Hazard

Skipped through at will early on and hauled back by Matuidi to prevent breakaway near half-time. Showed no nerves with extra-time penalty. 7

GETTY IMAGES

11/24 Diego Costa

Caught in ribs but continued after treatment. Involved in running battle with Luiz and denied penalty when shoved by Cavani. Late tackle on Silva. 7

GETTY IMAGES

12/24 Best off the bench: Willian

Replaced Oscar after being left out for his compatriot. Almost caught out Sirigu at near post. Limited success with dead-ball delivery. 6

GETTY IMAGES

13/24 Salvatore Sirigu

Italian had little to do as PSG began brighter. Gathered from Oscar and Willian free-kick and strong arm denied Ramires. Not to blame for either goal. 6/10

GETTY IMAGES

14/24 Marquinhos

Cleared from Terry at end of first period and kept occupied with trickery of Hazard. Also posed problems with delivery from wide areas. 6

GETTY IMAGES

15/24 Thiago Silva

Caught Costa off the ball and allowed Chelsea attackers little room. Spoiled showing with needless handball before magnificent header for winner. 7

GETTY IMAGES

16/24 David Luiz

Warmly greeted and enjoyed battle with new home favourite Costa, fortunate to escape elbow. Booked for play-acting before powering in leveller. 6

GETTY IMAGES

17/24 Maxwell

Poor cross when in good position but stepped up after the break. Won corner with one cross-shot and played part in composed French back line. 6

GETTY IMAGES

18/24 Thiago Motta

Entered referee's notebook for dissent. Provided valuable extra line of cover for PSG, keeping threat of Chelsea attacks to minimum. 7

GETTY IMAGES

19/24 Marco Verratti

Classy touches and grew into the game as nerves among home side became evident. Half-hearted claims for penalty when caught by Ramires. 6

GETTY IMAGES

20/24 Blaise Matuidi

Booked for pulling back Eden Hazard before interval. Powerhouse who linked PSG attacks and more effective than Ramires' efforts in blue shirt. 7

GETTY IMAGES

21/24 Javier Pastore

Forced Courtois into fine low stop as visitors pressed before wasting second attempt. Rarely ceded possession and always forward-thinking. 6

GETTY IMAGES

22/24 Zlatan Ibrahimovic

Swede has habitually struggled against English opposition and that continued here. Harshly shown straight red card for strong challenge on Oscar. 5

GETTY IMAGES

23/24 Edinson Cavani

Scored equaliser in first leg and close in opening exchanges. Lucky not to cede penalty as he pushed Costa. Shot against post after rounding Courtois. 7

GETTY IMAGES

24/24 Best off the bench: Ezequiel Lavezzi

Took place of Matuidi in closing minutes as French side sought leveller. Almost made immediate impact with header at Courtois before Luiz's bullet header. 6
I accept that at Manchester United, we could also pressurise the referee at times and the picture of Andy D'Urso being backed into a corner is often held up in evidence. But we realised that it had become too extreme and from that point there was much less of it. Chelsea would not be the first team to pressurise a referee but they have to know when they have gone too far.
When Diego Costa is rushing from 60 yards away to get involved in the argument then that is a sign that things have got out of hand. Against PSG the tactic worked in getting Ibrahimovic dismissed, but it became so extreme that referees will be prepared for it in future. They will have it highlighted in their preparation and they won't want to make the same mistake that Bjorn Kuipers made on Wednesday.
I like the way that my old team-mate Laurent Blanc carries himself on the touchline. He happens to be one of the most relaxed men you will ever meet, and that will not change even though he has been under a lot of pressure of late. There are no touchline antics with Laurent, no attempts to try to referee the game himself. He focuses on his team and what they can do.
Even when they were under pressure, PSG still tried to create chances. They didn't just put everyone behind the ball and hope for a lucky break. When you have the players PSG have, then eventually you will be rewarded for that kind of approach – and on Wednesday they got the result they deserved.
I like Van Gaal's new system but I do fear it's not right  for the players he has
The last chance of a trophy for Manchester United this season passed with defeat to Arsenal in the FA Cup on Monday, and for the first time since 1987-1989 the club will go two consecutive seasons without a major trophy, domestic or European. But come this weekend, that will pale in comparison with the worries about Champions League qualification.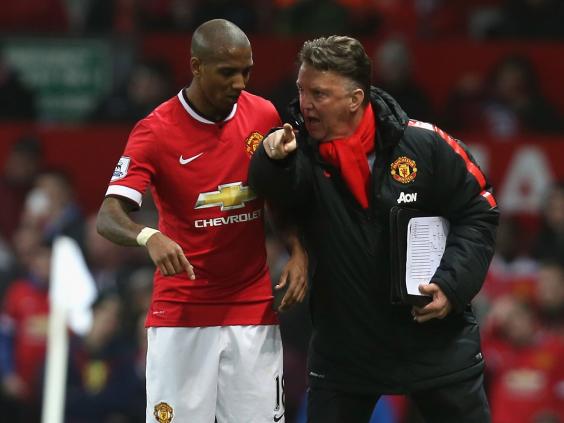 United's fixture list for the final 10 games of the season looks far from straightforward, starting with Tottenham Hotspur on Sunday and then Liverpool away the following weekend. They still have to play Chelsea and Everton away and Arsenal at home. Realistically Arsenal, United, Liverpool and Spurs are competing for the last two Champions League places, with Southampton the outsiders, and I have already said I feel that Liverpool are favourites for third.
Watching United at Old Trafford on Monday, I know what Louis van Gaal is trying to do with this team. I do like the concept. I just question whether he has the players to do it.
In recent weeks, Van Gaal has tried what I would describe as a more Barcelona-style approach to games. His centre-backs push wide, the full-backs push on and the team pass the ball. It has worked against the weaker teams but it is against the stronger sides, starting with Spurs and the high-pressing game they play, that you have to wonder whether it will be found out.
To play this way, you really need to be exceptional. Barcelona can do it because they have the players and they have been playing this way for years. United have spent around £220m in the last three transfer windows and yet I would question whether they have the players to operate this system.
Against Arsenal, there were times when United went more direct to Marouane Fellaini but not as much as might be expected. For what other reason was he in the team? At least it gave United a chance to play in their opponents' half. It might be a bit prehistoric, and there is no chance that Van Gaal will want to do it long term, but if United keep playing the way they are, they will be found out against better sides.
The Spurs midfield, for example, has Nabil Bentaleb and Ryan Mason at the centre, two players I like. They get to the ball quickly and close opponents down. If the aim is to pass around them, then you have to be very polished in that kind of possession-style game. My guess is that Michael Carrick will play against Spurs on Sunday, which will help United.
I understand what Van Gaal is trying to do. I like that he is playing with the wide players. I also know that as former players we cannot harp on about the old days for ever. Things change, although I believe that certain principles, of attacking, entertaining football, should always be protected. Like any other match-going fan – I have two season tickets for Old Trafford – I want to see the team play well and win. I just don't think this system is the best for these players.
What I find hard to understand is how, in March, United are playing another new style with no evidence that they have the personnel to do it. Managers live and die by their recruitment. You buy the right players for the system that you believe will be successful. I don't believe that the club have achieved that balance.
There must be concerns for Juan Mata, who has not started a league game since the Queen's Park Rangers match on 17 January. Given the system Van Gaal seeks to use, I wonder why Mata does not play instead of Fellaini, especially given that United can be reluctant to knock the ball long.
I still believe that Van Gaal is the right man for the job. I don't think he will change his mind about the way he wants the team to play. He is a stubborn man and that is no bad thing in football. But I am afraid to say that if he wants to play this Barcelona style then the club will have to go back into the transfer market this summer to get the players they need to do it.
It seems crazy to say that when you look at the money that United have spent, and it will be more difficult to do so if they are not in the Champions League. It has been another difficult season for the club, but nothing they have been through in the last seven months will compare with the challenge of these last 10 games, and what is at stake.
OK, I'd have enjoyed lining up with Özil... if he always played like that
I found myself agreeing with Arsène Wenger on Monday night. The Arsenal manager said last Friday that I would have loved to have played alongside Mesut Özil – and that would be right, as long as Özil played every week as well as he did at Old Trafford.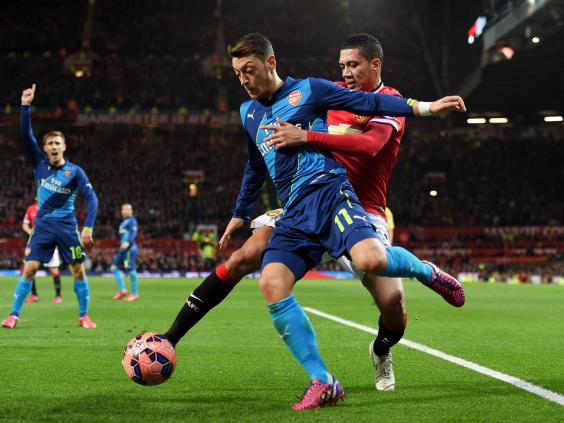 Arsenal impressed me against United, and that has been a rarity in recent years. There were similarities with their performance against Manchester City in January. They looked sharp and hungry, full of energy in midfield where they overpowered United. They looked physically commanding too, and Danny Welbeck's pace and power were important.
Santi Cazorla and Francis Coquelin were the pick of the team in my opinion. I never had them down as so strong. They were quick and aggressive and got the better of United. They showed Van Gaal's team what they were lacking in midfield and, funnily enough, they were not afraid to be direct with their attacks when it suited them.
Player of the week
Thiago Silva. Great captain's performance for PSG and scored the decisive goal, having given away the penalty.
Moment of the week
Danny Welbeck's goal against Manchester United. It pains me to say it, but Danny played well against our former club.
Match of the week
Chelsea 2 PSG 2. Not always played in the right spirit but a cracking game.
Manager of the week
Arsène Wenger. He might be a bit surprised at my choice. I thought Arsenal were excellent at Old Trafford.