His team might have lost to Liverpool on Tuesday but the more I see of Mauricio Pochettino, the more I think he is the best young coach around.
What I like about Pochettino is the way that he looks in control. He is in control of his players, in control of the way that they play. He is confident without being arrogant and his team is playing with a great energy.
He had very little to spend in the summer and yet he improved the players that he inherited. He has a clear way of playing, the 4-2-3-1 formation, and from what I hear his squad's fitness is a major part of the way he works. In that respect he takes them right up to the limit in training and they play the same way.
Not only that but he has been brave in picking younger players ahead of the likes of Emmanuel Adebayor, Roberto Soldado and Paulinho. In Nabil Bentaleb and Ryan Mason he has a very hard-working, solid midfield base. Ahead of them, the attacking three of Christian Eriksen, Mousa Dembélé and Erik Lamela are given licence to rotate positions. In Harry Kane he has found himself a great centre-forward.
I recognise that Tim Sherwood gave a lot of these young players their first chance and Pochettino has shown the same faith in them. Mason and Bentaleb are both still relatively inexperienced in the Premier League, although they broke through relatively late in their careers, and at this stage they will make mistakes. They both did so against Liverpool in the first half. But they still offer a lot to the team.
Liverpool 3 Tottenham 2 - player ratings
Liverpool 3 Tottenham 2 - player ratings
1/22 LIVERPOOL: Simon Mignolet

Will be disappointed that he got beaten by Kane's sub-par finish but made up for it with a spectacular save from Eric Lamella as Spurs searched for a reply. Not to blame for Tottenham's second. 6

2/22 Emre Can

A mixed bag defensively, but helped his team press forwards in the second half. Created a number of attacks by breaking forwards. 7

Getty Images

3/22 Martin Skrtel

A strong performance in the centre, Skrtel remains the lynchpin of the Liverpool defence. 6

Getty

4/22 Mamadou Sakho

Was having a decent game until he ended up on his backside as Harry Kane slotted home Tottenham's first. Followed that up with a rugby tackle on Dembele that earned him a yellow card. 5

Getty

5/22 Alberto Moreno

His passes weren't particularly sharp on the day and the majority of Liverpool's chances were created by his fellow midfielders. 5

Getty

6/22 Steven Gerrard

Hung back for the most part leaving the attacking duties to Philippe Coutinho, but took his penalty well. 7

7/22 Jordan Henderson

Was an effective bridge between the defense and attack as Liverpool broke forwards. 6

Getty

8/22 Lazar Markovic

Nice attacking performance, he created a good number of chances for his teammates and his low, driven shot had enough on it to beat Hugo Lloris. 8

Getty Images

9/22 Jordon Ibe

Rewarded Brenden Rogers faith in him with another fine performance in his second successive start. Showed pace, strength and dribbling skill which stretched the Tottenham defence. 8

Getty Images

10/22 Philippe Coutinho

Displayed his usual craft as he produced a number of good opportunities for his attackers. Divided the midfield work well with Steven Gerrard. 7

Getty Images

11/22

Looked lively from the off and was denied by the sprawling Hugo Lloris on a number of occasions. Almost scored a delightful back-heel but his effort cannoned off the post. Earned Liverpool the penalty. 7

Getty Images

12/22 From the bench: Mario Balotelli

Came on and snatched the game for Liverpool. It was a simple, simple finish, but he timed his run well and was in the right place at the right time. 7

Getty Images

13/22 Kyle Walker

Liverpool's efforts were focussed down the opposite flank so Walker was quiet on a day where he didn't offer much to the attack. 6

Getty Images

14/22 Eric Dier

Part of the calamity that saw Sturridge go close a handful of times. Looked nervy at the back and was very lucky not to give away a second penalty after dangerous sliding challenge on Sturridge. 6

GETTY IMAGES

15/22 Jan Vertonghen

5 Gave the ball away to Markovic for the first goal with a lapse of concentration in an up and down performance. Didn't look assured whenever Liverpool got the ball near the goalmouth. 5

Getty Images

16/22 Danny Rose

What a bad day for left-back. Jordon Ibe had free reign down the right flank and Danny Rose could do nothing to stop the 19 year old's frequent jaunts through the defence. Tripped Sturridge and gave away a penalty in a poor performance. 4

Getty Images

17/22 Nabil Bentaleb

Had his moments providing some link-up play but his defensive work was a liability. 5

Getty Images

18/22 Ryan Mason

Had a torrid time of it. He left his defence exposed on a number of occasions and hit a several poor passes. 4

GETTY IMAGES

19/22 Mousa Dembele

Harry Kane casts a big shadow, and Dembele displays much less energy than his strike partner, but the Belgian forward showed good instincts to nick an equaliser for Spurs. 6

GETTY IMAGES

20/22 Christian Eriksen

Keeps producing for Tottenham's attack and his build up play was excellent as usual. Hit another well-struck free kick that led to Spur's second goal. 7

GETTY IMAGES

21/22 Harry Kane

It's easy to run out of superlatives for the young striker. It's becoming a surprise not to see his name on the score sheet, and he took his finish with aplomb, albeit with a pinch of fortune. He then provided the assists for Spur's second goal and looks every bit of England's best striker. 8

Getty Images

22/22 From the bench: Paulinho

Couldn't inspire a fight-back from his tired teammates and picked up a yellow card for his troubles. 5

Getty Images
Mason has caught my eye a lot this season. He can tackle, he is tactically disciplined and he kicks the ball cleanly with either foot. He gets about the pitch too. I understand he had a few loan spells and some injury problems before he made it as a regular with Spurs and his development has been overshadowed by Kane. But I see no reason why Mason should not be in the next senior England squad.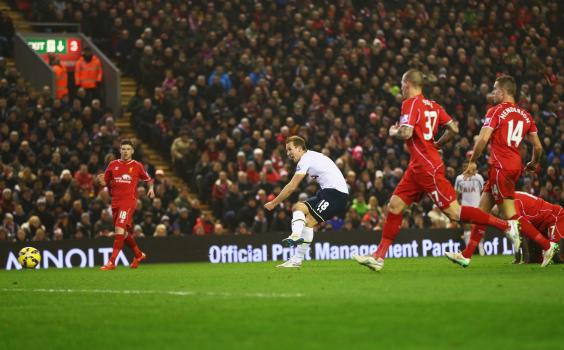 That brings us to Kane. You simply cannot argue with goals against teams like Chelsea, Arsenal and Liverpool. Especially away at Liverpool. I think scoring for the away team at Anfield is still a litmus test for any striker who wants to call himself a goalscorer. Kane is not just picking up goals at home against teams in the bottom half of the table, he is scoring against the best and away from White Hart Lane too.
What makes him special? I have said before that he does not have a standout quality but scores highly across a number of categories. The more I watch him, the more I appreciate his temperament. Playing in attack is difficult. You are under scrutiny and you have to be able to deal with that. Kane seems to do it easily.
Take Tuesday night. Martin Skrtel is good at rattling the opposing centre-forward. He did it to a player as experienced as Diego Costa and got a reaction out of him. Yet Kane never reacted to Skrtel once, and never looked like doing so. Then, when the chance presented itself he was ruthless. I have said before his finishing reminds me of Ruud van Nistelrooy. The thing about Ruud was he never wanted to give the goalkeeper a sniff of saving it. Kane is the same.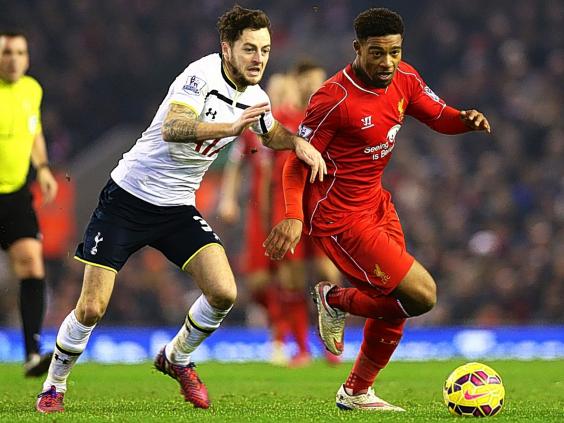 From the outside, Spurs have always seemed a turbulent club. They are either on Cloud Nine or near the bottom of the league. What Pochettino has brought is a calm. He has shown respect to the players he has left out and carried along with him those youngsters who broke through under Sherwood.
On top of that, I hear he takes time to watch the youth teams and the Under-21s play. I cannot tell you how important that is. Modern managers have a lot of demands on them and many feel, with justification, that they do not have the time to commit to watching the junior sides. But it makes such a difference to the mood at a club when the first-team manager knows every youngster by name. The manager I played under did.
Read this week's full column here - Scholes is scathing in his criticism of Manchester United, who are playing 'miserable' football this season.
Reuse content