Stiliyan Petrov is sitting in a pub, talking about cup finals. For the man who led out Aston Villa when they last played in a Wembley showpiece, there is plenty to discuss, with his old club preparing to face Arsenal in the FA Cup. But there is a different final – played out far beyond the media glare – to reflect on first.
It was a final, he says, that left him feeling "like a little boy again" and it took place in front of just 300 people. It was the Central Warwickshire Over-35s Premier Division One Cup final for Wychall Wanderers, the Sunday league team he has spent this season playing for. He scored a goal and Wychall won, though for a man forced to retire from professional football during his fight against acute lymphoblastic leukaemia, the simple act of stepping on to a pitch and kicking a ball again is the real source of joy.
Petrov smiles as he describes a pre-match routine that takes him back to his childhood in the Bulgarian town of Montana, when he was still dreaming of travelling the path that lay ahead with CSKA Sofia, Celtic, Villa and the Bulgaria national team, for which he won 106 caps.
"When I was younger I used to get up in the morning around seven to have my breakfast because I'd play a game at 10.30, and that was something I'd look forward to," he tells The Independent. "Now I am back to that again. I get up in the morning, I get excited: I've got breakfast with the boys and I've got banter in the dressing room; I can put the boots on again. Obviously I am still overweight and don't have the same movement but, after what I've gone through, to be able to go out there and play and smile again is something you can't describe. I text the boys and ask, 'Are you in bed, there's a big game tomorrow?' and I don't think they like that!"
Petrov flew back from a family break in Dubai to play in Wychall's season finale last month but will not be doing the same for the FA Cup final on Saturday, having arranged a half-term holiday in Turkey with his wife Paulina and sons Stiliyan and Kristiyan, before Villa booked their Wembley place. "I will watch it and will support them," says Petrov, 35, who helped Tim Sherwood in his opening weeks as manager at Villa Park, of which more later. "Everybody involved in the club – fans, players, staff – is looking forward to this after three and a half hard seasons."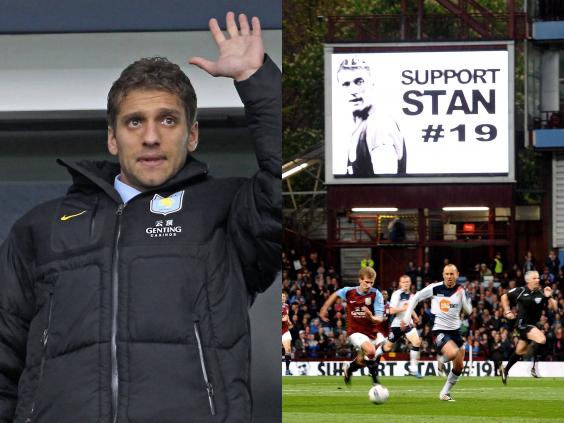 If Villa fans have found recent times tough, it pales beside what Petrov has endured in the three years since the former midfielder made what turned out to be the last of 219 appearances for the club – against Saturday's Cup final opponents Arsenal.
The date of the match was Saturday 24 March 2012 and afterwards nothing would ever be the same again. "That day my muscles weren't reacting the way they used to and I knew through the game that something was not right," he recalls. "But you never think that something will come and change your life in about a week. Within a week of being healthy, being a Premier League player, being an international player and fit as a fiddle, I was diagnosed with leukaemia."
For Petrov, a new existence had begun. "I thought my treatment would be about six months and after that everything would go back to normal but it wasn't like that," he says. "I was constantly hit with intensive chemo for one year, and put on about 13 kilos with the steroids and drugs."
After six months he was told by his specialist, Professor David Lynch from University Hospital London, that he would not play football again. "For three hours I was just crying. As much as I was fighting for my life, I didn't want to accept that I needed to give up football. The next six months I got really down and it hit me really hard. I was constantly in hospital and couldn't go out for months because my immune system was down and I was gaining weight."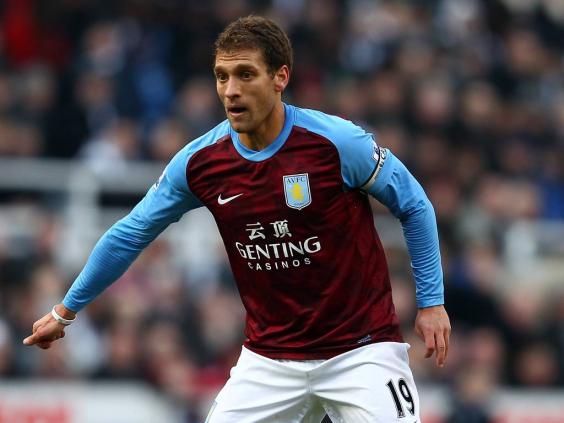 Yet he knows that he was blessed to receive the support he did, and not just from the Villa fans, who sang his name in the 19th minute – after his shirt number – of every match. "I had letters from all around the world. I was privileged to have all this support, especially from the Villa and Celtic fans."
Petrov sips green tea as we talk in a pub in the Warwickshire village of Lapworth and he describes his life today. "I drink a lot of vegetable juice, especially beetroot juice which is good for your blood," explains the 35-year-old. "I have no sugar, no fizzy drinks, no fried foods. People ask if it helps. I tell you what, I am still here."
His aim, now that he has received the all-clear, is to help others, and the conversation turns to his plans for a charity match at Villa Park on 6 September to raise funds for his Stiliyan Petrov Foundation, following the success of a similar event at Celtic Park in 2013. The foundation's goals, he explains, are to fund research trials and to support the families of children undergoing treatment for leukaemia. "[With] a lot of families, their kids are having treatment on the other side of the country and they need to come over here [to Birmingham Children's Hospital] and they can't afford that. The foundation makes sure we look after them."
Arsenal vs Aston Villa combined XI
Arsenal vs Aston Villa combined XI
1/11 Wojciech Szczesny (Arsenal)

While David Ospina has usurped Szczesny's spot in the Premier League, the towering Pole has been an ever-present in the Gunners' FA Cup campaign and is likely to regain his place. Shay Given, who should line up for Villa, has acquitted himself well in the cup, but shipped five first-half goals to Southampton in the Premier League in his most recent outing.

Getty Images

2/11 Hector Bellerin (Arsenal)

Bellerin has been one of the finds of the season for Arsene Wenger, the 20-year-old displacing Calum Chambers as first-choice right-back following Mathieu Debuchy's injury troubles. Leandro Bacuna, who should start for Villa, has offered plenty going forward but his defending has personified a leaky back four.

Getty Images

3/11 Per Mertesacker (Arsenal)

The German centre-back has had his critics this season, and admitted that his form suffered after he came back victorious from the World Cup. However, he has been integral to the Gunners' run of just 11 goals conceded in the final 18 Premier League games. Villa's own World Cup star, Ron Vlaar, suffers in comparison.

Getty Images

4/11 Laurent Koscielny (Arsenal)

It was no coincidence that Arsenal's defence looked vulnerable in the early season, when the Frenchman was missing with an achilles injury. Koscielny is much more mobile than his defensive partner, and has been in fine form since Christmas. Jores Okore, who missed last season for injury, has at aleast had a run of games for Villa, but remains too error-prone to challenge his opposite number.

Getty Images

5/11 Nacho Monreal (Arsenal)

The Spanish left-back has made the position his own after Kieran Gibbs struggled for form and fitness. Struggled in the middle, but has been a solid, calming influence and deceptively good going forward. His opposite number Kieran Richardson has been in and out of the side in a frustrating first season at Villa Park.

Getty Images

6/11 Francis Coquelin (Arsenal)

It is unfortunate for Ashley Westwood, who has been one of Villa's more underrated and consistent performers this season, to come up against Coquelin. The Frenchman has been one of the Premier League's breakout stars, and has been compared to a £40m by Wenger.

Getty Images

7/11 Aaron Ramsey (Arsenal)

Ramsey hasn't had quite the impact he made during a sensational 2013/14 season, but has scored 10 goals in all competitions and when fit remains one of English football's most effective midfielders. Tom Cleverley finished the season in fine goalscoring form, but spent much of the campaign struggling for consistency.

Getty Images

8/11 Santi Cazorla (Arsenal)

Fabian Delph broke into the England side at the start of the season, but struggled to maintain form and fitness despite some energetic displays. Cazorla, on the other hand, has been superb for the Gunners, playing 52 games in all competitions and pulling the strings in the side's best displays of the season.

Getty Images

9/11 Mesut Ozil (Arsenal)

He has been overshadowed in large parts by the club's more recent big-money signing, Alexis Sanchez, but Ozil has put in a string of influential, classy displays in the second half of the season. Charles N'Zogbia, who is likely to start for Villa, remains an inconsistent, mercurial figure.

Getty Images

10/11 Alexis Sanchez (Arsenal)

Jack Grealish may have earned plaudits in the final weeks of the season for his promising displays, but Alexis Sanchez has enjoyed one of the best debut seasons in Premier League history, contributing 16 goals and eight assists. Despite a post-Christmas dip in form, the Chilean is the real deal.

Getty Images

11/11 Olivier Giroud (Arsenal)

Yes, Christian Benteke has finished the season in absurdly good form, with 12 goals in 12 games. And yes, Giroud's shooting boots deserted him in spectacular style against Monaco. However, the Frenchman, who has had more than his fair share of critics, has scored more goals in less games this season than Benteke, who struggled woefully for goals until Tim Sherwood took the reigns at Villa. Giroud is harder working, brings teammates into the game better and just gets the nod over his opposite number.

Getty Images
For Petrov his own long weeks in hospital, when he could not hug his two boys but "only see them through the door because they had sneezes and coughs", was the hardest time of all. "At this moment you realise what you can lose," he adds. It was his wish to focus on his family and his foundation that meant he turned down the offer of a permanent coaching role at Villa this year, following a period spent helping Sherwood after his appointment as Paul Lambert's successor.
"When Tim Sherwood took over I spoke with him and he wanted me to be involved with the team," Petrov says. "Our conversation was [for me] to come in and give the boys a little bit of a lift, trying to speak to individuals. He needed individuals to pull it in the right direction and I was helping, especially in the first couple of weeks.
"Tim is a very positive man and I was very impressed with the way he approached players and people working in the club," he continues. "I think the Villa fans have seen passion [in] the way the team have played and reacted under pressure."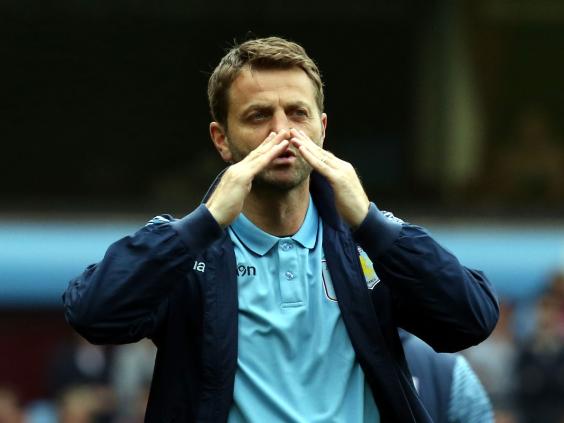 Petrov – a beaten League Cup finalist against Manchester United in 2010 – is optimistic that Sherwood has the tools to hurt Arsenal as Villa seek their first trophy in  19 years at Wembley. "A final is 50-50. Villa have the speed and ability to break teams down, and having Christian Benteke up there – he can unlock any defence. As long as the delivery is right then this boy is untouchable."
He also cites the key role of Fabian Delph, Villa's England midfielder, describing him as "another player standing shoulder to shoulder with Christian. I am glad to see he has stayed for the club and glad to see the club has done everything to keep him".
It is Delph who will follow in Petrov's footsteps as Villa's Wembley captain and the pair have spoken about what lies in store. "It is an honour and something you can't describe," Petrov says. Life has taught the Bulgarian to value every good moment, be it at Wembley or with Wychall Wanderers, and he recalls the precise words of his conversation with Delph. "I spoke to Fabian and said, 'You need to enjoy every minute because it comes and goes very quickly and if you don't realise what it is, you will lose some moments – the fans, the bus journey to the stadium, the preparation, the game itself'. I told him to cherish every single second."
For more information about the Stiliyan Petrov Foundation, visit thestiliyanpetrovfoundation.com
Reuse content