It was another demoralising night for Arsenal on Tuesday and they have a big game at Swansea City today. I must say that I cannot see any chance of success for Arsenal until they have a complete change of mentality at the club.
This isn't about quality – Arsenal have enough of that – it is about leadership and winning, it is about the serious grown-up side of the game. And Arsenal just cannot do it. They exude that bad vibe.
Teams at the very top level, where Arsenal aspire to be, they can score goals and they can play good football. But they can also keep the ball, finish the game off and not let their opponents back in. If you know what you're doing, it should be game over. On Tuesday Arsenal were 3-0 up and yet they could not kill off the game. And they paid the price.
This is a long way from the old Arsenal era. Players like David Seaman, Tony Adams, Steve Bould and Nigel Winterburn, they knew how to kill off games. It didn't have to be 2-0 or 3-0, because they could win the game at 1-0. That is the art. Like anything, you have got to get into good habits. Those Arsenal teams had a good habit of winning football matches. This one does not.
Arsenal's injury list
Arsenal's injury list
1/5 Mikel Arteta (midfield)

Like Diaby, the Spaniard is closing in on a return but the Swansea match will come to soon. The club captain last played in November.

Getty Images

2/5 Mathieu Debuchy (defender)

Returned in the FA Cup semi-final win over Reading but has since been ruled out with injury and Wenger confirmed he remains 'unavailable'.

GETTY IMAGES

3/5 Alex Oxlade-Chamberlain (midfield)

Suffered a hamstring injury against Manchester United in the FA Cup and hasn't played since as it has exacerbated a groin problem. Out at least until May and facing surgery in the summer.

4/5 Aaron Ramsey (midfield)

Aaron Ramsey caught a kick on his calf during the win over Hull and was later substituted. The Welshman was rated 50/50 for the Swansea match by Wenger, but it now appears that he is a major doubt for the clash at the Emirates.

Getty Images

5/5 Danny Welbeck (forward)

Danny Welbeck has not played since the goalless draw with Chelsea towards the end of April after suffering a knee injury. Wenger has confirmed that the injury is 'nothing major', and that he should return to full fitness before the end of the season.

GETTY IMAGES
I know what Seaman and Adams were like, their high standards and their absolute commitment to defending and winning. I remember being in England dressing-rooms, 90 minutes after the game had finished, when the other lads had changed and gone, and Adams and Seaman would still be there arguing about the details of a goal they had conceded.
The whole thing is about team ethic. You have to be prepared to run all day and all night. I am not interested in beautiful cameos. I am not interested in stars – they only come out at night. Football at the top level is a real, grown-up business. Good individuals have to be team players. If you just want to play football for fun, go and play it in the park.
Being tough doesn't mean fouling. It means leading. Everyone knows that Arsenal have the quality. But those players have to lead from the front, stand up and be counted. They have to impose themselves on the start of games, show that they mean business in the first 20 minutes. If you have someone under the cosh you do not let them out of it. And then once ahead you see the game out from that.
Back in George Graham's era, and with Arsène Wenger's earlier sides, they could do that. They had a solid back four, strength and power in midfield, and if they had a lead they held on to it. They did not overplay because they did not need to. They trusted that their quality would shine through, and it did. Those are the values that won them doubles in 1998 and 2002.
It's November and far too early to think about buying. What the current players need to do is step up and take responsibility themselves.
Tottenham must pitch in
Tottenham Hotspur are back at White Hart Lane today for the first time in the Premier League since Mauricio Pochettino complained that the pitch was too small for his team.
I do like Pochettino but this is a poor excuse. The pitch is the same for both sides! You know what they say: a bad tradesman blames his tools. I don't think some modern players and coaches realise how lucky they are with the facilities they have.
When I played for Tottenham in the 1960s the pitch never had any grass on it, and we still played some fantastic football. It was the same pitch that Bill Nicholson's side used when they won the double in 1961. There was so much rubbish on it, and so much  sand I thought they were going to build flats!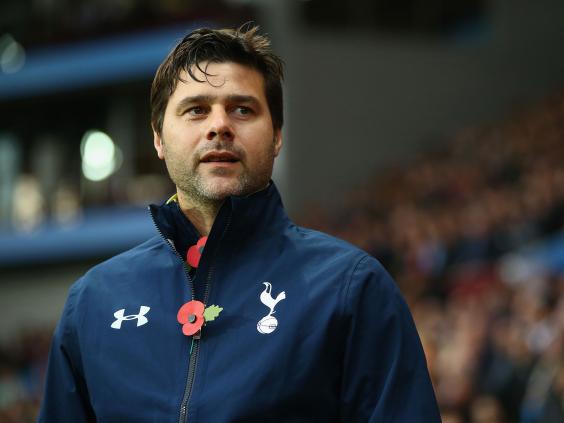 The pitches they have today, like at White Hart Lane, are a dream. The grass looks like it's been cut with scissors, or shaved with a razor. It is not like it used to be with the ball bobbling around and people getting hurt.
It can be dangerous if you give the players an excuse before they start playing. The coach should just say 'go out and play'. If you are a good coach you find the best way you can to use the facilities. You have to adapt to your environment.
French bragging rights
There is a big game in France this evening – Paris Saint-Germain against Marseille. They are the two best teams over there and it is a fascinating contrast in approaches. Marseille have a great coach in Marcelo Bielsa but PSG have all the money. And money is a way to bypass a lot of coaching.
It should be a thrill for Laurent Blanc to coach such good players – he should have Zlatan Ibrahimovic coming back from injury – and a chance to show how good he is, if he can get the best out of those players. But there is pressure as well.
Reuse content