There's a profound sense of perspective in evidence at Hull City's training ground. Manager Steve Bruce is setting off for a meeting with owner Assem Allam, which has been scheduled at only a day's notice, and is jocularly dispensing some black humour about his employment prospects. Bruce's captain, Curtis Davies, is fresh out of a video analysis session designed to help him cope with Liverpool's Luis Suarez and Daniel Sturridge tomorrow, but he also has very good reasons to cherish life, however challenging his club's first season back in the Premier League might be.
It was the funeral, last week, of Parys Okai, the former professional footballer Davies came through the Luton Town youth ranks with a decade ago, and with whom he had remained in touch. Okai would have been 29 today but news that he was in hospital, in a coma, came in a call to Davies as he prepared for last month's  Capital One Cup tie at Tottenham. His death came on the day of that game.
For any 28-year-old to lose a contemporary provides a chastening sense of mortality, though for Davies it was a reminder of how football chews up and spits out those who do not make the grade. While Davies graduated directly from Luton's first team to a Premier League football career which began at West Bromwich Albion and was furthered at Aston Villa, Okai floated around non-league football. He played for Kettering, St Neots, Hitchin, tried to make a go of things with Australian side  City and was certainly not fabulously wealthy when he was suddenly taken ill at a Halloween event in Leicester. His family are currently trying to raise money for a headstone for him.
"It's the thought that, 'If I had never made it at any level in football, where would I have been now?'" Davies reflects of his friend's death. "What path would I have taken? From our old Luton group, Kevin Foley, who's now at Wolves, was also at the funeral, but some of the others were doing all sorts. One of the lads is working with his wife, who's a hair technician.
"I'd get a text from Parys once a month. We played in the Luton youth team together for three years and anyone will tell you that those YTS years are the closest you'll ever get to your team-mates."
The death in February of another close friend – David Wheatley, the 33-year-old son of his former landlady – had already accentuated his sense that opportunities are there to be seized in the here and now. "To lose two friends within a year puts everything in perspective," says Davies.
 He is certainly seizing the opportunities life offers. Most 28-year-olds playing at a relatively unfashionable club like his would not retain the smallest kernel of hope about playing for England, though Davies – who was called up by Fabio Capello to the 23-man squad for the friendly international against Germany in 2008 – does not see it that way. His Hull team-mate Tom Huddlestone yesterday called Roy Hodgson's declaration that he had already decided on the members of his World Cup squad "disappointing" and Davies shares a little of the sentiment. By common consensus, he has been impressive in his return to the top flight this year after two years in the Championship with Birmingham City, and has not entirely abandoned all hope.
"There are very good players playing there for England but nothing, I think, head and shoulders above me," he says. "It's not like the Rio Ferdinands, John Terrys and Sol Campbells of olds. If, God forbid, there are injuries, he hasn't really looked at anyone else and maybe won't know what they have to offer. I've no illusion that I should be picked but I'd like to think that, if my form was allowing me to come  close, then I'd like to get a sniff. If Tom [Huddlestone] was in a Tottenham shirt, playing like he is now, he'd certainly be in the squad."
Even as we talk, in the reception area of Hull's modest Cottenham training base, there is evidence of how far removed from the Premier League high life this actually is. Defender Liam Rosenior is grappling with the complexities of the printer to complete some administrative work. No airs and graces.
The 2008 call-up certainly did not daunt Davies. "You can't be intimidated by the manager. You're not going to hide there like a schoolboy," he says. "You want him to believe that you are ready for this." The text message from the Football Association to say he was in the 23 was akin to his first selection for the school team. And what subsequently impressed him most about Capello was his meritocracy. "From me to John Terry, if someone had done something wrong he wasn't afraid to stop training and say 'I expect better...'"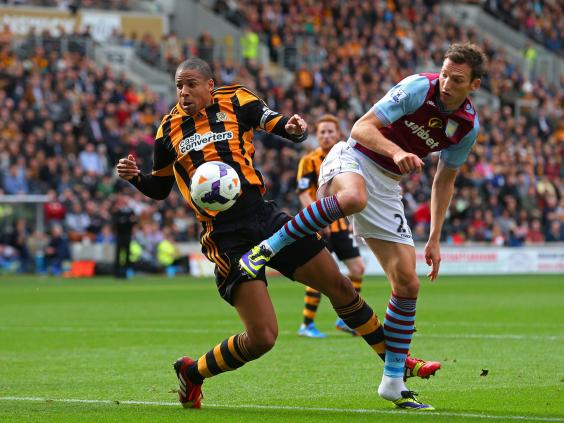 Davies did not face the Germans and could have been forgiven for feeling that his moment had past as he took a step down to rebuild his club career, following the then Villa manager Martin O'Neill's decision to transfer-list him in 2010, which was followed by the move to Birmingham, who were promptly relegated to the Championship.
His involvement in all aspects of St Andrew's life did not convey the impression that his third Midlands club was a staging post. It was during that chapter that he became involved in the Saving Lives campaign to encourage more people to undergo HIV testing. One in five people afflicted by it do not and the stigma remains a major deterrent to those who could be tested. "Since years ago people have thought it's the gay disease. It's not. It is treatable, too," says Davies, whose association with Birmingham Heartlands Hospital consultant Dr Steve Taylor has made him an articulate champion of that cause. "It's just trying to get people tested and if they are affected getting them treated as soon as possible."
The overwhelming preoccupation is keeping Hull in the Premier League, though. After a promising start, they have one win in five, including the disappointing 1-0 home defeat to Crystal Palace last weekend – with the afternoon compounded by a fans' protest at the controversial decision by Allam to rename the club the Hull City Tigers. A banner was removed and the atmosphere became tense. "The ball went out for a throw-in and it all started kicking off and I didn't know if it was fighting, a flare or what," says Davies.
A mass banner protest is expected at the KC Stadium tomorrow and Davies sees it from both sides. "Fans have been with this club as Hull City FC through thick and thin, but if the chairman didn't own the club I wouldn't be here," he says. His Twitter biography page reveals his attempts to resolve the issue with humour. "Pro footballer for a team in Hull I'm not sure the name of any more."
This weekend's challenge of dealing with the strike force which remains Liverpool's strongest asset by a distance has not been rendered any easier by the injury problems which have beset Davies' fellow central defenders. The former Manchester United youth-team player James Chester, who has impressed, has been injured and Bruce's son Alex or Abdoulaye Faye may partner Davies tomorrow.
The captain's own memories of Liverpool are vivid, though distinctly mixed. The 3-1 win at Anfield with Villa in August 2009 was one of his sweetest football memories, but then there was also the 5-0 defeat at the same stadium five months earlier. Steven Gerrard has always been a relentlessly difficult player to face, but he will never forget the "70-yard" pass Xabi Alonso pinged into Djibril Cissé's path during the 2-0 away win for Rafael Benitez's team against Davies and West Bromwich in April 2006. "It was ridiculous! A joke! There was the difference between me being at Luton, watching them on Match of the Day and actually playing them."
The preparations for Suarez are detailed. "The only way you can prepare is by watching videos and seeing what runs he makes and what shots he tries," Davies says. "But a player like that has more than one trick up his sleeve so you might nullify one threat and find he'll pick up something else. You can overthink it. You just have to seize these games by the throat." Perspective – in all things.
My other life
I'm a major 'Mock the Week' fan. I've got 200 channels on my TV but it's always the way: there'll be nothing on and I'll be there, watching episodes I've seen 10 times before on Dave. It's the ruthlessness I like, really. But obviously that got cut down a bit when Frankie Boyle left the show. He's not a lot of people's cup of tea but I liked him. I'm just into comedy. When I'm watching a documentary I'll take it seriously but when I'm chilling I like to watch the silly shows.