It is a simple question and Jonathan Walters has a simple answer. Yes, footballers want Leicester City to win the Premier League too. "Unless you are in one of the big teams – a Tottenham player or an Arsenal player – everyone wants Leicester to win it," he says. "It is a great story and just shows money doesn't buy everything." 
It is no surprise that Walters, of all people, would relish an underdog triumph. After all, this is a 32-year-old who, as with the hitherto unheralded pros over at Leicester, has seen the flipside of professional football. 
On Sunday, he took the stage at Dublin's RTE studios to collect the award for the Republic of Ireland's player of the year for 2015 – his reward for scoring the two goals which overcame Bosnia-Herzegovina in the qualifying play-off for Euro 2016. Although he will miss Ireland's friendly against Switzerland on Friday night with a hamstring strain, a key role beckons for the Stoke City forward at Euro 2016.
A decade ago, by contrast, his summer featured a departure from one League Two club Wrexham and arrival at another, Chester. "If you'd asked me at Chester, would I see myself here, I would have said no," says the Birkenhead-born forward.
Not until he was 27 did Walters take the step up to the Premier League with Stoke and he offers a wry recollection of that preceding mid-noughties period, when he spent 18 months in the bottom division. "We were jumping on park pitches to train," he remembers of his six months with Chester. "For away games we'd go past a park, jump out, put a few cones down and train on the way to the away game." 
It was a different world from Dublin's Aviva Stadium – or, for that matter, Stoke's smart Clayton Wood training ground, where he sits sipping from a cup of green tea on the day we meet. Walters' appreciation of his good fortune is reflected in the way he plays the game. Martin O'Neill, his Ireland manager, has described him as the epitome of the side's "spirit and never-say-die attitude" and his selfless approach, be it in a central or wide attacking role, ensures he remains an important player in today's "Stoke-alona" team, too – as underlined by both the new contract he signed in November and the eighth goal of the season he scored at Watford last weekend. 
Yet it was not always thus. Walters, as he admits, needed a few years for the penny to drop about his career. "Young lads in Premier League academies don't realise what they have," he says. "I didn't when I was at Blackburn." As an Ewood Park apprentice he was "young and stupid" and moved on after playing in the 2001 FA Youth Cup final. He had a spell at Bolton Wanderers and then helped Hull City climb out of League One but it took the birth of his eldest daughter, Scarlett, for his eyes to truly open. 
When she was born with gastroschisis, a defect of the abdominal wall which causes the bowel to grow outside the body, football became of secondary importance and led to him dropping two divisions to join Wrexham. "I was living on a pull-down [hospital] bed with my wife," he says. "I asked to leave to take my daughter back to Wirral because she was pretty bad at the time." 
Walters' experience of his sport's snakes and ladders has given him a wish to pass on advice to today's teenage hopefuls. Since witnessing the troubles with a head injury that led his Stoke team-mate Andy Wilkinson to retire this year, he has been reading a book about the human mind – The Brain: The Story Of You by David Eagleman – which has underlined his belief that impressionable young players are too often badly guided. 
"One of the things that stood out [in the book] is that your brain is not fully developed and you are not fully mature until your mid-to-late twenties," he says. "You are young and you are not properly developed and you probably get a bit of wrong advice with agents trying to move you on to make a quick buck. Now, knowing what I know, with young lads I would like to get to the point where I could advise them to not make the same mistakes that I did. You are young and think everything comes easily until you get a bit of a shock of going down the leagues.
"With the young lads here I try to help them and when I finish, I would like to do more. It needs more of this in Premier League academies because a lot of lads are taken in at nine, 10, 11 and they go right through academies and get to 16 and they're gone."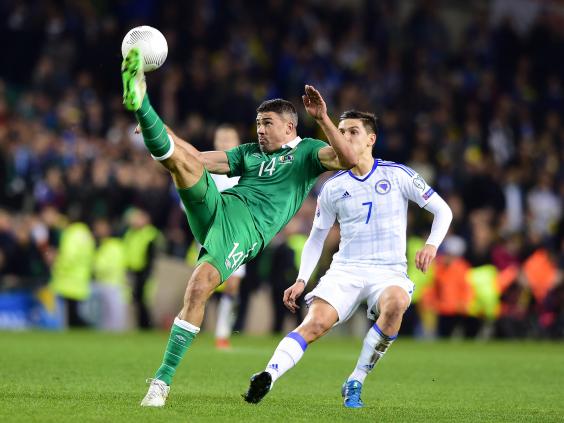 It was Walters' desire to grab his chance in the Premier League, with a move to Stoke, which led to his much-publicised falling-out with Roy Keane, then his manager, at Ipswich Town. In his autobiography The Second Half, Keane describes the pair squaring up physically – "effing and blinding, a bit of shoving" – and Walters himself acknowledges "there might have been a bit more than a heated argument". 
That came after Walters sent the club's physio a photo of his own vomit to prove he had good reason to miss a League Cup tie against Exeter City, with Keane suspicious the player wished to avoid being cup-tied. 
However, Walters speaks highly of the man who is now O'Neill's No 2 with Ireland. "When we met up with the Ireland team I asked if we could have a word and we had a laugh about it straight away. We all make mistakes. I am man enough to get on with it and he is the same. 
"He's a good manager, believe it or not," Walters adds. "I liked the way he ran the dressing room. He could be over the top. But over the top to me? No. No one could get away with anything. If you put a foot out of line or did anything wrong, he would let you know. He would let you know as a manager and I still don't think there are many players that will do that with people. People get away with all sorts."
Walters, a one-time Wirral Schools cross-country runner, evidently shares Keane's disdain for football's dilettantes.  "With every team I have been in there have been very, very talented players and whether they didn't have the right attitude or right mentality, or they weren't doing the right things, it is just a waste. Certain players will always tend to get moves because managers think they can get the best out of them and then after a year they move on to another club. It is annoying when you see it sometimes but I concentrate on myself and trying to get the best out of myself."
Walters is open and engaging company and his views on Stoke's evolution under Mark Hughes are equally insightful. Along with the likes of Ryan Shawcross and Glenn Whelan, he is a survivor of the Tony Pulis era, having arrived in 2010. "There was no hiding place in the dressing room and it was just a close group – British, Irish boys and a typical old-school team but with talented players in there." 
Chelsea vs Stoke City - player ratings
Chelsea vs Stoke City - player ratings
1/24 CHELSEA: Thibaut Courtois - 5 out of 10

The Belgian produced a couple of fine saves to deny both Afellay and Shaqiri but should have done better for Diouf's equaliser.

Getty

2/24 Cesar Azpilicueta - 6 out of 10

Pushed forward at every opportunity and often threatened, but also struggled to contain the power of Arnautovic.

2016 Getty Images

3/24 Branislav Ivanovic - 6 out of 10

Captained the side at centre back but his enforced partnership with Cahill needs fine tuning. Will need to improve against PSG.

2016 Getty Images

4/24 Gary Cahill - 5 out of 10

A solid but not spectacular display from the defender. He was sound in the air but Stoke skipped past him too easily on more than one occasion.

2016 Getty Images

5/24 Baba Rahman - 6 out of 10

The left-back was given the run around by Shaqiri. He delivered well from wide areas but, understandably, still looks short of confidence.

6/24 John Obi Mikel - 6 out of 10

Tried to push forward with Matic paired alongside him in the middle but rarely did so well. A reliable presence nonetheless.

2016 Getty Images

7/24 Nemanja Matic - 6 out of 10

Made to look immobile by Stoke's fluid attack but claimed an assist courtesy of a simple pass to Traore.

8/24 Willian - 7 out of 10

A bright spark throughout, just as he has been for most of Chelsea's season, and stung Butland's finger tips on several occasions.

9/24 Oscar - 6 out of 10

Far from his best. Booked for a needless foul on Imbula and must stamp such moments of madness out of his game.

2016 Getty Images

10/24 Eden Hazard - 6 out of 10

The Belgian dazzled in possession during against Cameron on his 200th appearance but rarely got his final ball right. Withdrawn with one eye on the PSG tie.

2016 Getty Images

11/24 Bertrand Traore - 7 out of 10

Handed a chance up front and repaid his manager's faith with a confident display. Almost took the net off with a powerful strike to put his side in front.

2016 Getty Images

12/24 From the bench: Loic Remy - 5 out of 10

It is instantly obvious the Frenchman's confidence is low. Unable to find the goal that would help get him out of his rut.

2015 Getty Images

13/24 STOKE CITY: Jack Butland - 7 out of 10

Nothing Stoke's keeper could do about Chelsea's goal. Made some good saves and had a good command of his box.

14/24 Geoff Cameron - 6 out of 10

Was beaten far too easily by Willian on a couple of occasions but a decent performance from the American.

15/24 Phillip Wollscheid - 7 out of 10

A good performance from the German who dominated in the air and helped restrict the hosts.

16/24 Marc Muniesa - 6 out of 10

If we're being harsh, the Spaniard could have been tighter for the Traore goal. Was also very lucky not to concede a penalty for a challenge on Oscar.

17/24 Erik Pieters - 6 out of 10

Made some nice interceptions and was quick to get the ball forward to the Stoke danger men. Should have received a second yellow card on 80 minutes for a silly challenge on Oscar.

2016 Getty Images

18/24 Giannelli Imbula - 9 out of 10

Stoke's record signing was excellent, had some wonderful touches and looks like a real leader in the Potters midfield.

2016 Getty Images

19/24 Glenn Whelan - 5 out of 10

Spent much of the afternoon chasing Willian and Oscar as Chelsea hit Stoke on the break. Difficult afternoon for the Stoke captain who was replaced on 76 minutes.

2016 Getty Images

20/24 Xherdan Shaqiri - 8 out of 10

Looked a constant threat, forcing a couple of good saves from Courtois and creating several chances for team-mates.

2016 Getty Images

21/24 Ibrahim Afellay - 6 out of 10

Put a superb cross in behind the Chelsea back four which should have been buried by Diouf. Decent performance on the whole from the Dutchman.

22/24 Marko Arnautovic - 7 out of 10

Managed to sting the hands of Courtois with a second-half effort. Linked up very well with Shaqiri.

2016 Getty Images

23/24 Mame Biram Diouf - X out of 10

Managed to get himself into some great positions and was eventually rewarded for his efforts with his fourth goal of the season.

2016 Getty Images

24/24 From the bench: Bojan - 6 out of 10

Came on for the final 15 minutes and posed a threat playing on the shoulder of the last Chelsea man.

2015 Getty Images
Today, by contrast, there is a "good mix of different players who can do different things" including Stoke's colourful leading scorer, Marko Arnautovic. "Marko comes here and he can speak four or five different languages and people would just dismiss him for being a bad boy but Marko's great fun." He speaks too of the "good, solid backgrounds" of ex-Barcelona trio Bojan Krkic, Marc Muniesa and Ibrahim Afellay. "Bojan works really hard and he has a great attitude off the pitch and is not afraid to let his feelings be known if someone is not pulling his weight." 
Unlike Keane, Hughes "can be quite quiet" yet he has Stoke on course for a third consecutive top-half finish. They are known for finishing seasons strongly and Walters cites the training-ground input of Damian Roden, Hughes's long-time fitness coach. 
"We go through different phases of the year – without giving too much away – of small-sided and big-sided [games] and different types of runs. He says if you stick to these methods it shows in performance and fitness stats. Every club they have been at, they have always gone right up the graph towards the end of the season."
That should spell good news for the Irish, who will need Walters at his best in France. The environment O'Neill has created should help. "What I know from other international set-ups is that it is not the same," says Walters. "It is more like a club set-up – a real close-knit group of lads and everyone gets on really well." The perfect stage, it seems, for a proper team player.
My other life: My kids and their love of Crouch!
My life revolves around my children – Scarlett, Sienna and Eli. The Ireland-Bosnia game was the first one in Dublin that they all came to. Eli is four and has gone football-mad in the last month. It's funny who his favourite players are – he was obsessed with Peter Crouch for a bit. I really don't know why!