Tottenham Hotspur and Arsenal meet this afternoon in unusual form. Both will arrive with the football wind in their sails, in good shape, confident and with more fit, hungry players than they can find places for.
Neither started the season particularly well, neither impressed their ambitious fans, and their annual fight for fourth looked a long way away. But both sides have taken 19 of their last 24 available points. If Arsenal get a positive result today they go third. If Spurs win they go fourth.
This is a game between good teams, which is not always the case. Spurs' form has even improved enough to win over their home fans. "Our supporters are happy and proud, and see the same in the team," manager Mauricio Pochettino said. "It is a big change for us, it is more comfortable now to play at home."
So how have they changed their fortunes?
APPROACH
Arsenal
"In the last few years, we went to Manchester City and wanted to convince everybody that we can go and play our own way," said Per Mertesacker, summing up where Arsenal had been going wrong. "Sometimes we have to do something unexpected."
The 2-0 win at the Etihad on January 18 was Arsenal's best league result of recent years and it was due to a complete re-think of their approach. No more expansive, proactive football, but rather a disciplined, deep-lying counter-attacking game.
Tottenham v Arsenal Best XI
Tottenham v Arsenal Best XI
1/11 Hugo Lloris

Undoubtedly the best goalkeeper in north London and a contender for No 1 in the Premier league, Lloris would stroll into the side and likely take the captain's armband with him. Is this his last north-London derby? If Spurs miss out on Champions League football again this season, then the answer will lean towards yes – unless you believe the rumours linking him with a shock move to the Emirates.

Getty Images

2/11 Hector Bellerin

Possibly the best option of a tricky situation. The other candidates don't offer a great deal in protection given the recent form of Kyle Walker and Calum Chambers, and Bellerin's crossing prowess would likely merit inclusion anyway. However, the Spaniard's beautiful finish in the 5-0 thrashing of Aston Villa last Sunday sees him rewarded with a place in our best XI – and likely in Arsene Wenger's starting line-up.

GETTY IMAGES

3/11 Jan Vertonghen

Vertonghen's future is much in the same boat as Lloris's in that failure to break into the top four could result in his departure. However, Vertonghen has been a prominent figure in a much-changed since his arrival in 2012, and he also has a knack of getting forward and scoring goals himself – despite having two taken away from him in the 2-1 win over Sunderland – but it will be his ability to maintain the likes of Olivier Giroud and Santi Cazorla that will be needed on Saturday.

Getty Images

4/11 Laurent Koscielny

Arsenal's best defender by far has only increased his worth with his performances since returning from injury. The Gunners suffered without his pace at the back and instinct to stop moves before they begin, and if he was to partner Vertonghen in the same defence, we reckon it would be a pretty hard task to create any chances, let alone score a goal.

GETTY IMAGES

5/11 Kieran Gibbs

The Englishman hasn't had a solid run in the first-team due to injuries and rotation, but when he's fully fit he offers Arsenal solidity on the left flank as well as an extra attacking option going forward. Danny Rose would offer more of a threat with the ball, especially with memories of his stunning striker in this fixture five years ago.

GETTY IMAGES

6/11 Aaron Ramsey

The Welshman hasn't been at his best of late but that's only due to the high standards he set last season where he enjoyed an brilliant run of games in front of goal. Part of that is due to dropping back from the advanced role he played in, but he remains a crucial part of the Arsenal side and when at his best can be very hard to stop from having a major influence on the result.

GETTY IMAGES

7/11 Santi Cazorla

One of the in-form players in the Premier League scored his sixth goal in eight games against Villa last week, and his incredible form has helped the Gunners reignite their campaign at a crucial time. Such is his impressive form that he comfortably keeps Mesut Özil out of the side.

GETTY IMAGES

8/11 Theo Walcott

His place in the side would likely go to Alexis Sanchez if he was fit, but Walcott's return to action in recent weeks has seen a marked improvement in his last two outings against Bright and Hove Albion and Villa in which he scored his first Premier League goal in over a year. Spurs fans won't be too kind to Walcott come Saturday though, given the last time they saw him he was giving them a 2-0 scoreline while being carried off on a stretcher.

GETTY IMAGES

9/11 Christian Eriksen

Spurs' saviour has developed a Gareth Bale-esque knack for scoring crucial and often match-winning goals in the last 10 minutes of games. Not only that, but he's starting to forge a talent for scoring free-kicks all angles that is proving fruitful for Spurs, especially in their recent up-turn in form. The Dane's partnership with Harry Kane is a key reason for both players' success this term.

Getty Images

10/11 Olivier Giroud

The Frenchman suffered injury at the start of the season, and when he returned to spark the Gunners into life, he got needlessly sent-off for a head-butt on Nedum Onouha in the win over QPR. However, he has returned, yet again, to score important goals against Liverpool, Manchester City and Villa, and will hope to continue that in the north London derby.

GETTY IMAGES

11/11 Harry Kane

The red-hot Englishman couldn't be left out of this side, could he? Kane scored a brace against West Brom last weekend to take his tally to 20 goals for the season, and stands as the top goalscorer in all competitions of any Premier League player. His ability to take his chances as and when they came about forced Mauricio Pochettino to select him in his starting line-up, and he's fully repaid his manager's faith by his rocketing goal tally.

Getty Images
When Arsenal beat Aston Villa 5-0 last Sunday they had 48 per cent possession, knowing that you do not always need the ball to be dangerous. Afterwards, Mertesacker explained the change in style. "What comes first is defensive work, and not just for the back four," he said. "Sometimes you need a wake-up call."
Tottenham
This season has been a story of Pochettino imposing his philosophy and his style on Spurs. Through the double sessions, the fitness work, the realisation of which players he can trust and which he cannot, he has moulded the team as he wants it.
The hallmarks of the Argentine's Southampton side are here. There is the promotion and improvement of youngsters, such as Ryan Mason, Nabil Bentaleb and the unrecognisable Harry Kane. Then there is the relentless running and pressing. Pochettino tells his players that when they lose the ball they must press directly for the first three seconds to win it back, and they are getting better at it. It was their physical power, more than anything else, that overwhelmed Chelsea on New Year's Day.
"It is good for us to train like this," says Nacer Chadli, another beneficiary of Pochettino's methods. "We are fitter than the other teams."
CREATIVE GENIUS
Arsenal
No Arsenal player could hope to be as dominant as Alexis Sanchez, who will be much missed today. But the most important player in their recent run has been Santi Cazorla, running games from midfield.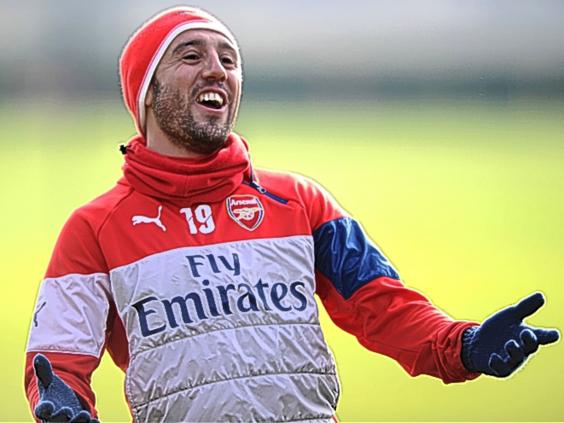 It was never quite clear where Cazorla's best position was, but now it is. He has been moved inside, playing central midfield in a 4-1-4-1, at the centre of it all. "He looked to find a new role," Wenger explained yesterday. "He is a team player, he works hard, with a good balance between attacking and defending. He is a better defender than people think, and he loves to do a job for the team."
Cazorla  was never more instrumental than in the 2-0 win at Manchester City which re-shaped this team. If Spurs are to stop Arsenal today, they must first contain their scampering little conductor.
Tottenham
The one criticism of Christian Eriksen's first season at White Hart Lane is that he was insufficiently decisive. He has always been very watchable but he did not win enough games for Spurs. This season, while retaining all those creative skills, he has already scored 11 goals. Six were winners, three of those in the dying minutes of games.
Pochettino does not talk much about his players but he said on Thursday that Eriksen could be as good as Sanchez and Cesc Fabregas. "Christian has the possibility to get to the same level," he said. "His contribution so far is as great for the team."
Jan Vertonghen, who convinced Eriksen to join Tottenham, said he could be as good as Gareth Bale. While Eriksen will never have Bale's physical power, he does have something like that ability to win games by himself.
DEFENSIVE STABILITY
Arsenal
Arsène Wenger spent much of the first half of the season talking about the need for "defensive stability", as anyone would who was limited to two senior centre-backs. Laurent Koscielny made just five appearances through October, November and December because of chronic tendinitis in his Achilles, forcing Wenger to play full-backs at centre-back. Nacho Monreal is a good professional but is not tall enough to play there, Mathieu Debuchy has been unfortunate with injuries and Callum Chambers has struggled after a good start. Koscielny is back now, and defensive performances have improved. His partnership with Mertesacker is as strong as ever.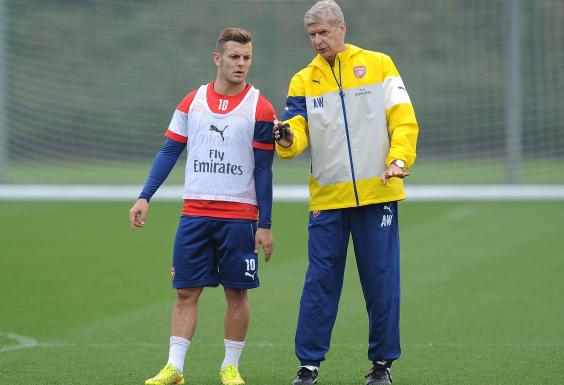 It helps that the team is now more geared towards clean sheets. With Francis Coquelin shielding the defence better than Mikel Arteta or Mathieu Flamini have done this year, they are harder to score against than before.
Tottenham
As any new manager would, Pochettino spent much of the first half of the season finding out what his best team was. Younes Kaboul, the club captain, started off at centre-back. Vertonghen sat in frustration on the bench while Federico Fazio, the £8m signing from Sevilla, was sent off twice early on. But Pochettino realised the answer in November, after his fourth home league defeat of the season.
Since Vertonghen and Fazio were paired together, Spurs have played 12 league games, won eight, drawn two (both 0-0) and lost two.
Vertonghen explained in December how much he enjoyed playing with Fazio, and under Pochettino. "Fazio is a beast in the air," he said. "We complement each other well. The manager wants us to press high and to keep the high line there. This manager keeps us focused and on the front foot for 90 minutes."
INJURIES
Arsenal
Too many Arsenal seasons have been ruined by injuries and it did seem in the autumn as if this one might be too.
Olivier Giroud broke his leg and missed three months. Mathieu Debuchy damaged ankle ligaments, missed three months, returned and dislocated a shoulder. Jack Wilshere had ankle surgery in November and has not played since. Arteta has been out for just as long with a calf injury. Mesut Özil was out for three months with a knee ligament injury. Theo Walcott returned from a long knee ligament lay-off and injured his groin. Aaron Ramsey suffered two separate hamstring injuries. Koscielny had chronic Achilles tendinitis. Danny Welbeck missed all of January with a hip injury.
Yet, despite all this, Arsenal are approaching full fitness again. Sanchez's hamstring may keep him out today but Welbeck is back and Wilshere will be soon. Debuchy and Arteta will be the only two remaining absentees and they have been ably replaced by two youngsters.
Tottenham
One of the many successes of Pochettino's time in charge of Tottenham has been his management of injuries. Spurs have already played 39 official games so far this season – five more than Arsenal – yet they have kept almost all of their important players on the pitch together.
Mason is one of their few first-choice players to suffer from knocks but even they were not too bad and he has started 17 games in all competitions anyway, by far the best record of his career. "He is strong, more than he believes," Pochettino said of Mason in December. "We have shown him that he has improved his physical condition from the beginning of the season."
Pochettino works his players hard but he is well attuned to what he can ask of them and always talks of the analysis done with his conditioning team so that every player's workload is perfectly judged.
GOALKEEPER
Arsenal
If the defeat to Southampton on New Year's Day was a turning point in Arsenal's season, it was not just down to changed tactics. It was also the point, given what happened in the dressing room afterwards, when Wenger lost patience with Wojciech Szczesny.
David Ospina, the Colombia international signed in the summer, has played four games since and kept four clean sheets. Szczesny came back in for the FA Cup game at Brighton and conceded twice.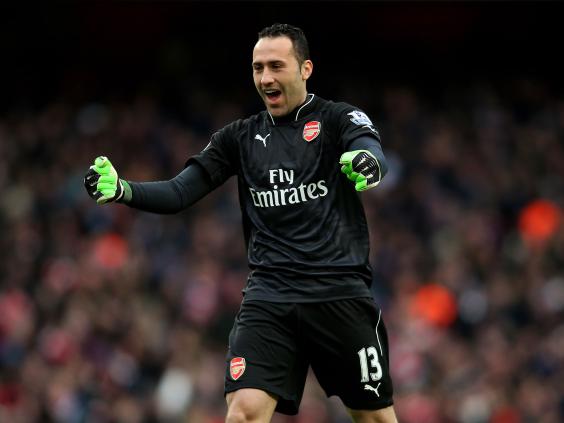 While Ospina struggled for fitness when he first joined Arsenal, suffering a recurrence of a thigh injury, he has impressed on this run in the team. There is a theory at the club that he is a more calming, reliable influence at the back than Szczesny, who is prone to bouts of over-enthusiasm. He will keep his place today.
Tottenham
There is no debate about who is first choice at Tottenham, who have the best goalkeeper currently in the Premier League.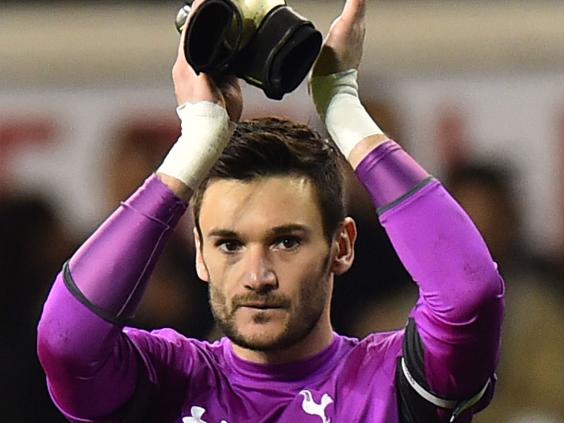 It barely registers any more when Hugo Lloris makes brilliant saves to keep Spurs in a game, as he does every week. Lloris started the season perfectly at West Ham, in a game Spurs won 1-0, and has maintained that level ever since. With those preternatural reflexes and gymnast's agility, he kept out Manchester United in December – a crucial game – and was almost as good, despite conceding three, when Tottenham beat Chelsea.
Lloris simply sets the standard required for the opposition to score higher than any other goalkeeper, and he will take some beating today.
Reuse content