James Maddison is the one of the most talented English players of his generation and so there was some surprise on deadline day when Norwich City loaned him out to Aberdeen. But everything he needed in Scotland – experience, games, a challenge – he has got. On Sunday he will play the Scottish League Cup final against Celtic, at Hampden Park, in front of 50,000 people. What could be a better learning experience than that?
It is only three months since Maddison moved to Aberdeen but his time there already looks like a triumph of the loan system, a far-sighted decision by him, his advisors at Base Soccer and the two clubs. He has brought his technical skill and supreme balance to Derek McInnes' hard-working side. He contributed 11 appearances and two goals, including a last minute free-kick winner against Rangers that was one of the moments of the Scottish season so far.
Maddison has spent this week at St Andrews, the seat of Scottish learning, as Aberdeen prepare for Sunday's final. He speaks to The Independent, his first major English interview, on the afternoon that he turns 20, with all of his thoughts on Hampden. Even though he will only be at Aberdeen for one year, he knows that this could be the game of his life.
"Players judge their careers based on medals and trophies, don't they," Maddison says, "and they look back on what they have achieved. If you can have a winner's medal from a cup, that is going to get everyone up for it."
Aberdeen know that they are underdogs. "Celtic are the favourites on paper, through their financial resources," Maddison says, "but it's a final, a one-off game. And with the quality that we've got, we've got a chance."
Maddison has already shown that he can do it against the best opposition in Scotland. On 25 September, Aberdeen were drawing 1-1 with Rangers with seconds left. Maddison had not started that game but McInnes had thrown him on in the second half, and he was starting to influence things. Aberdeen won a free-kick out on the left, 30 yards from goal. Everyone expected Maddison to cross it but he curled into the near top corner of the goal instead.

"Those are the games you want to play in," Maddison says, "and so I was pleased that when I came on I managed to put my mark on the game, and put the free-kick top bin."
There was no better way to endear himself to the Dons fans than that. "I am still living off that free-kick now," he says. "Even though it is the cup final this week I still get people coming up to me, talking about my free-kick against Rangers. It has been my best moment so far, one that I am sure I will never forget."
The intensity of the support and the importance of the rivalries has been an "eye-opener", and has been what has surprised Maddison the most. He has not even played at Ibrox or Celtic Park yet. The Aberdeen fans have taken to him instantly. He has earned comparisons with 1990s favourite Eoin Jess.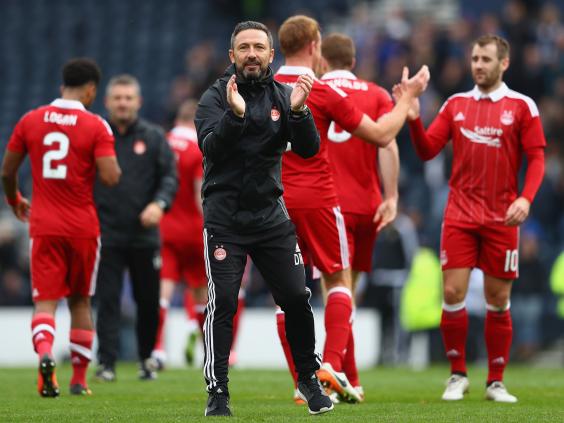 That winning free-kick, and Sunday's final, are vindications for Maddison's decision to go to Scotland. It was not a path that many expected but it could prove to be perfect for him. When he was playing at Coventry City last season he was thought to be best English youngster in the lower leagues, the player likeliest to be the next Dele Alli. David Pleat, who found Alli, was a regular at Coventry games to watch him. The Premier League's other big beasts were also keen.
It was Norwich City who won the race for him in on the last day of the January window, loaning him back to Coventry for the second half of last season. This summer Alex Neil decided to send him on loan again, but did not want him to go to a Championship rival, and knew that Maddison had already mastered League One. Maddison admits that he was "a little bit sceptical" when Aberdeen was first mentioned. But he has since realised that it is exactly the right place for him.
It is not simply a case of a technical player being "toughened up" by the rough and tumble of Scottish football. "There are quite a few challenges," Maddison says, "but I'm used to it playing from League One." He made 35 league appearances for Coventry City, 16 from the start. He is used to getting kicked.
Not to be big-headed, but I think I am playing really well and showing what I am about. They gave me the opportunity, and I am re-paying them with my performances.
What Maddison has most developed in Scotland, he says, is his "responsibilities out of possession". "You have to switch on and do you job, make sure you track your runner," he says. "I have always been comfortable in possession, but it is tracking and tackling that I have been working on."
That is how Maddison has made himself so important to Aberdeen. He knows that McInnes – "a really, really good manager" – has trusted him, but is pleased to have given something back. "I'm just really enjoying it," he says. "Not to be big-headed, but I think I am playing really well and showing what I am about. They gave me the opportunity, and I am re-paying them with my performances."
Maddison is showing what he can do in a competitive context and no-one is more keen to see that than Norwich. Neil Adams, former manager, is now loans manager and is in regular touch with Maddison. He has attended a few Aberdeen games and will be at Hampden on Sunday. Norwich is where Maddison's future is. But he has plenty to achieve in Scotland first.
Reuse content