Barcelona have completed the signing of Luiz Suarez in a mammoth £75m deal from Liverpool after the club confirmed he is "100 per cent" a Barcelona player, having travelled to Spain in order to agree personal terms on his transfer..
An agreement was reached last Friday that saw Barcelona activate a £75m release clause in the Uruguayan's contract.
But the problem for the Catalan club remains how they can unveil him, given that he is serving a four-month ban from all football-related activity except completing a transfer after he was found guilty of biting Italian defender Giorgio Chiellini.
Despite the problems, Barcelona director of sport Andoni Zubizarreta, who has spoken very positively of Suarez throughout the biting saga, is reported to have said: "He is 100 per cent a member of the club."
Luis Suarez: His controversial career in pictures
Luis Suarez: His controversial career in pictures
1/28 August 2006

Heads to Europe to join Groningen from Uruguayan side Nacional. Scores 10 goals in 29 league games.

GETTY IMAGES

2/28 August 2007

Joins Dutch giants Ajax from fellow Eredivisie side Groningen for €7.5 million. Finishes 2009-10 season with an incredible 49 goals in just 48 games.

GETTY IMAGES

3/28 February 2007

High followed by low. Suarez makes his international debut for Uruguay against Colombia but was sent-off in the final minutes after being shown a second yellow card for dissent.

GETTY IMAGES

4/28 November 2007

Fined by Ajax along with Albert Luque after an altercation in the dressing room at half-time in the match against fierce rivals Feyenoord.

GETTY IMAGES

5/28 July 2009: Named Ajax captain by manager Martin Jol after team meeting.

Named Ajax captain by manager Martin Jol after team meeting.

GETTY IMAGES

6/28 May 2010

Finishes season as Eredivisie top scorer with 35 league goals in 33 games. Named Ajax Player of the Year for the second straight time and Dutch Footballer of the Year for 2009-10 season.

GETTY IMAGES

7/28 July 2010

During the 2010 World Cup quarter-finals, Suarez prevented Ghana's Dominic Adiyiah's goal-bound effort with a deliberate handball on the line in the final-minute and was subsequently sent off. A penalty was awarded but missed by Asamoah Gyan with footage showing an elated Suarez celebrating. Uruguay eventually went through following a penalty shoot-out to reach semi-finals. Became a national hero

GETTY IMAGES

8/28 November 2010

Suarez was handed a seven-match ban by the Dutch FA and fined by his club for biting PSV midfielder Otman Bakkal during an Eredivisie match.

GETTY IMAGES

9/28 January 2011

Moves to Liverpool from Ajax for £22.8m. Suarez scored 111 goals in 159 games for Ajax. He makes an immediate impact against Stoke on his debut on February 2 as he comes off the bench to score in front of the Kop in a 2-0 win. He finishes 2010-11 season with four goals in 13 games as Liverpool finish sixth.

GETTY IMAGES

10/28 July 2011

Wins Copa America with Uruguay. Named player of the tournament.

GETTY IMAGES

11/28 October 2011

Involved in a tackle with Everton's Jack Rodwell and goes down with apparent minimal contact. Rodwell was then sent off.

GETTY IMAGES

12/28 October 2011

Suarez was alleged to have racially abused Manchester United's Patrice Evra during a Premier League match. Suarez was later found guilty by an independent regulatory commission and banned for eight matches and fined £40,000.

GETTY IMAGES

13/28 December 2011

Was seen making an offensive gesture towards Fulham fans. Handed a further one-match ban for the gesture.

GETTY IMAGES

14/28 February 2012

United and Liverpool met again at Old Trafford, but more controversy followed as Suarez refused to shake Evra's hand before kick-off.

GETTY IMAGES

15/28 February 2012

Wins his first trophy with Liverpool after 3-2 win on penalties against Cardiff City in the Carling Cup following 2-2 draw. Liverpool finish the season in eight place with Suarez scoring 11 league goals. In August he signs a new long-term contract.

GETTY IMAGES

16/28 August 2012

Named as Uruguay captain for Summer Olympics. Suarez fails to score as Uruguay are eliminated in first round.

GETTY IMAGES

17/28 September 2012

Suarez scores a stunning hat-trick as Liverpool thrash Norwich 5-2 at Carrow Road.

GETTY IMAGES

18/28 October 2012

Celebrated a goal against Everton by diving in front of Toffees boss David Moyes who had earlier claimed that "divers" such as Suarez were putting fans off the English game.

GETTY IMAGES

19/28 January 2013

More controversy as a clear handball preceded his winning goal for Liverpool as they defeat Mansfield Town 2-1.

GETTY IMAGES

20/28 March 2013

Suarez punches Gonzalo Jara during Uruguay's World Cup qualification defeat against Chile. The referee missed the incident.

21/28 March 2013

Suarez bites the arm of Chelsea defender Branislav Ivanovic at Anfield. Liverpool fined the defender before he was banned for 10 matches

GETTY IMAGES

22/28 May 2013

After days of hints over an exit, during a press conference in Uruguay Suarez confirms he wishes to leave Liverpool, blaming press intrusion for he desire to go. Despite strong interest from Arsenal, Liverpool refuse to let him leave

GETTY IMAGES

23/28 December 2013

Suarez performs the ultimate U-turn on his push for a summer exit by signing a new long-term contract to remain at Anfield. "I am so proud to represent them and go out to do my best for them every time I pull on the shirt," he says.

Getty Images

24/28 January 2014

Suarez goes down easily after Aston Villa goalkeeper Brad Guzan comes charging out of his goal, with referee Jon Moss giving the penalty

GETTY IMAGES

25/28 May 2013

Suarez hides his face after he is left in tears following the 3-3 draw with Crystal Palace that cost Liverpool the Premier League title

Getty Images

26/28 May 2014

But Suarez does secure silverware as he wins the Golden Boot via his 31 Premier League goals, as well as the PFA and Football Writers' Player of the Year awards after he appears to have ditched his controversial ways.

GETTY IMAGES

27/28 May 2014

Suarez leaves hospital in Uruguay after having surgery on his injured meniscus in his right knee just a month before the World Cup begins

Reuters

28/28 June 2014

Suarez is accused of biting Italy's Giorgio Chiellini during Uruguay's 1-0 victory in the World Cup

Getty Images
Zubizarreta revealed that the club had been advised to be "discreet" about his signing given the current legal process of his ban, which is set to go to the Court of Arbitration for Sport.
"Luis Suarez is a Barcelona player for all purposes but the recommendation from our lawyers has been to remain discreet," said Zubizarreta, who was asked whether the club were making moves to reduce the ban.
"Our lawyers tell us that we should be very prudent with what we say and your question is asking about something that's could only happen after certain verdicts have been reached.
"Then we'll be able to explain things better.
"But it's fact, it's true. He's 100 per cent a member of the club.
"We're speaking to our lawyers to find out the best way of defending his rights but at the moment there's nothing I can say about that."
The announcement comes after president Josep Bartomeu admitted he was "convinced" that Suarez would have his four-month ban reduced, with the complete suspension from all forms of football meaning he can't step foot in any stadiums - such as the Nou Camp - to be unveiled by the club.
An official announcement on the club's website is expected to come today.
The confirmation of the acquisition of Suarez comes in a busy summer for Barcelona, as they have already appointed a new manager in Enrique as well as three other key signings.
Enrique replaced Gerardo Martino at the end of the season, and the club moved quickly to bring in young German goalkeeper Marc-Andre ter Stegen from Borussia Monchengladback. Claudio Bravo quickly followed after the completion of Chile's World Cup campaign, while Ivan Rakitic joined from Spanish rivals  Seville.
However, the priority is now to replace the retired Carlos Puyol with another centre-back, as Zubizaretta explained.
"We're working on that at the moment," Zubizarreta added. "We thought we were going to have four centre-backs because we thought Puyol would be with us but he's not and we have to cover that position.
"Obviously we're working on buying players and we're hoping to announce a centre-back soon.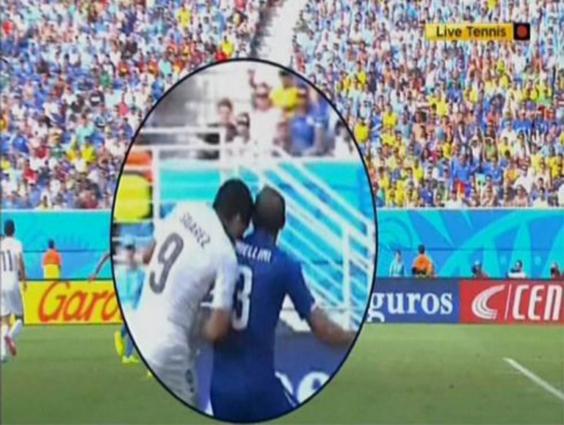 "About 90 per cent of clubs in Europe have the same problem, it's a position everyone is working on.
"We're working in the market and we haven't come to a definitive decision on some players we were hoping to sign.
"The only high-profile centre-back that's been signed is David Luiz, who's moved to Paris St Germain.
"It's not easy to find centre-backs who are better than the ones we've got and if we could find them then we would sign them."
Enrique admitted that he has been in constant communication with the club's board regarding new additions to the squad, which will welcome back Lionel Messi and Javier Mascherano in the next few weeks after they suffered World Cup heartbreak in the final defeat to Germany.
"We've been working hard and we've been in contact the whole time," he said of his relationship with the board.
"It's not just a question of going to the supermarket and taking players home, it's a complicated process.
"I know I've got a good group of players including one of the best players in the world.
"My objective is to get the best out of all the players in my squad. All managers want to have the best players that they possibly can.
"When I joined Barca I knew what players we had and we've been strengthening and I'm really happy.
"My target is to put a team together that is as competitive as possible."
Enrique also confirms he is looking to persuade veteran midfielder Xavi into staying at the Nou Camp, despite reports linking him with a fresh challenge in the Middle East.
"Yes I've spoken to Xavi and it's a matter that hasn't been decided yet," Enrique said. "He has a contract with the club and we're waiting to see what decision he comes to.
"He's a player for whom I have a lot of respect."
Reuse content