When double Olympic champion Mo Farah makes his debut in today's London Marathon, he will be entirely focused on ending Britain's 20-year wait for a winner.
But joining him could be a new legion of male charitable runners who are expected to raise huge amounts. The latest figures show that more male charitable runners are taking part in events like the London Marathon than last year.
According to a survey by the Charities Aid Foundation (CAF), this year 52 per cent of charitable runners are men, an 8 per cent increase on last year's figures.
In previous years, British charitable running has been dominated by "pink" events such as Race for Life, the women-only event that raises millions for Cancer Research UK, said John Low, CAF's chief executive. "Charities are clearly getting better at making running events attractive to men," he said. "With issues of male health more in the public eye and higher endurance events such as the mud run Tough Mudder gaining popularity, it's not surprising that more men are getting involved."
This year, 30,825 athletes have signed up to run the Marathon from Greenwich to St James's Park, many male first-timers. They include Simon Taylor-Davis, the guitarist in the indie band Klaxons, who is running to raise money for Prostate Cancer UK.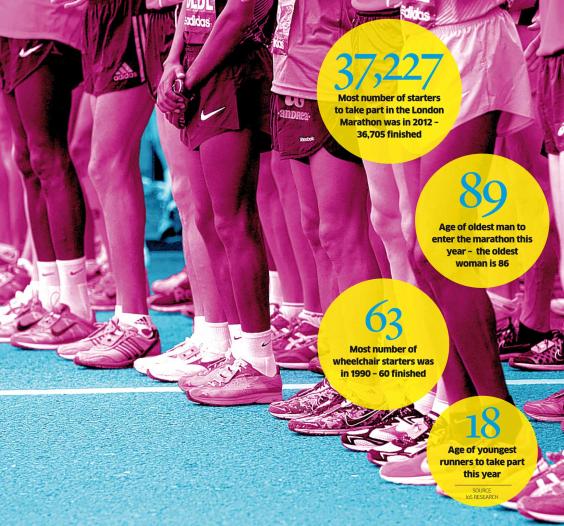 "Campaigns that align themselves with sport and music are always good for those people who might not go out and seek the information for themselves," he said. "There is a difficulty between men talking about problems, but the minute you try to make less of a big deal of it, conversation becomes more free-flowing."
The figures from CAF also suggest men are more efficient at fundraising than women. The average male runner raises an estimated £396, while their female counterparts raises £319.
Some, such as James Anderson from Sheffield, have greatly exceeded their personal fundraising target. Instead of £2,750, he raised £4,600. "I'm running on behalf of Prostate Cancer UK because it's a charity close to my heart," he said. "My dad, who was a consultant urologist, was himself diagnosed with prostate cancer and he passed away last year."
Since it started in 1981, the London Marathon has raised more than £600m for charitable causes. This year's donations, said Nick Bitel, chief executive of the London Marathon, are already expected to herald a "bumper year for British charities".
While the number of male runners is rising, so too are the numbers of competitors of both genders. The total number of people raising money by running has risen to 6.8 million from last year's 4.9 million. The winner from all this fundraising is medical research, the CAF report said, followed by funding for hospitals and children's services.
Today's conditions in London are predicted to be close to perfect for running. The Met Office said the weather in London would be chilly and cloudy at the start, and should stay mainly dry. That could perhaps allow Mo Farah to win the event at his first attempt. Whether he will be able to beat Emmanuel Mutai's record time of 2:04:40 for the distance is thought less likely.
But other records may fall and Guinness World Records could have new entrants by tonight. Tony Phoenix-Morrison, 49, plans to run his 150th marathon – the 62nd he will complete with a fridge on his back. Sid Keyte, 43, from Salisbury, is running dressed as a phone box and needs to finish the race within six hours to make a new world record.
Last year, Farah attempted the first half only, and was forced to pull up just shy of 13.1 miles.
Reuse content