Anthony Joshua's thrilling heavyweight victory against Wladimir Klitschko at Wembley Stadium broke the British Box Office record on pay-per-view, according to promoter Eddie Hearn.
Joshua heralded the start of a new era of heavyweight boxing by dramatically recovering from the first knockdown of his career before stopping his 41-year-opponent in the 11th round.
Making the third defence of his IBF title, the 27-year-old Briton also became the WBA champion and silenced his critics who had suggested that the fighter had neither the punch resistance, intelligence or variety to succeed Klitschko as the world's leading heavyweight.
Who next for Anthony Joshua?
Who next for Anthony Joshua?
1/6 Who next?

Joshua sensationally defeated Wladimir Klitschko - so who's next?

Getty

2/6 Deontay Wilder

A fight between Joshua and America's WBC heavyweight champion Wilder, 31, would likely prove the richest in the heavyweight division. The combination of two charismatic, explosive punchers would appeal both in the UK and the US, but may have such commercial potential that they would choose to delay until next summer. Wilder was ringside at Wembley, but has also been linked to fighting Tony Bellew.

Getty

3/6 Joseph Parker

New Zealand's WBO champion Parker carries less threat and appeal than Wilder but also represents less of a risk. The 25-year-old had been scheduled to fight Tyson Fury's cousin Hughie until injury ruled the challenger out, and is one of only two fighters against which a unification match-up could be made.

Getty

4/6 Wladimir Klitschko

The 41-year-old has already revealed he has a rematch clause he can take advantage of, and that only another showdown with Joshua is capable of convincing him to fight on. Joshua has also already said he would be willing to fight the Ukrainian again, but beyond financial gain there seems little benefit for the champion. Having already beaten him so entertainingly, Klitschko represents a high-risk, low-reward opponent.

Getty

5/6 Tyson Fury

Immediately after his defeat of Klitschko, Joshua called out the fighter who is quickly becoming his biggest rival. The 28-year-old Fury unsurprisingly responded on Twitter, writing "challenge accepted". Both seem confident of victory and willing to fight each other, both have beaten Klitschko and both represent the other's most intriguing opponent within the UK. Fury's biggest challenge could yet come in regaining his boxing licence amid his struggles with depression.

Getty

6/6 Tony Bellew

The former WBC cruiserweight champion's unexpected defeat of David Haye has given him far more appeal in the heavyweight division than any would have predicted. He seems incapable of providing Joshua with much of a test, but the money involved in fighting the champion will become such that any potential offers will be tempting. A match-up between the two is also straightforward to make, given they are both promoted by Matchroom. The biggest question may be whether Matchroom would rather use the 34-year-old Liverpudlian to further build Wilder's reputation before the American eventually fights Joshua.

Getty
It was his 19th consecutive victory as well as his 19th straight knockout win.
Speaking to Radio 5 Live after the fight, Hearn said: "We broke British Box Office records on pay-per-view last night.
"We can't tell you the number last night because it's too early but the record was 1.5 million for Manny Pacquiao against Floyd Mayweather. Last night beat that for sure."
After a cagey and nervy opening four rounds, Joshua unleashed a barrage of hits in the fifth to send his opponent hurtling to the canvas with victory seemingly in sight.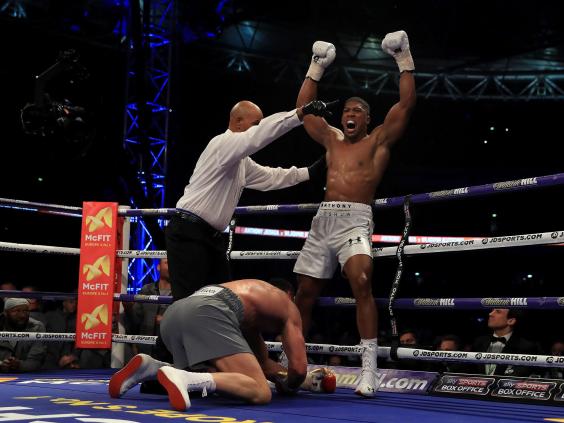 But Klitschko recovered, rallied and sent Joshua crashing to the canvas in the sixth in what was the Briton's first-ever knockdown in professional boxing.
Joshua held out, however, and eventually found the power and energy to see off the 41-year-old in a devastating onslaught in the penultimate round.
"Breath-taking, emotion, heart, ups and downs, both fighters on the deck and then a young fighter who looked like he'd emptied the tank," said Hearn on Saturday night's London thriller. 
"He'd looked like he'd almost run out of ideas and he was done and just somehow found something from within to come back and knock out Wladimir Klitschko."
Hearn added: "Anthony Joshua is learning on the job.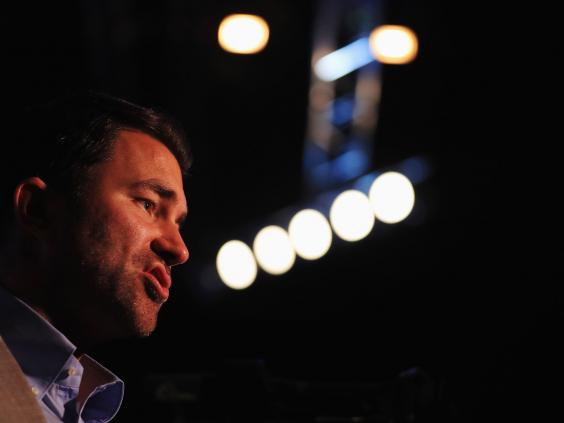 "This guy has had 18 professional fights and, although he won Olympic gold, he hardly has any amateur experience compared some of these other seasoned guys. He has 40 amateur fights.
"To be exposed in front of 90,000 people with your lack of experience is brutal but to come through the other side is just one of the most remarkable performances I've ever seen."
On the possibility of a rematch, Hearn explained:  "If fans want to see a rematch then I would say there's a very good chance that be met.
"Let's just remember it was tough fight for Klitschko and it was a tough fight for Joshua.
"There is a chance that Klitschko could turn around and say 'you know what I gave it everything', and what a wonderful performance by the way. He might say 'that's me done', or he might say 'let's go again'.
"I think there's a very good chance that it could happen because everybody wants it. 
"If he (Klitschko) wants to fight again, the rematch will happen."
Reuse content