Nine thousand people, as many as the Odyssey Arena can hold, poured into the filthy Belfast night protected against nature's evils by the glow of that "I was there" moment. The wind, cutting as it was, and rain bounced off the sense of occasion whipped up by the remarkable fighting machine that is Carl Frampton.
Belfast loves a scrapper, but this is no ordinary boxer. Frampton did not so much beat the challenger for his IBF super-bantamweight title as put him beyond use. Chris Avalos, an opponent hardened by the gang culture of backwater California, dripped machismo and pride. He could fight all right but his lust for a tear up was no match for the precision violence administered by the boy from Tiger's Bay, who demonstrated with pulverising menace why manager Barry McGuigan rates him pound for pound in the world's top five.
Avalos stood his ground for five rounds. Indeed he departed standing up, and still calling Frampton on, but the legs had gone. Everything had gone. The referee waved the fight off and the doctor in, one minute and 33 seconds into the fifth. He left the arena bloodied and concussed.
Boxing is no place for the squeamish. Frampton had done his job, obliterating a brave opponent and letting off flares across the boxing firmament. Scott Quigg, his great domestic rival, was ringside to witness the carnage. A bout with Quigg is the preferred option in June, somewhere in England. Frampton has utterly cornered the Northern Irish market, where he has long since left the sports pages to become a society figure driving the news agenda.
This, the first defence of his crown, persuaded ITV back to live boxing after an absence of five years. Niall Sloane, ITV's head of sport, sat ringside as the arena convulsed around him. This was a first step, a tentative toe in the pond to see if boxing could pull a crowd again live on TV.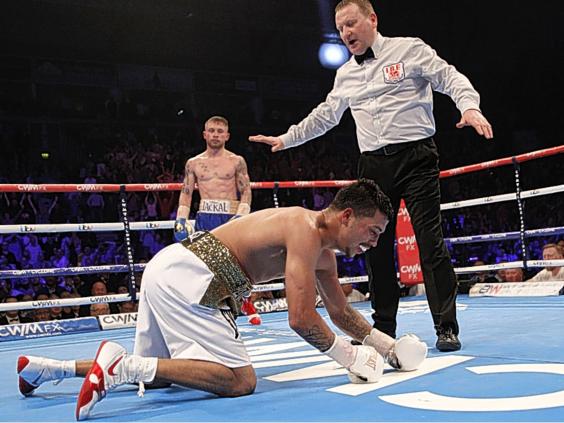 What Frampton delivered was not sport, as such, but a life affirming experience. Michael Buffer might have been calling the fighters to present before Caesar at the Colosseum in Rome, Frampton's warrior-like presence validating a people and a culture. If Frampton can export this atmosphere when he leaves this precinct then Sloane hardly has a decision to make.
McGuigan, the man guiding what is essentially a 21st-century version of his own career, is biased, of course, but the evidence is stacking up to support the hyperbole.  "Frampton can go on to be one of the best Irish fighters there has ever been. He is the hardest-punching super bantam in the world," he said. "Everyone is screaming about Rigo [Cuban Guillermo Rigondeaux] but he was dropped twice last time and was badly hurt. When Frampton hits him he will knock him out. He is the best in world and we are going to prove it."
It was McGuigan who drove through the ITV deal, putting visibility above short-term financial gain that might have been attainable elsewhere. He is playing the long game on behalf of his fighter and calling on his own experience, 30 years ago, to build Frampton into a household name.
The dynamics, however, are very different. Today's audience is less inclined to sit  passively in front of a television waiting for the box to serve up its schedules. It seeks its own pleasures on demand, which is an entirely different media environment to evaluate and negotiate.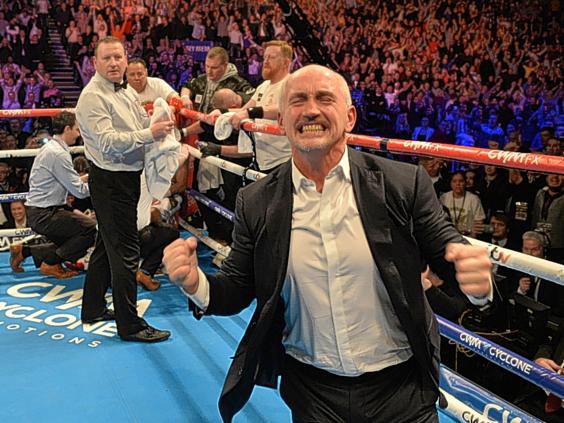 Frampton could make more money on pay per view, but McGuigan is guessing – on the basis of what he has witnessed in the north of Ireland – that there is greater long-term value in punching way beyond the community of boxing souls. There is a mainstream drama unfolding around Frampton that has reached beyond sport to a wider demographic in Belfast. The hope must be that this is transferable, first to a wider British and Irish audience and perhaps beyond, and also that Quigg buys into the vision.
"We really feel we would like to box in England and believe there is a future with ITV," said McGuigan. "I can't wait to see what the results [viewing figures] are. Quigg was here tonight. He's obviously interested. He keeps pushing this pay per view thing but I believe the fight can be made on terrestrial if we are all less greedy. This can be a major event in the summer on ITV. Let's make these kids superstars. Let's think about the game."
Frampton would fight anywhere; he is bright and McGuigan is pushing against an open door with his expansionist plans. Frampton rates this as his most accomplished performance. At 28 he is developing into a rare specimen, emulating the great Manny Pacquiao in demonstrating the capacity of the lighter weights to produce epic duels.
"I felt comfortable in there. He seemed slow to me," he said. "I could see everything that was coming and was hitting him with the right all night. But give him respect, he was tough. He was in my ear the whole time. He said I punched like a pussy and at the start at the fight said, 'it is just you and me now boy'. He was still talking at the end, though I had no idea what he was saying. I wanted to teach him some manners. I gave him some respect as a fighter but not as a man."
McGuigan plans to pick up the thread with Sloane this week to establish the viability of continuing the terrestrial journey with ITV. His next call will be to Quigg.
Reuse content