"Believe me I am not a fully fledged cruiserweight and David was. He's the greatest CW this country has ever seen. I shouldn't be talked about in the same sentence."
-              Tony Bellew, August 31st 2013.
The mere concept of Tony Bellew fighting David Haye was so farcical three years ago that Bellew, a man not known for his reticence in promoting, could not even fathom the idea when talking about Haye on a boxing messageboard.
A lot has changed since August 2013 however. Boxing has emerged as a sport that threatens to enter the mainstream on a semi-regular basis, mostly thanks to a stronger backing from Sky Sports who have amped up their interest as they've lost rights to other sports.
Anthony Joshua hadn't made his professional debut in 2013, while the first Carl Froch vs George Groves fight was still to come. Tony Bellew was mere months away from his second world title opportunity against Adonis Stevenson, while David Haye was still scheduled for a fight with Tyson Fury.
Time moves on, and as the clock ticks, necessity changes. There is no doubt that at some point in their lives Bellew and Haye were respectful acquaintances, if not friends, but niceness doesn't pay the bills. Today, in March 2017, humbleness is a haven for failure in boxing. It's not enough for the public to see two world class athletes compete, there needs to be tension - however manufactured - for true intrigue to occur.
David Haye vs Tony Bellew war of words
David Haye vs Tony Bellew war of words
1/9 "I don't believe it should be taking place. I think it's too dangerous. I think something horrific will happen on Saturday night"

Haye claims to be looking out for his opponent's well-being in the build-up to the fight.

AFP/Getty Images

2/9 "He knows if he pulls out he's a coward"

Bellew reacting to rumours that Haye was set to pull out of the fight this week with an Achilles injury, something the Londoner said was a red herring he released.

AFP/Getty Images

3/9 "I've never had a fight where I really want to cave someone's skull in like this"

Haye gets flustered during a Soccer AM appearance where he also criticises the Liverpudlian's voice asking, "how annoying is this guy?"

AFP/Getty Images

4/9 "He's a scumbag. He's not a nice human being. As a person he is a piece of s*** in my opinion. He said some distasteful and disgusting things."

Bellew attempts to take the moral highground during an interview with the Telegraph as he accused Haye of "bragging about sending people to hospital".

Getty Images

5/9 "This isn't about his career… his life is on the line"

Haye warns about the mismatch and likened it to standing in front of a bus driving at 30mph or rock climbing without a harness – Bellew could well get hurt.

AFP/Getty Images

6/9 "What I will tell you is, if this fight goes past four rounds, he's going to quit. At some stage, it will get too hard and he will quit. He hasn't got the fight in him anymore."

Despite being only two years Haye's junior, Bellew claimed on Sky Sports News in December that his opponent wouldn't be able to keep going for more than four rounds and that is when the cruiserweight world champion would pounce.

Getty Images

7/9 "I am training to not punch his head, but punch through his head. This is how I train. This is why I've knocked out 26 of my 28 victims – because I train to do damage to people"

Haye gives fans an insight into what he was doing in his Miami training camp that wasn't captured on Instagram.

Getty Images

8/9 "You are a broken, broke man. You are a broken man."

Bellew, as he has done from the announcement of the fight, claims Haye has no money left which is why he needs to fight him.

AFP/Getty Images

9/9 "You're all f***ing retards!"

Haye completely loses the plot during a press conference in Liverpool this week and begins berating the crowd who booed him before giving them the middle finger on his way off the stage. He was also caught on camera yelling at one fan : "You! You're mum!"

Getty Images
Let's just lay the cards on the table now. If Haye is anywhere near his fearsome prime, this fight should over in a maximum of three rounds. At his peak, Haye was the best cruiserweight on the planet, a devastating mixture of power, poise and pin-point accuracy. An iconic victory over Jean-Marc Mormeck in Paris was followed up by a crushing beatdown of Enzo Maccarinelli, at the same venue he fights at tonight.
Haye was the very definition of box-office, a proto Conor McGregor who predicted his success with unerring accuracy from a very young age. Both became invigorated by early defeats to come back and dominate several weight-divisions, and both men saw beyond the shackles of typical promotional contracts. And at each step of the journey, each faced massive scrutiny from doubters who maintained that their mouths couldn't match their ambition.
Britain's current boxing world champions
Britain's current boxing world champions
1/11 Anthony Joshua

IBF heavyweight

Getty

2/11 Tony Bellew

WBC emeritus cruiserweight

Getty

3/11 Nathan Cleverly

WBA light heavyweight

Getty

4/11 James DeGale

IBF super-middleweight

Getty

5/11 Billy-Joe Saunders

WBO middleweight

Getty

6/11 Kell Brook

IBF welterweight

Getty

7/11 Terry Flanagan

WBO lightweight

Getty

8/11 Lee Selby

IBF featherweight

Getty

9/11 Jamie McDonnell

WBA bantamweight

Getty

10/11 Lee Haskins

IBF bantamweight

Getty

11/11 Khalid Yafai

WBA super flyweight

Getty
Things began to unravel for Haye after he won heavyweight gold against the lumbering Nikolai Valuev. Poor defences against John Ruiz and Audley Harrison (in a heavily promoted co-promotion with Eddie Hearn against a domestic rival who had no chance - sound familiar?) led to a fight with Wladimir Klitschko which Haye had been begging to take place for a number of years.
Then toe-gate happened, he fought terribly and lost without tactics or charm, beat Dereck Chisora a year later and then didn't fight again for nearly four years after a series of injuries and Hollywood ambitions. Upon his comeback, he fought a couple of guys on Dave who were more bouncers than boxers, and has once again lucked into a fight which, touch wood for the Hayemaker, should make him a lot of money for minimal effort.
Haye weighed in a stone heavier than Bellew who fights at heavyweight for the first time, and it's incredible to think that Bellew campaigned at light heavyweight for much of his career. The Everton fan is a conundrum - a fighter who outwardly states that he's one of the best in the world - but who upon reflection knows his weaknesses better than most.
A phenomenal 2016 saw Bellew not only feature in the film Creed, but he also enjoyed his own Hollywood moment at Goodison Park when he finally won a world title at cruiserweight against Ilunga Makubu. Bellew was dropped heavily at the end of the first round, before rallying in spectacular fashion to finish Makubu in the third round.
Despite his success as a world champion, Bellew is not typically a man for the big occasion. In fights he's appeared in where he's been a featured player, he's often wilted amidst the pressure. Bellew lost his first fight with Nathan Cleverly in October 2010, and failed to impress in their tedious rematch four years later despite Cleverly fighting with one arm for much of the bout.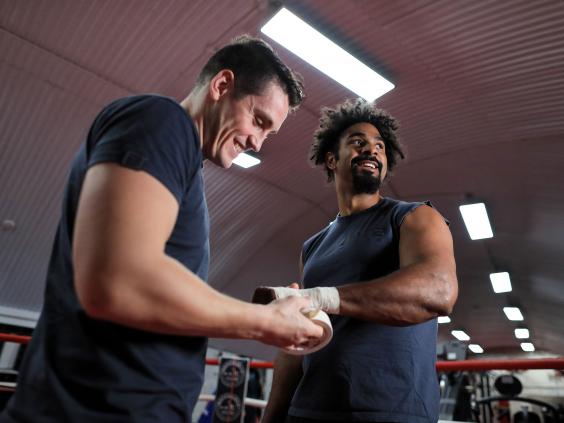 Against powerful light heavyweight champion Adonis Stevenson in November 2013, Bellew ran around the ring in increasingly desperate fashion for six rounds before getting taken out, while he was dropped twice by Ovill McKenzie in a dramatic 2010 shootout. History does not look kind for him, because even though he recovered against Makubu, quite simply, if he is dropped by Haye in a similar fashion tonight, he will not be getting back up.
In football terms, this is an FA Cup clash between an Arsenal team putting out a side mixed with experience and youngsters, against an eager, but limited lower half of the table Championship team. Sometimes the plucky underdog will eke out a victory, but then football doesn't result in knockouts that often.
Look, you're going be involved in this fight tonight whether you buy it on Box Office, listen to it on the radio, or follow it on social media. So how can you impress your friends ahead of the fight? Just tell them it's a bout based on deception and the time old tradition of marketing. It's a honeytrap designed to lure in casual punters while teasing the crotch of fanatical boxing fans as well.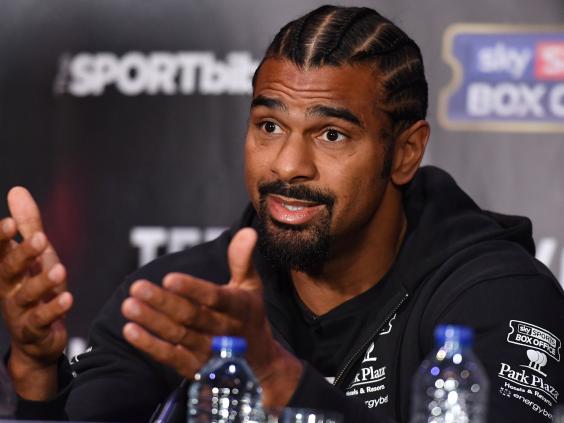 Haye has weighed in the second heaviest of his career which implies he's looking for the early stoppage he needs in order to amp up a future fight with Anthony Joshua, while Bellew will be looking to take the fight into deep waters under the assumption that Haye's gas tank will empty.
The fight probably won't go past three rounds, but it might. That's what they want you to think. Haye is a huge favourite with the bookmakers who have him at 2/9, while Bellew is a 4/1 underdog.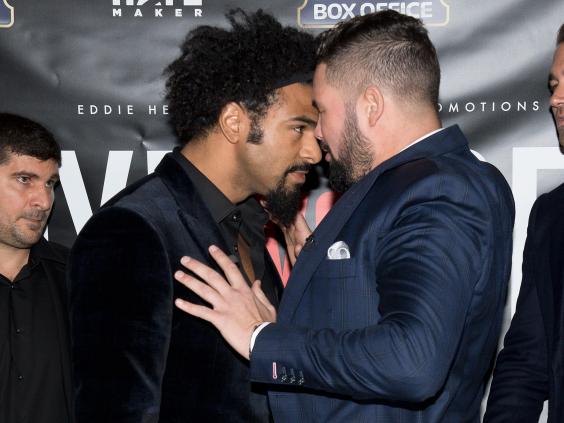 Elsewhere on the undercard in London, Sam Eggington fights former world champion Paulie Malignaggi, Derry Matthews faces the Floyd Mayweather wannabe Ohara Davies, Lee Selby competes in a ticking over fight, while Olympic gold medalist Katie Taylor continues her professional career.
We've run out of space for this week, but we also need to mention that two of the best fighters in the world battle each other tonight on BoxNation. Danny Garcia and Keith Thurman are both undefeated, powerful welterweights and their long-awaited battle should be a good one.
Reuse content