The sporting world was left stunned on Wednesday night when it was announced that the undefeated boxer Floyd Mayweather would come out of retirement to fight UFC star Conor McGregor on August 26.
The two men both revealed a date had been set on their respective social media accounts, with oddsmakers immediately setting Mayweather as the huge 11/1 favourite in a fight that will take place in a boxing ring governed by boxing rules.
The fight will take place at 154 pounds.
Mayweather published a short promotional video on Instagram which confirmed the involvement of Showtime Sports and appeared to reveal the fight would be held at the T-Mobile arena on the Las Vegas Strip.
"This is really an unprecedented event," said Stephen Espinoza, who heads Showtime Sports, which will handle the pay-per-view. "Really we haven't seen anything in modern history that resembles it, it's impossible to predict how many sales this will do."
The two fighters are expected to do a press tour shortly before going into final training for the fight. 
Mayweather v McGregor: In numbers
Mayweather v McGregor: In numbers
1/19 Mayweather v McGregor: In numbers

What are the numbers behind the eagerly-anticipated super-fight between the two men?

2/19 Zero

The number of defeats Mayweather has suffered in his 19-year professional career

Getty Images

3/19 1

The number of times Mayweather has touched the canvas throughout his professional career. He came back to win the fight via a unanimous decision

Getty Images

4/19 2

The number of UFC championship belts McGregor (briefly) held when he defeated Eddie Alvarez at UFC 205

Zuffa LLC via Getty Images

5/19 3

The number of times McGregor has been defeated: losing to Artemji Sitenkov in 2008, Joseph Duffy in 2010 and Nate Diaz in 2016

Getty Images

6/19 12

McGregor's age when he began boxing at Crumlin Boxing Club under two-time Olympian Phil Sutcliffe

Getty Images

7/19 13

The number of seconds it took McGregor to knock out José Aldo at UFC 194, to win the UFC Featherweight Championship

Getty Images

8/19 23

The number of fights Mayweather has won by decision

Getty Images

9/19 25

In 2016, Mayweather was ranked by ESPN as the greatest boxer, pound for pound, of the last 25 years

Getty Images

10/19 40

Mayweather's age. He is 12 years older than McGregor

Getty Images

11/19 46%

Mayweather's average connect rate, according to CompuBox and compiled over his past nine fights. It's one of the best in the history of the sport

Getty Images

12/19 49

The number of wins Mayweather has racked up in his professional career. He requires only one more to surpass Rocky Marciono's flawless record of 49-0.

Getty Images

13/19 84-8

£150,000 Mayweather's sterling amateur record. He won the national Golden Glove championships at three different weight classes

Getty Images

14/19 $150,000

The fine dished out to McGregor for throwing a bottle at Nate Diaz in a press conference ahead of UFC 202. The fine has delayed the announcement of a boxing match against Mayweather

Getty Images

15/19 1,650,000

The pay-per-view buy rate for McGregor's eagerly anticipated rematch against Diaz at UFC 202, making the event the most successful non-boxing PPV event in the history of fightsports

Getty Images

16/19 19,500,000

The number of PPV buys Mayweather has garnered in his entire career

Getty Images

17/19 $34,000,000

McGregor's career earnings, as estimated by Forbes at the start of June 2017

Getty Images

18/19 $1,300,000,000

The total revenue Mayweather has generated in his career

Getty Images

19/19 14,000,000,000

The number of social media impressions Conor McGregor made in 2016

Getty Images for Wynn Las Vegas
The cost of tickets and the price of the pay-per-view has not been decided, although the pay-per-view is expected to be at or near the $99.95 charged for Mayweather's 2015 fight with Manny Pacquiao, that drew a record 4.4 million pay-per-view buys. 
In the United Kingdom, the Mayweather v Pacquiao fight was broadcast on Sky Sports and cost £19.95 to watch. In Ireland, the fight cost €24.95. The Mayweather v McGregor fight will likely be priced at an even higher fee.
The pay-per-view revenue for the event would likely gross tens of millions of dollars. It comes less than a month before Gennady Golovkin and Canelo Alvarez meet in a highly anticipated fight Sept. 16 that could rival it for pay-per-view buys.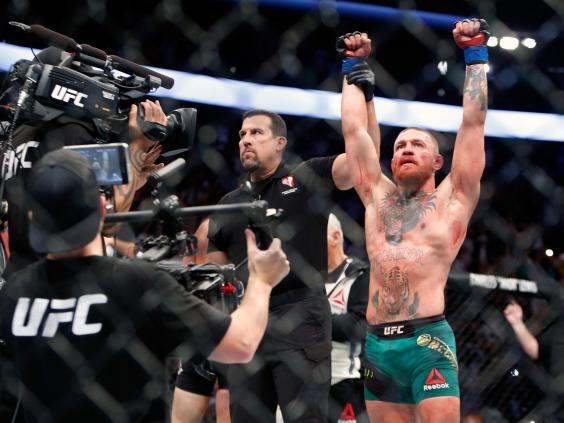 "As with every Mayweather and McGregor fight part of the appeal is the spectacle and outsize personalities who are participating in it," Espinoza said. 
There has not yet been any information on how much tickets for the fight will cost, although as with the pay-per-view price, ticket costs will likely rival those charged for the Mayweather v Pacquaio fight.
Mayweather v Pacquaio, dubbed 'The Fight of the Century', was held at the 17,157-capacity MGM Grand Garden Arena, while the American's fight against McGregor appears more likely to be staged at the 20,000-capacity T-Mobile Arena.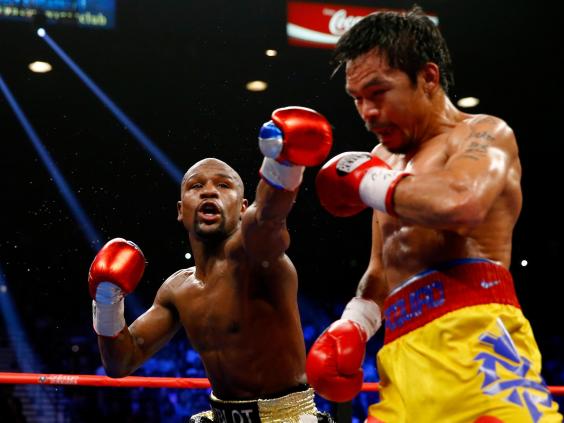 Nevertheless, ticket prices would likely be similar. Tickets for the previous fight cost between $1,500 and $7,500 and were notoriously difficult to purchase, because of the amount handed out to sponsors, promoters and celebrities.
The tickets made available to the public sold old within seconds of going on sale, with tickets immediately appearing on ticket exchange websites for as much as $85,000. 
The most expensive, priced at $128,705 (£85,348), were floor side seats.
Mayweather's fight against McGregor has already been tipped to become the most lucrative fight in the history of sport, with some describing it as the world's first billion-dollar fight. 
Reuse content