Deontay Wilder's brilliant acquisition of the WBC heavyweight championship makes heavyweight boxing a whole new brawl game, both in the ring and outside the ropes.
The lopsided victory of the charismatic clouter from Tuscaloosa, Alabama, over the holder Bermane Stiverne not only brings a long-awaited American renaissance for the sport's flagship division but cements the emergence of a new behind-the-scenes power broker in world boxing.
One Al Haymon, a multimillionaire mogul from the music industry, is now near to becoming American boxing's Mr Big. Is he the new Don King?
His influence is enormous. He not only manages Wilder but has a stable of around 150 elite fighters either as manager or adviser, among them Floyd Mayweather Jnr, Amir Khan, Julio Cesar Chavez, and, it is rumoured, a comeback-making David Haye. Oscar De La Hoya's Golden Boy Promotions settled their multimillion-dollar lawsuit with him last month.
Unlike King, he does not promote fights himself but he has influence over those who do and has just launched a $20m (£13.2m) prime-time deal with NBC that marks the sport's regular return to network television.
So just who is Big Al? He's a fascinating figure, something of a publicity-shy mystery man, rarely seen at ringside. He doesn't do interviews and dislikes having his photo taken. He is friendly enough to reporters he knows personally, but does little more than shake hands and say hello.
He actually comes from the same city, Cleveland, Ohio, as King but has a vastly different background. A Harvard graduate with a master's degree in economics, he made his fortune in music by promoting such acts as MC Hammer, Whitney Houston and The O'Jays, then quietly moved into the boxing background over a decade ago, gradually becoming the prime architect of Mayweather's career.
His new main man Wilder surprised us. Most thought, with his record of quick-fire finishes, he would come out swinging like Mike Tyson. Instead he jabbed and moved like Muhammad Ali. On Ali's 73rd birthday Wilder reminded us what boxing used to be like in the great man's heyday, even mimicking him at the end, declaring, "Ahhm so pretty... I shook up the world." Well, good as it was, it was hardly as earth-shattering as Ali's win over Sonny Liston 51 years ago.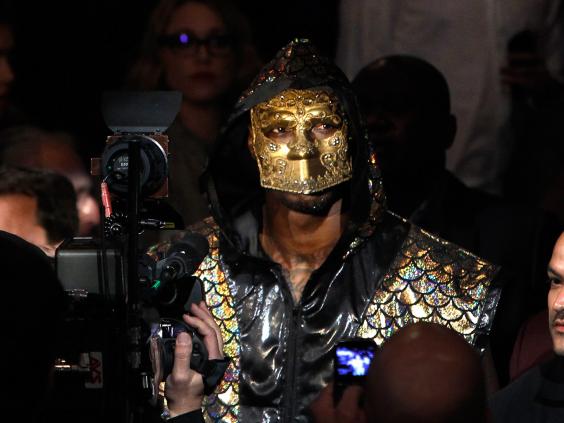 But it has opened up a new era for heavyweight boxing. The fight was televised live in America on Showtime and was the highest-rated card on the network for more than two years.
A lot of people wondered what might happen if Wilder went beyond six rounds but he had the stamina and heart to take all the fight out of Stiverne. What impressed me more than anything was his jab, which is reminiscent of Larry Holmes. He also took a couple of shots on the whiskers but used his brain and boxed intelligently.
Wilder seems a worthy successor to the crown worn with such distinction by Vitali Klitschko, and a reunification fight with Wladimir for the other three titles would be a record-breaking blockbuster. But it won't happen yet – and may not happen at all. Wilder has spoken of Tyson Fury, the leading contender for Wladimir's WBO crown, as a potential opponent and this could be a natural fight between two undefeated giants who can both box and punch. In fact, I have had a call from Wilder's team for a possible bout in May or June, so fingers crossed.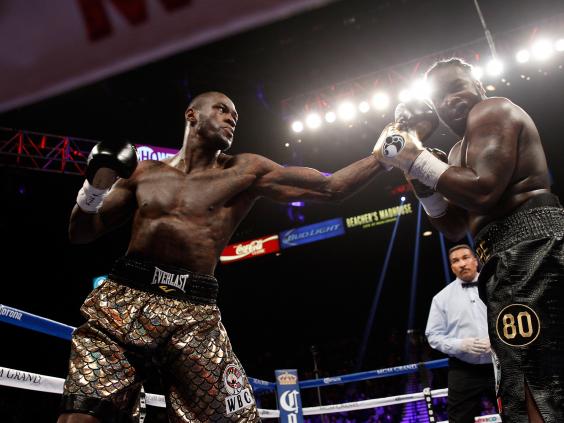 Fury is certainly up for it if he gets past a very capable German, Christian Hammer, at the O2 on 28 February, as he should. But nothing is ever certain in boxing, as boxing's new Mr Big may yet discover.
Referee Davies quits ring after frustrating fall from favour
British boxing has shamefully lost one of its best referees of recent years as Richie Davies has handed in his licence to the British Boxing Board of Control. Although he hasn't made it public, I understand Davies feels aggrieved at apparently being frozen out of handling the really big fights over the past couple of years.
I think I know why. The 59-year-old former London cabbie fell foul of the board when he attended – merely as a spectator – the David Haye-Dereck Chisora fight I was involved with at Upton Park in July 2012. The board had refused to license this show because of Chisora's suspension and it went ahead under the auspices of the Luxembourg Federation. Davies' presence is believed to have displeased the board, particularly its chairman Charlie Giles, who also heads the Referees Commission.
It seems an odd coincidence Davies did not work as a referee for a while and when he eventually did he was not allocated any of the title fights his rating as a star-class official merited. There may well be other issues but Davies clearly feels frustrated and the result is the loss of world-class ref.
Rios-Alvarado on Saturday night
Trilogies in boxing have served up some classics over the years.  In the 1940s Tony Zale-Rocky Graziano, in the 70s Muhammad Ali-Joe Frazier, in the 80s Sugar Ray Leonard-Roberto Duran, in the 90s Evander Holyfield-Riddick Bowe, and in the 2000s Marco Antonio Barrera-Erik Morales plus Arturo Gatti-Micky Ward.
This Saturday night live and exclusive on BoxNation fans will get to see this decade's most exciting trilogy when Brandon Rios and Mike Alvardo collide in Colorado with the Vacant WBO World Welterweight title on the line.
Going into the fight they are one apiece - Rios won the first encounter, stopping Alvarado in seven rounds in October 2012, then five months later Alvarado got revenge winning a close points decision, both fights were fight of the year candidates - so the third chapter should be the final decider.
To subscribe to BoxNation go to  www.boxnation.com
Reuse content