Manny Pacquiao faces Floyd Mayweather on Saturday night in the richest fight in boxing history, but the 36-year-old's biggest battles have not been constrained to the ring.
STARTING OUT
The fourth of six siblings, Pacquiao, left home in General Santos City to live on the streets aged 12. His long-term trainer, Freddie Roach, has said that the shocking reason Pacquiao ran away from home is because his father cooked the family dog.
While living on the streets, Pacquiao made what money he could by selling doughnuts.
"Manny ran away from home after his father ate his dog and he lived on the street, where he bought doughnuts at a doughnut store and then sold each one for a nickel more to survive," Roach has revealed. "He slept in a cardboard box. He fought his way through all this, and look at the man he is today."
He moved to Manila a couple of years later and boxed for the Philippine national boxing team, where his room and board were paid for by the government.
IN THE RING
In 1995, 'Pac-Man' started his professional career at light-flyweight in the Philippines aged 16. He won his first 11 bouts, but lost his 12th, suffering a third-round loss by fellow Filipino Rustico Torrecampo in Manila.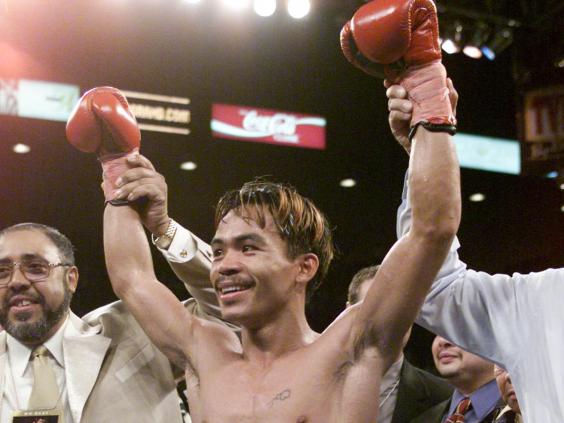 A run of 12 wins followed, and he won his first world title – the WBC flyweight belt (that's at a weight-limit of eight stone) with an eight-round stoppage of Chatchai Sasaku, in Thailand in 1998.
GALLERY: WHO IS PREDICTING WHO
Mayweather or Pacquiao? Boxing greats and current fighters make their predictions
Mayweather or Pacquiao? Boxing greats and current fighters make their predictions
1/10 Mike Tyson (Pacquiao)

Iron Mike thinks Pacquiao will win because he throws more punches. "Floyd doesn't throw anywhere near 100 punches a round. He is more of a scientific fighter, he really plots a lot, he poses whereas Pacquiao is feinting and moving around. That's just my opinion, Pacquiao has perpetual motion he's all over the god damn place."

Getty

2/10 George Foreman (Pacquiao)

"If we've got good judges this time, it's go Pacquiao," said Foreman. "Mayweather starts off early kind of looking for his timing and ... Pacquiao will pot shot him and get ahead on points and he'll stay ahead. He'll slow down later on and Mayweather will take on the more aggression but he doesn't have a right hand. He'll hurt his right hand. He can't get a knockout. So he'll just have to cruise on in and win or lose the fight just by a couple of points."

3/10 Oscar De La Hoya (Pacquiao)

De La Hoya, who has fought both, nods in Pacquaio's direction...but only "if he can start well in the first two rounds, then the fight can go in his direction."

GETTY IMAGES

4/10 Ricky Hatton (Mayweather...just)

Hatton said: "Manny has been in some real wars and that gives Floyd the slight advantage."

Jon Super

5/10 Nigel Benn (Mayweather)

Benn: "This fight is going to make Mayweather who he is. I believe that he has not got the recognition."

GETTY IMAGES

6/10 Kell Brook (Mayweather)

"I'm leaning towards Floyd Mayweather," Brook said. "He's never lost before, he knows how to win and it's in Vegas. I think Mayweather is going to control the pace and I think he's too clever for Manny Pacquiao."

Getty Images

7/10 Amir Khan (Mayweather)

"Mayweather will be smart and keep moving, so I think he will get a good unanimous win," Khan said.

Getty Images

8/10 Shane Mosley (Mayweather)

"I think Mayweather's going to out-point Pacquiao by moving, evading punches, and being able to do combinations and stuff like that," Mosley said.

GETTY IMAGES

9/10 Miguel Cotto (Pacquiao)

"I'm rooting for Manny Pacquiao. I think the quickness of Manny is going to have a big impact on Floyd's performance," he said.

AFP/Getty Images

10/10 Ronda Rousey (Pacquiao)

The unbeaten UFC fighter is backing Paquiao.

Josh Hedges / Zuffa LLC
Pacquiao has since become the first and only boxer to win world titles in eight different weight divisions. Pacquiao clinched the feat when he defeated Antonio Margarito via a unanimous decision and won the WBC light-middleweight (154 lbs) title at a catch-weight of 150 lbs on November 13, 2010.
OUTSIDE THE RING
In 2007, he officially announced he would be running for a seat in the Philippine House of Representatives. In May 2010, he was elected as congressman of the district of Sarangani. 
Roach has said that he will move into politics full-time when his boxing career is finished.
"When he fights, there is no crime in the Philippines, because everyone is watching him box. He has come such a long way. After boxing, he will go into politics."
But boxing and politics are not his only two talents, far from it. He has played basketball for professional Philippine team Kia Sorento, released an album (he is going to sing his entrance music on Saturday – watch the video here) , acted in TV shows in the Philippines, and he was even the first Filipino athlete to appear on a postage stamp.
PERSONAL LIFE
Married Maria Geraldine "Jinkee" Jamora in May 2010. He has a Jinkee tattoo on his right arm. They have five children, and live in General Santos City in the Philippines.
WHAT IS UP FOR GRABS ON SATURDAY THEN?
Pacquiao will be defending his WBO welterweight title, and aiming to win Mayweather's WBC and WBA welterweight titles.
HOW MUCH DOES PACQUIAO STAND TO EARN FROM THE FIGHT?
The contest at the MGM Grand in Las Vegas is expected to generate more than £300m for the pair, with the split going 60/40 in Mayweather's favour, meaning Pacquiao will earn at least £120m.
VIDEO: THE BEST BETS
HOW CAN I WATCH IT?
The fight will be broadcast on Sky Sports Box Office for UK viewers. The fight will cost £19.95 to purchase on Box Office, and will cost an additional £2 booking fee for those who book on the day. The bout is due to start around 4am in the early hours of Sunday morning.
Reuse content