In a night where history was made and records were broken, Ultimate Fighting Championship finally arrived at Madison Square Garden for an evening of fights that no one will ever forget.
Conor McGregor def Eddie Alvarez via KO (strikes) Round 2, 3:04
In the main event, Conor McGregor looked to add yet another historic achievement to his legacy as he attempted to become the first ever man to hold two UFC titles at the same time.
Stood in his way was the UFC lightweight champion, Eddie Alvarez, who walked into the bout an underdog despite many saying he would be McGregor's toughest opponent yet.
McGregor walked to the Octagon to a deafening reception as Alvarez, the man from the nearby Philadelphia, was roundly booed. The two touched gloves when instructed and then the action got underway with 'ole, ole, ole, ole, ole' ringing out around the arena.
The Irishman was the aggressor early on as he pressed forward. McGregor dropped Alvarez early with a left hand, but the American popped up after only seconds on the mat. Alvarez was dropped again with a left hand, but he again rose to his feet only to be caught by a third stiff left.
McGregor this time dove in for the kill but Alvarez covered up well and after a minute rose to his feet. Alvarez was looking out of sorts, but still in the fight as McGregor pushed forward looking for another big left. With thirty seconds remaining McGregor's output slowed as the round finished.
Watch the moment McGregor knocked out Alvarez below...
Round two opened with McGregor again taking the centre of the Octagon. The Irishman again caught Alvarez with a left hand, but this time the American ate it well and continued to box away offering his own jabs. McGregor then began taunting Alvarez, pleading him to come forward so he could land another stiff counter.
The Irishman then landed another big left, but Alvarez this time managed to clinch him against the cage. After a minute of defending a takedown, McGregor wriggled away and it was the beginning of the end.
McGregor slipped an Alvarez right hand and landed a big left cross to temple. A follow up shot sent Alvarez crashing to the mat and McGregor landed one shot of ground and pound before referee John McCarthy dove in to call the fight as the crowd went insane.
UFC 205 Conor McGregor vs Eddie Alvarez
UFC 205 Conor McGregor vs Eddie Alvarez
1/28 Conor McGregor vs Eddie Alvarez

Conor McGregor walks out of UFC 205 the first simultaneous two-weight world champion.

Zuffa LLC via Getty

2/28 Conor McGregor vs Eddie Alvarez

McGregor celebrates his KO win over Eddie Alvarez UFC 205 to hold the lightweight and featherweight titles.

Zuffa LLC via Getty

3/28 Conor McGregor vs Eddie Alvarez

McGregor became the first man to hold two different belts in UFC history.

Zuffa LLC via Getty

4/28 Conor McGregor vs Eddie Alvarez

McGregor continues to set the benchmark in the UFC.

Zuffa LLC via Getty

5/28 Conor McGregor vs Eddie Alvarez

Referee John McCarthy waves off the main event after Alvarez is floored for a fourth time.

Zuffa LLC via Getty

6/28 Conor McGregor vs Eddie Alvarez

McGregor utilised his left hook counter to floor Alvarez three times in the first round.

Zuffa LLC via Getty

7/28 Conor McGregor vs Eddie Alvarez

McGregor taunted Alvarez by holding back hands behind his back and urging him to throw a punch.

Zuffa LLC via Getty

8/28 Conor McGregor vs Eddie Alvarez

Alvarez had no answer for McGregor's speed and power.

Zuffa LLC via Getty

9/28 Tyron Woodley vs Stephen Thompson

Tyron Woodley retained his welterweight title by majority draw against Stephen Thompson.

Zuffa LLC via Getty

10/28 Tyron Woodley vs Stephen Thompson

Thompson survived a barrage of punches as well as a long gullotine choke hold.

Zuffa LLC via Getty

11/28 Tyron Woodley vs Stephen Thompson

Thompson was busted open on the bridge of his nose in the first round.

Zuffa LLC via Getty

12/28 Tyron Woodley vs Stephen Thompson

Woodley floored Thompson and dominated the opening round but Thompson would fight back.

Zuffa LLC via Getty

13/28 Joanna Jedrzejczyk vs Karolina Kowalkiewicz

Joanna Jedrzejczyk was pushed all the way by fellow Pole Karolina Kowalkiewicz.

Zuffa LLC via Getty

14/28 Joanna Jedrzejczyk vs Karolina Kowalkiewicz

Jedrzejczyk dominated Kowalkiewicz for the first three rounds before the tables turned.

Zuffa LLC via Getty

15/28 Joanna Jedrzejczyk vs Karolina Kowalkiewicz

Jedrzejczyk remains the strawweight champion.

Zuffa LLC via Getty

16/28 Chris Weidman vs Yoel Romero

Chris Weidman suffered a brutal defeat after catching a flying knee from Yoel Romero.

Zuffa LLC via Getty

17/28 Chris Weidman vs Yoel Romero

Romero's flying knee split Weidman's head wide open to end the fight.

Zuffa LLC via Getty

18/28 Miesha Tate vs Raquel Pennington

Miesha Tate announced her retirement after defeat by former apprentice Raquel Pennington.

Zuffa LLC via Getty

19/28 Miesha Tate vs Raquel Pennington

Pennington dominated Tate for the entire three rounds.

Zuffa LLC via Getty

20/28 Miesha Tate vs Raquel Pennington

New York Giants wide receiver Odell Beckham Jr was at ringside for the bout.

Zuffa LLC via Getty

21/28 Frankie Edgar vs Jeremy Stephens

Frankie Edgar got back to winning ways by defeating Jeremy Stephens.

Zuffa LLC via Getty

22/28 Frankie Edgar vs Jeremy Stephens

Edgar dominated Stephens but was rocked badly in the final round.

Zuffa LLC via Getty

23/28 Khabib Nurmagomedov vs Michael Johnson

Khabib Nurmagomedov immediately called out Conor McGregor after defeating Michael Johnson by submission.

Zuffa LLC via Getty

24/28 Tim Boetsch vs Rafael Natal

Tim Boetsch knocked out Rafael Natal in the first round.

Zuffa LLC via Getty

25/28 Vincente Luque vs Belal Muhammad

Vincente Luque beat Belal Muhammad inside 90 seconds.

Zuffa LLC via Getty

26/28 Vincente Luque vs Belal Muhammad

Luque caught Muhammad with a counter left to end the bout.

Zuffa LLC via Getty

27/28 Jim Miller vs Thiago Alves

Jim Miller beat Thiago Alves in the early preliminaries.

Zuffa LLC via Getty

28/28 Liz Carmouche vs Katlyn Chookagian

Liz Carmouche beat Katlyn Chookagian in the early preliminaries.

Zuffa LLC via Getty
History was made at Madison Square Garden – the first ever UFC two weight world champion – Conor McGregor.
 Tyron Woodley and Stephen Thompson fought to a majority draw (48-7, 47-47, 47-47)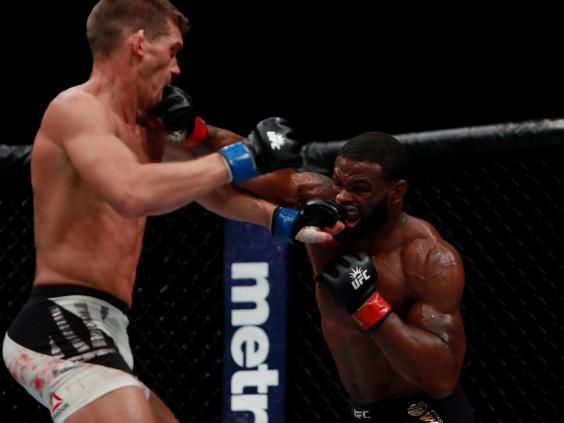 The UFC welterweight title was on the line in the co-main event of the evening as Stephen 'Wonderboy' faced the champion Tyron Woodley.
Thompson was heavily the favoured fighter with the crowd as Bruce Buffer made the introductions and Woodley was roundly booed.
The fight opened tentatively with neither throwing nor landing a strike in the opening two minutes. Thompson eventually went for a side kick but Woodley timed it nicely and took the challenger down to the mat. Woodley then proceeded to work his way through Thompsons guard and landed a nice stiff elbow while on top. The first rounded ended with Woodley posturing up and landing some big strikes to the midsection of Thompson with the champion fully in control.
Round two began again with Thompson stalking Woodley looking for an opening. Wonderboy looked to dart with a stiff hand but Woodley evaded it and managed to clinch him up against the cage where he landed short jabs and knees to the midsection. Thompson eventually broke away and landed his first real good punch at range, but Woodley brushed it off and invited him forward.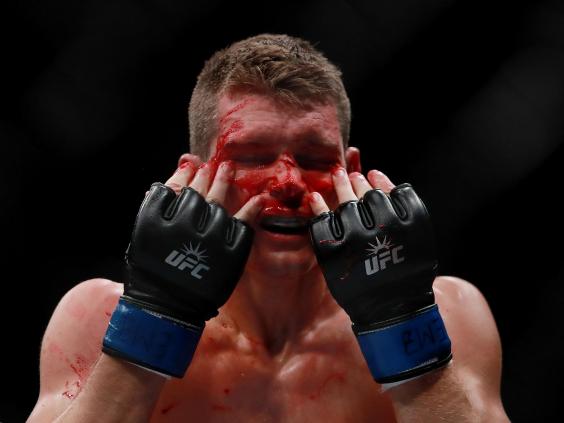 With hands down at his side Thompson again jumped into the pocket looking for a jab, but just as the round closed out Woodley landed a big right hand that visibly broke the challengers as blood rushed down his face.
Woodley started round three aggressively, pushing forward in short, sharp bursts again looked for the finishing right hand. Thompson seemed unaffected by the big right hand in the previous round and found his timing well landing some nice counter strikes that pushed Woodley back.
A stiff leg kick briefly took away the challenger's base, but the fire fight soon continued with the two exchanging stiff hooks in the pocket as the round came to an end.
Round four started with the two fighting at distance. After a minute, Woodley landed with a big right hand and then another as Thompson struggled back to his feet. The champion then poured on the ground and pound, but Thompson somehow survived.
With Thompson doing everything he could to survive, Woodley locked on a deep guillotine and held it for a full two minutes before Thompson managed to escape. The challenger then had top position and rained down as the crowd went crazy with the klaxon signalling the end of the round.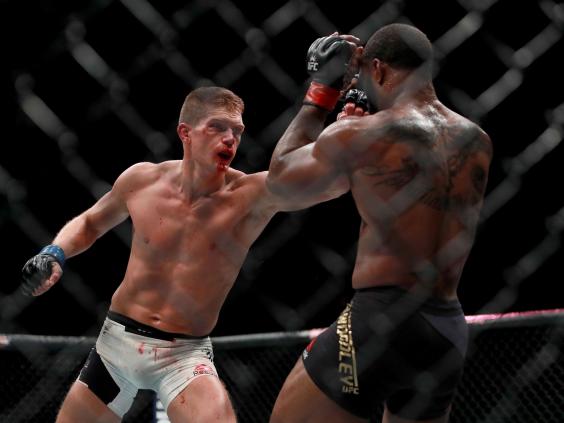 The final round began with both Thompson and Woodley touching gloves acknowledging they had already been through a memorable war.
Thompson opened up by pushing Woodley's back to the cage and had a scissor kicked blocked as he hunted a finish. Wonderboy continued to edge forward as the round progressed, stalking Woodley and awaiting his moment for an opening.
Thompson had success with a spinning back kick, but Woodley looked unaffected. The challenger then landed a series of hard hooks as the fight entered the final two minutes. Woodley's output had seemingly stopped as Thompson pushed forward with his face bloodied looking for his chance. Woodley was blocking well though and Thompson good only sneak one more good punch in before the fight came to an end.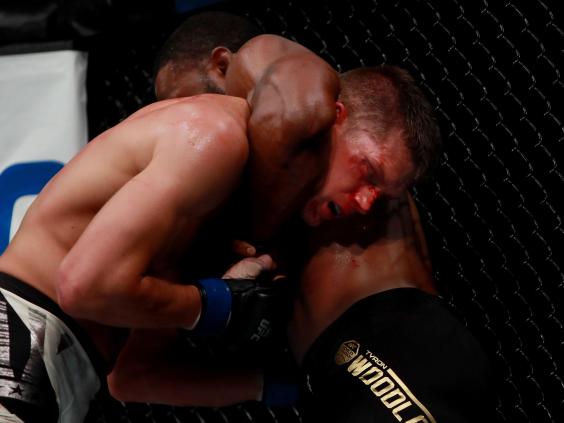 The judge's scorecards where then gathered and the decision read by Bruce Buffer amidst mass confusion. The scores of 48-47, 47-47, 47-47 were originally read as a split decision victory to champion, but after a least a minute of confusion, the announcement was corrected to a majority draw.
Nevertheless, Tyron Woodley retained his belt after five rounds at Madison Square Garden.
Joanna Jedrzejczyk def. Karolina Kowalkiewicz via unanimous decision (49-46, 49-46, 49-46)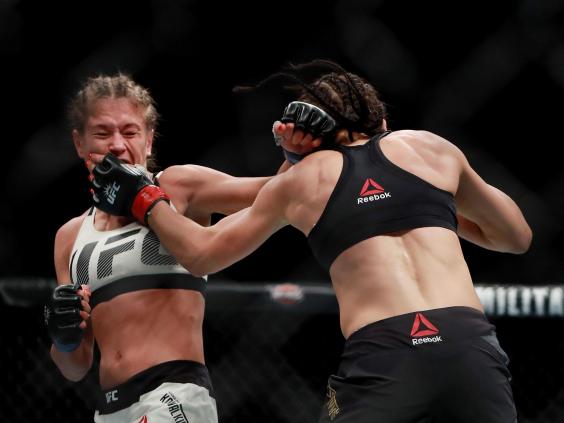 It was historic night for many a reason at Madison Square Garden last evening, but for European and Polish MMA, it will forever be remembered as the two women from Poland put on one of the best women's fights in UFC history.
Jedrzejczyk came into the fight a heavy favourite with the oddsmakers, though you would've found it almost impossible to tell by the body language of Kowalkiewicz who walked to the Octagon soaking the moment in with her usual relaxed, calm expression.
Jedrzejczyk didn't take her eyes off Kowalkiewicz the second she entered the Octagon and her eyes remained glued to her opponent as Bruce Buffer introduced both fighters.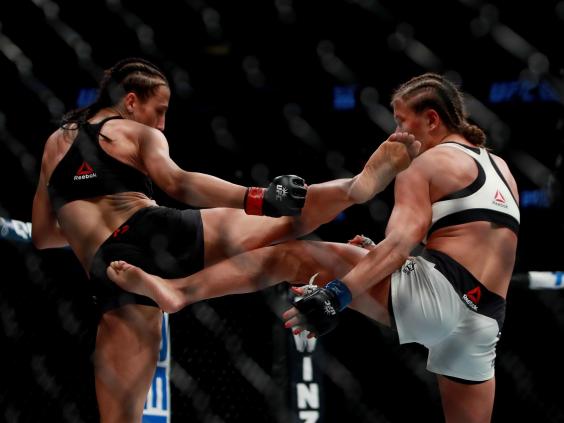 The opening round began with both striking at range Karolina looked to close the distance and work her way on the inside. Jedrzejczyk scored early with a jab that knocked Kowalkiewicz's head back but the challenger continued to come forward as Jedrzejczyk hit her with several inside leg kicks.
The two briefly clinched up after three minutes but Jedrzejczyk managed to keep Kowalkiewicz from landing any significant strikes and easily broke away. The round ended with Kowalkiewicz landing some stiff knees in the clinch again but as she broke away she ate a right hand as the round closed.
Kowalkiewicz started the aggressor again in round two, but Jedrzejczyk was countering well with kicks peppering both the body and inside leg of her challenger as she closed the distance.
Kowalkiewicz relented though and pattern back to emerge with the champion being pushed back to the cage clichés initiated. As the round closed Kowalkiewicz bloodied the nose of Joanna with a jab, but Jedrzejczyk replied with a front kick that found the mark.
Both women continued a high volume of output in round three as Jedrzejczyk began to take the centre of the Octagon and push forward. Midway through the round Joanna pushed Karolina's back to the cage and landed a stiff short elbow that drew a big gasp from the crowd. Kowalkiewicz powered through though but as the third round ended she managed to push forward and reverse the clinch.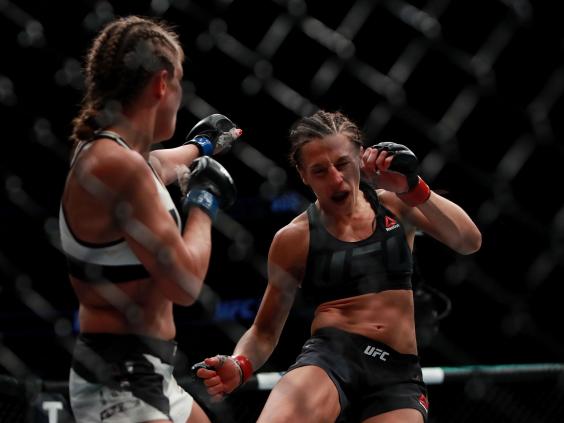 The championship rounds began with Kowalkiewicz again pushing forward and she had moment of success as she landed her own stiff elbow with Joanna's back to the cage. A massive moment in the fight came when Kowalkiewicz appeared to hurt Jedrzejczyk with a right hand that temporarily rocked her. The challenger poured forward looking for a finish but Jedrzejczyk did just enough to thwart her and keep her just at bay.
Kowalkiewicz landed another fierce right hand with one minute remaining but this time the champion took it well and started to rally back and landed her own big right hand as the round closed.
The final round began with the crowd cheering both women as they touched gloves before going at it for five final minutes.
Jedrzejczyk had seemingly recovered from a tough fourth round and looked to have plenty of bite left in both her kicks as punches. Kowalkiewicz's volume dipped a little as fatigue seemed to settle in, but still she powered forward bravely offering a high output. A left hand from Kowalkiewicz seemed to briefly stuff Jedrzejczyk for a brief second, but the fire fight quickly continued as the two again clinched up and struggled for position.
The fight ended with the two women bravely standing in the pocket trading and as the final klaxon went they embraced with the crowd on the feet.
After a tense pause the scorecards were finally read with both women draped in the Polish flag. All three judges scored it like many had done Octagonside, 49-46 to the champion Jedrzejczyk.
Yoel Romero def. Chris Weidman via TKO (strikes), Round 3
Hometown hero Chris Weidman returned to the UFC Octagon for the first time in nearly a year as he battled Yoel Romero in the second fight on the main card.
Unsurprisingly, Romero entered to jeers and boos as walked to the cage surrounded both sides by security.  
Weidman, the only resident New Yorker on the card, walked to the Octagon with the stars and stripes held aloft and as expected he got an incredible reaction from the Madison Square Garden crowd as they all rose to their feet.
After the introductions were made the action got underway and it was Weidman who took the initiative early, using leg and body kicks to keep Romero at distance. The pattern continued until Weidman looked for a single leg and briefly put the Cuban down. Romero got back to his feet in seconds but Weidman was straight back on him with kicks and tiff jab that landed.
Romero eventually opened up after four minutes landing a stiff punch, but he continued to look tentative as Weidman again briefly down with a single leg. Romero again rose quickly but the round played out with the American easily getting the better of it.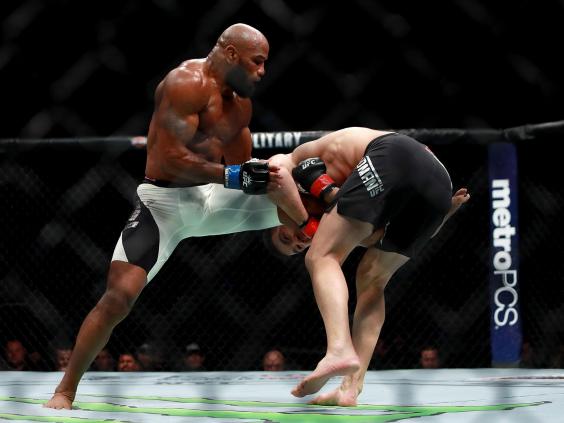 Round two began with Weidman again looking for a single leg. This time, Romero stuffed it and replied with his own stiff jab to rock the American's head back. Romero then caught Weidman with an inside leg kick to dip his feet temporarily as things began to look a lot more evenly matched on the feet.
The Cuban landed a stiff kick to the ribs but Weidman caught it and attempted to counter with a head-kick that was blocked. Romero then dominated the rest of the round as he slammed Weidman to the mat and briefly landed strikes on him as he rose to his feet.
Many Octagonside had it scored evenly heading into the third but the judges weren't needed for this one.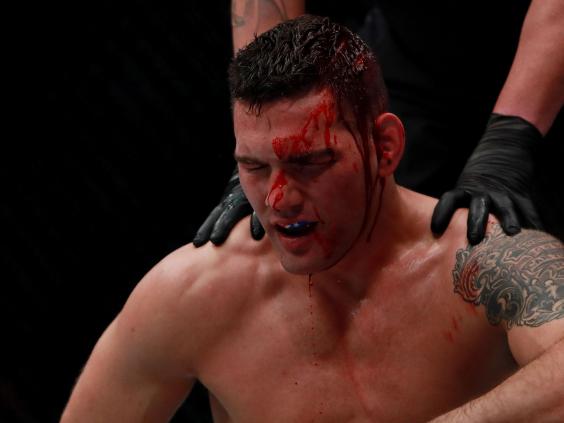 Romero landed a sickening flying knee to send Weidman down to the mat as blood instantly gushed from his mouth and nose. Romero swarmed and followed up with strikes but the referee quickly dove into to call and end to the fight.
The Cuban jumped out the cage in celebration and proceeded to call Michael Bisping out on the mic. UFC middleweight champion Michael Bisping was in the Fox Sports studios in the stands and was shown on camera flipping the birds as Romero continued to taunt him from the Octagon.
Raquel Pennington def. Miesha Tate via unanimous decision (29-28, 30-27, 30-27)
A women's bantamweight fight kicked-off the action on the UFC 205 main card as Miesha Tate and Raquel Pennington duked it out in an all-American affair.
Tate was returning for the first time since losing her title back in July at UFC 200 and she started tentatively as Pennington clipped her with a few early hooks. Tate then pressed her against the cage and looked for the takedown, but as she dipped her head Pennington looked for a guillotine choke. Tate escaped in incredible fashion by using het feet to run up the cage and drive forward as the rest of the round played out with two pressed against the cage in the clinch.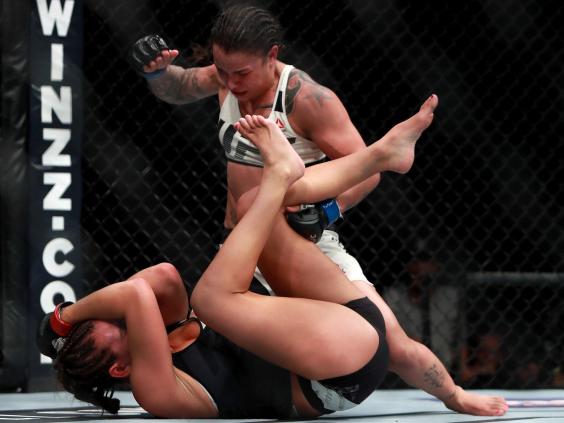 Round two began with Pennington working well behind the jab and pushing Tate back as she looked to close the space. Eventually, Tate managed to push her against the cage and land some knees and strikes but it soon just descended into a clinch battle against the cage with both fighting for position.
The third round began with Tate being dumped on her back as fight hit the mat and two grappled searched for submission. Tate attempted to get to her feet on multiple occasions but Pennington wouldn't let her up until there was just one minute left in the round.
The clinch war then continued with Tate's back to the fence as the time wound down. Pennington scored with a trip with a few seconds remaining but her ground and pound flurry was too late to do any significant damage.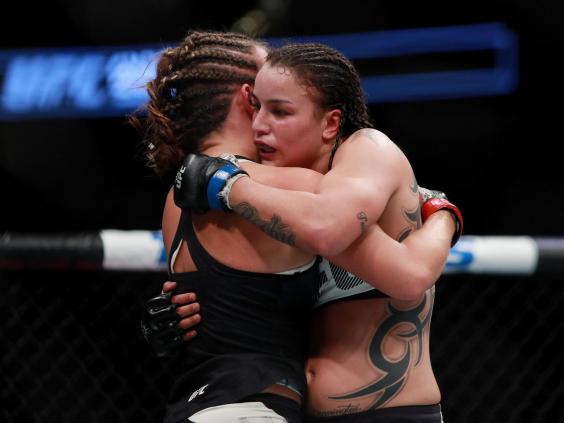 The fight went to the judges who gave the unanimous decision to Pennington 29-28, 30-27, 30-27.
In an amazing turn of events after the fight, former champion Miesha Tate announced her retirement stating "it's not my time anymore."
Preliminaries Bouts:
Frankie Edgar def. Jeremy Stephens via unanimous decision (30-27, 30-27, 29-28)
Frankie Edgar and Jeremy Stephens topped the bill on the undercard in featherweight action.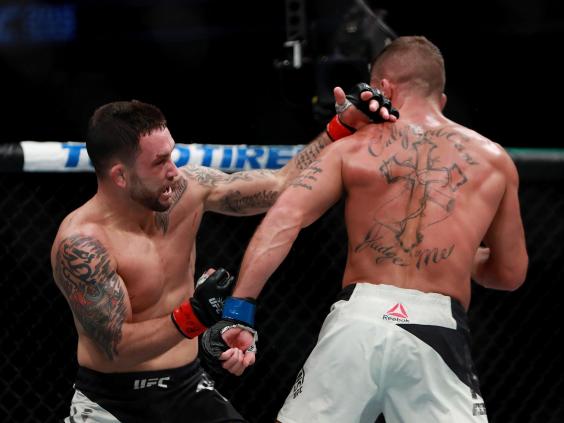 Edgar entered the Octagon to a raucous reception and he seemed to take the momentum into round one where he got the better of the standup as he slipped Stephens' power shots and hooked him with nice short strikes.
The pattern looked as if it would continue in round two, but midway through Stephens landed a huge headkick that dropped Edgar to mat. Edgar somehow rallied and got back to his feet, but he legs were noticeably wobbly as Stephens poured it on looking for a finishing shot.
Edgar looked like a sitting duck, but Stephen overcommitted with a hook and Edgar took him down to the mat. Edgar then went close with a few guillotine chokes, but Stephens escaped both as an amazing round two came to an end.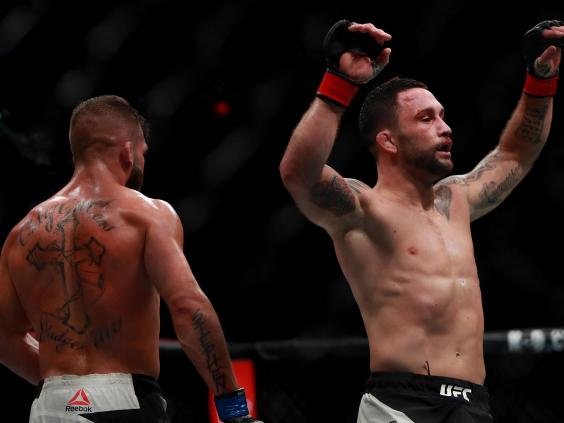 Round three began with Edgar taking Stephens. After escaping an armbar, Edgar managed to take his back but failed find a rear-naked choke after several efforts. The final two minutes played out on the feet as Stephens back to look the more urgent of the two as he swung and missed with several hooks.
After a brief pause the judges rightly gave the decision to Edgar 30-27, 30-27, 29-8 on the scorecards.
Khabib Nurmagomedov def. Michael Johnson via submission (kimura), Round 3, 2:31
A fight that could've easily headlined any Fight Night card graced the UFC 205 prelims as Khabib Nurmagomedov faced Michael Johnson in lightweight action.
Johnson had success early on as he landed some stiff strikes, but in both the first and second round, Nurmagomedov was able to take him down to the mat where he laid on some brutal ground and pound.
Nurmagomedov's ground attack was relentless as he continually smashed the American with strikes to both the head and body and the recipe was repeated in round three where Nurmagomedov continued to pound away with Johnson who showed no signs of being able to escape.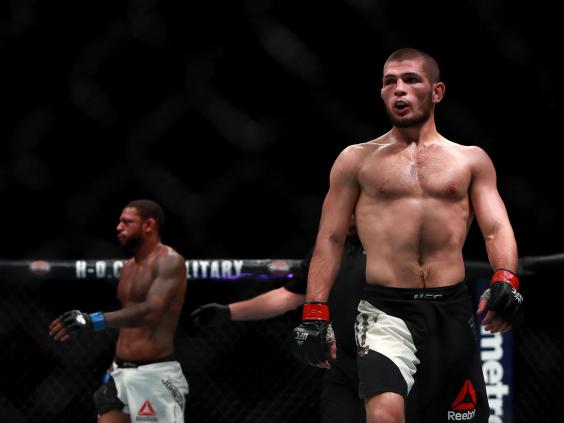 In a fight that was fast turning into just a savage beatdown by the Russian, the finally finish came midway in round three when Nurmagomedov locked on Kimura and Johnson had no option but to tap.
Afterwards the Russian made no mistake of letting everyone know that he wanted a title shot next.
 Tim Boetsch def. Rafael Natal via KO (punches), Round 1, 3:22
In middleweight action, Rafael Natal and Tim Boetsch squared off in a fight that went almost exactly like the one that went before previous.
Both men came out aggressively, but after the first few exchanges it was the American who established dominance as he pushed Natal back with some stick hooks.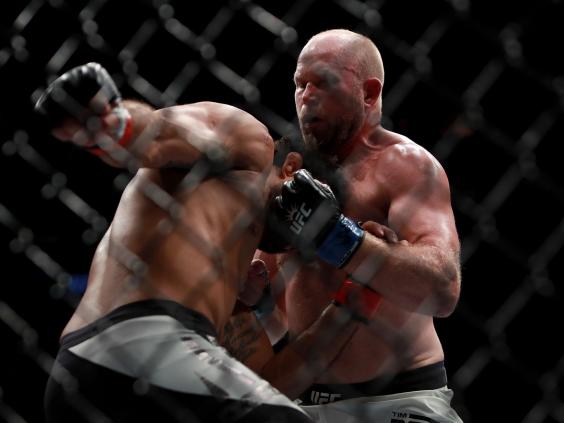 After clipping Natal several times, Boetsch landed flush with a right hook and the Brazilian was out before he hit the mat. Boetsch followed up with a few strikes while Natal was on the mat, but the referee dove in quickly to call and end to the fight after just three minutes and twenty-two seconds of the first round.
Vicente Luque def Belal Muhammad via KO (punches), Round 1, 1:19
The Brazilian Vicente Luque needed just one minute and nineteen seconds to dispose of Belal Muhammad as he became the first man in the UFC to win via KO in New York.
Luque and Muhammad didn't mess around and both were happy to trade in the pocket from the opening few seconds of the fight. The finish came when Luque landed a stiff left hook, dropping Muhammad to the mat where he finished him with follow up strikes.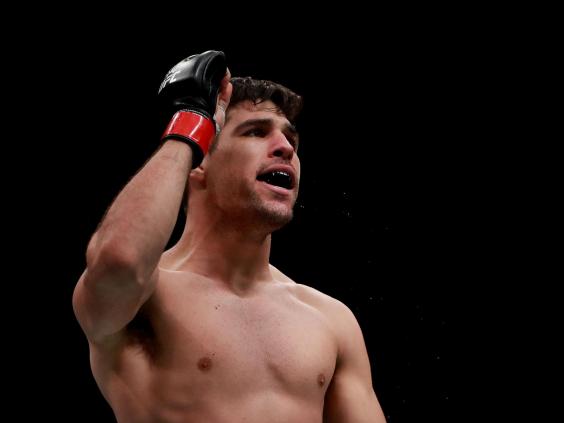 It was an impressive finish by the Brazilian who said he had to cut 30lbs in just two weeks when he got the call to be a late notice replacement.
UFC Fight Pass Prelims 
Jim Miller def. Thiago Alves by unanimous decision (30-27, 29-28, 30-27)
Lightweights Jim Miller and Tiago Alves had the pleasure of headlining the UFC Fight Pass portion of the card and they played their role getting the MSG crowd nicely warmed up with a back and forth scrap.
Miller's takedowns proved to be the difference maker in the this fight as both fighters traded equally stiff strikes. Miller however, took Alves down to the mat in all three rounds and controlled the fight for long periods while in top control.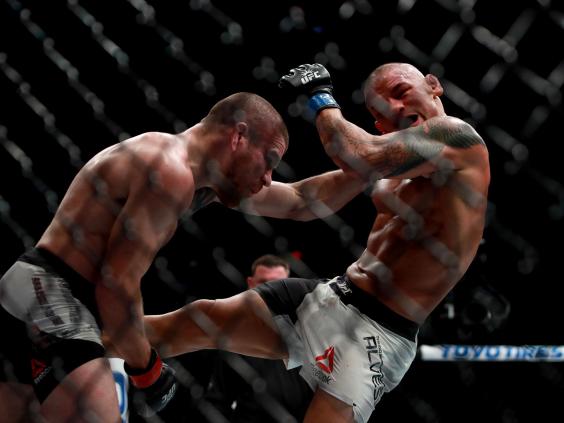 The fight went to the judges where Miller got the nod on all three scorecards.
Liz Carmouche def. Katlyn Chookagian via split decision (29-28, 28-29, 29-28)
A highly competitive women's bantamweight fight was the first ever professional MMA bout to grace the Octagon at Madison Square Garden.
Carmouche controlled the opening two rounds by mixing up her striking and taking Chookagian down to the mat with some nice takedowns.
With Carmouche blatantly getting the better to both rounds one and two, Chookagian came out aggressively in the third and put Carmouche on the backfoot, pushing her back to the cage.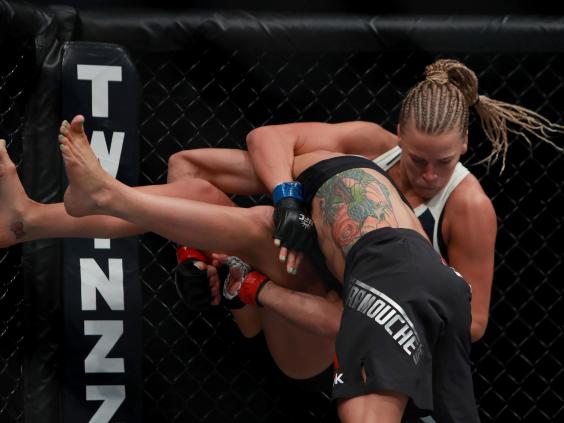 Chookagian's chance to steal the fight came she levelled Carmouche with a powerful headkick. Carmouche dropped to the mat, but Chookagian was unable to get the finish as Carmouche clinched up and eventually managed to see the rest of the round out unscathed.
When the judges' scorecards came in, the decision rightly went to Carmouche who got the nod 29-28 from two of the three cageside officials.
Results
Main card:
Conor McGregor beats Eddie Alvarez by knockout [lightweight title fight]
Tyron Woodley in majority draw with Stephen Thompson [welterweight title fight]
Joanna Jedrzejczyk beats Karolina Kowalkiewicz by unanimous decision [strawweight title fight]
Yoel Romero beats Chris Weidman by TKO [middleweight]
Raquel Pennington beats Miesha Tate by unanimous decision [bantamweight]
Preliminaries:
Frankie Edgar beats Jeremy Stephens by unanimous decision [featherweight]
Khabib Nurmagomedov beats Michael Johnson by submission [lightweight]
Tim Boetsch beats Rafael Natal by KO [middleweight]
Vicente Luque beats Belal Muhammad by KO [welterweight]
Early pre-lims:
Jim Miller beats Thiago Alves by unanimous decision [welterweight]
Liz Carmouche beats Katlyn Chookagian by unanimous decision [bantamweight]
Reuse content