UFC 209 may have lost its highly anticipated co-main event between Tony Ferguson and Khabib Nurmagomedov on Friday, but not even that could stop the fans turning up in big numbers to pack out the T-Mobile Arena in Las Vegas, Nevada.
Woodley retains after forgettable main event
In the main event of the evening, the UFC welterweight title was on the line as champion Tyron Woodley met Stephen Thompson in a rematch of their epic battle at UFC 205 last November which ended in a majority draw.
Thompson before the fight said he wouldn't be so tentative this time around, but the fight started very similarly to their first contest with both hesitant to move into distance to land strikes.
After a tense opening first round where barely a strike was landed, the crowd began to grow restless as the opening minute or so of round two began in similar fashion. Thompson was stalking Woodley down, but the champion simply strafed right to avoid the majority of the incoming Thompson pot shots.  
The crowd were growing restless as the fight continued to lack any meaningful action. The atmosphere was intense, but the arena was booing loudly as round two came to a close without any real exchanges of not occurring.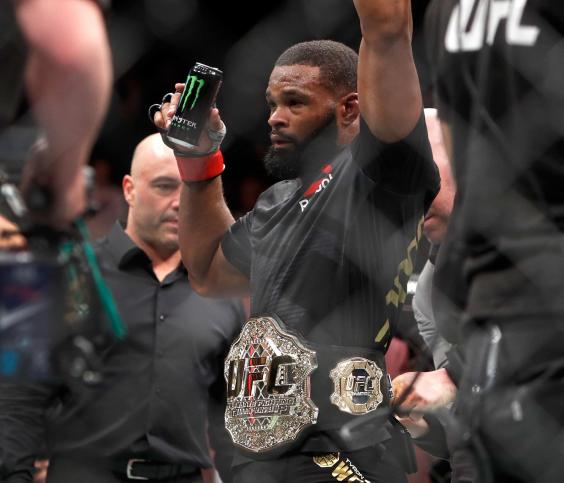 Woodley opened round three looking for a takedown and after a brief struggle he got it and proceeded to throw in short strikes to Thompson as the challenger struggled to improve his position. Woodley used his full body weight to smother Thompson, but the karate specialist managed to wriggle free and once again make it to his feet. 
The hesitancy from both fighters then remerged as the rest of the two minutes of the round played out with both fighters failing to land anything more than one good single strike each. 
UFC 209 Woodley vs Thompson in pictures
UFC 209 Woodley vs Thompson in pictures
1/10 Tyron Woodley vs Stephen Thompson

Thompson edged the first round but few strikes were landed by either man.

Getty Images

2/10 Tyron Woodley vs Stephen Thompson

Woodley clinched the crucial third round on his way to victory.

Getty

3/10 Tyron Woodley vs Stephen Thompson

Woodley also dropped Thompson in the last round in a 30 second segment that had more action than the rest of the fight put together.

Getty Images

4/10 Tyron Woodley vs Stephen Thompson

Woodley celebrates retaining his UFC welterweight championship.

Getty Images

5/10 Tyron Woodley vs Stephen ThompsonTyron Woodley vs Stephen Thompson

Thompson has now failed twice to beat Woodley.

Getty Images

6/10 David Teymur vs Lando Vannata

David Teymur secured a surprise unanimous decision victory over Lando Vannata.

Getty Images

7/10 Dan Kelly vs Rashad Evans

Dan Evans spoiled Rashad Evans' first fight at middleweight.

Getty Images

8/10 Cynthia Calvillo vs Amanda Cooper

Cynthia Calvillo made Amanda Cooper submit on her first UFC appearance.

Getty Images

9/10 Alistair Overeem vs Mark Hunt

Alistair Overeem delivered a brutal knockout of Mark Hunt with a series of knees and punches.

Getty Images

10/10 Tyson Pedro vs Paul Craig

Tyson Pedro delievered a stunning knockout of Paul Craig.

Getty Images
By the fourth round, the crowd were totally restless. Dismayed at the fight playing out in front of them, they proceeded to chant 'fight, fight' fight' as both men continued to do most their work out of range with hardly an exchange worth mentioning. With twenty minutes in the books the crowd were beside themselves. The boos rang through the arena as both fighters walked out their corners for the final five minutes. 
After another minute of nothing of note happening, the chant 'fight, fight, fight' rang throughout the arena again as both fighters continued to move out of range of one another.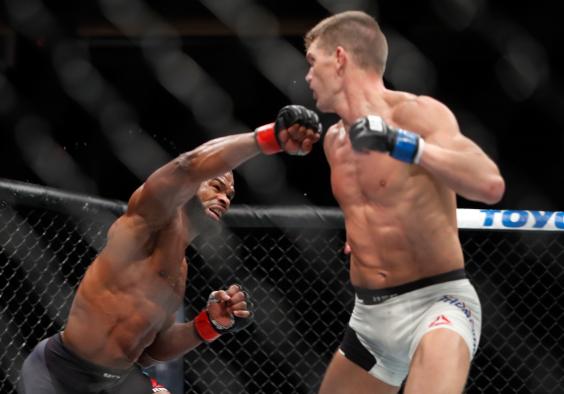 With thirty seconds left, the fight sprang into action for the first time as Woodley landed a huge right hand to send Thompson to the mat. Thompson covered up well, but the champion swarmed him landing a number of shots while the challenger turtled up. Thompson made it back to his feet and covered up well to see out the round, but it was incredible to see the final thirty seconds feature more action than the rest of the twenty-four and a half minutes combined.
The fate of both men was then left up to the judges as the crowd vented their frustration with boos while the verdict was awaited. After a tense few minutes, Bruce Buffer read out the scores and the words 'And Still' rang out through the arena as Woodley took home a majority decision 48-47, 47-47, 48-47 to retain his UFC welterweight title amidst a chorus of boos. 
Teymur scores upset win over Vannata 
In the co-main event of the evening, Lando Vannata and David Teymur went at in a fast and frenetic lightweight contest. The cliché 'blink and you might miss it' is often banded about in the UFC, but this one really was a fight where you couldn't take your eyes off it for a second. 
Both men used their foot work well in the opening five minutes with Vannata using a variety of different kicking combination to try find an opening.  Teymur was mainly working on the back foot, but had some success with some counter strikes as both had their bright spots in the opening round.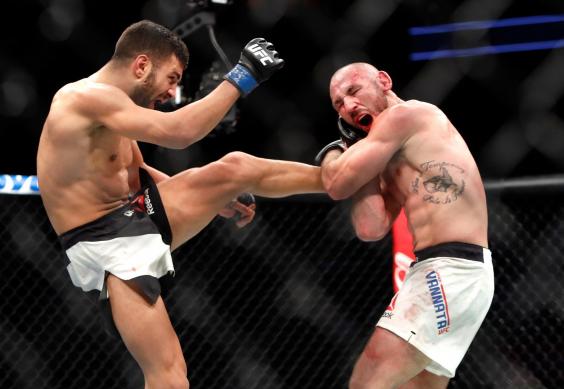 Round two saw more of the same, Teymur this time was coming forward a little more, but both men were working their striking combinations well and landing with relatively equal success. A Teymur superman landed flush midway through the round while the Swede also landed nicely with a series of knees to both head and body in the final few seconds. 
The contest was anyone's heading into the third and both men were clapped before the touched gloves for the final five minutes. Vannata was again the man taking the center of the Octagon, but it was Teymur who was getting the better of the exchanges as he landed some nice counter striking combinations as well as mixing in some takedown attempts. The fight ended as it began with both men swinging for the fences, but it was up to the judges.
After a tense pause, Teymur was announced the winner via a unanimous decision, taking all three scorecards 30-27.
Overeem knocks out Hunt in heavyweight war
Opening the main card, UFC heavyweights Alistair Overeem and Mark Hunt went at it in a big hitting back and forth war where both men had their bright moments. The end of the fight came in the third round when both men were clinched up against the cage and Overeem landed some huge knees that Hunt took full throttle to the face. The Australian collapsed to the mat face first as the crowd went wild as the Dutchman celebrated with his hands aloft.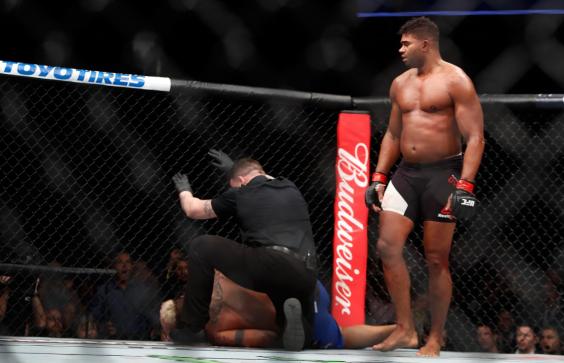 Elsewhere on the card …
Cynthia Calvillo made a successful UFC debut when she defeated Amanda Cooper via a first-round rear-naked choke submission. 
Former UFC light heavyweight champion Rashad Evans lost on his middleweight debut when he was defeated by Australian, Daniel Kelly via a split decision.
UFC 209 Full Results
Main Card
Tyron Woodley def. Stephen Thompson via majority decision (48-47, 47-47, 48-47)
 David Teymur def. Lando Vannata via unanimous decision (30-27, 30-27, 30-27)
 Daniel Kelly def. Rashad Evans via a split decision (29-28, 28-29, 29-28)
 Alistair Overeem def. Mark Hunt via KO (knee), Round 3, 1:44
 Cynthia Calvillo def. Amanda Cooper via submission (rear-naked choke), Round 1, 3:19
 Preliminary Card 
 Marcin Tybura def. Luis Henrique via TKO (punches). Round 3, 3:46
 Darren Elkins def. Mirsad Bektic via KO (punches), Round 3, 3:19
 Iuri Alcantara def. Luke Sanders via submission (knee bar), Round 2, 3:13
 Mark Godbeer def. Daniel Spitz via unanimous decision (30-27, 30-27, 30-27)
 Early Prelims 
 Tyson Pedro def. Paul Craig via TKO (elbows), Round 1, 4:10
 Albert Morales def. Andre Soukhamthath via split decision (29-28, 28-29, 29-28)
Reuse content