My private life is private said Rory McIlroy when asked in South Korea to comment on the status of his relationship with Caroline Wozniacki, oblivious to the fact that his right to privacy was compromised by the loved-up content of his Twitter feed many moons ago.
In the case of his legal battle with his jettisoned agent, Horizon, he is bound to stay silent so as not to risk prejudicing outcomes, not that there is much left to conceal after the details of his dispute were revealed in all their gory glory in a Dublin court.
What emerges as McIlroy returns to work tomorrow after four weeks away is a golfer complicating his life by decisions that were intended to simplify it. McIlroy has not come close to victory in a year in which he was unveiled as the future of Nike golf. A sum of $20m (£12.5m) annually is a lot to fork out on a golfer ranked 60th in a European money list he won last year. Or maybe Nike is happy to have a breadth of coverage unrelated to golf.
If so the company will be delighted with the daily bulletins about the end of the romance with Wozniacki, and about the juicy details of his financial relationship with Nike spilt in the pages of court documents. Nike must be thrilled at the confirmation of a $100m five-year deal he signed with it in January. Though a figure remarkably similar has been in the public domain, it was never acknowledged by the sportswear giant or McIlroy. Its disclosure sets the benchmark nicely for other athletes in future negotiations.
Any idea that the return to action at the Korea Open would be about the golf was obliterated by the twin assault on the media's senses of love and money. Wozniacki is desperately trying to hang on to her man with denials of a split and the continued use of McIlroy's portrait on her Twitter handle. McIlroy can control his response, but not the progress of the legal war unleashed this week.
In the meantime McIlroy must piece together his game to retrieve something from his worst season as a professional golfer. When McIlroy left his first manager, Chubby Chandler, to join Horizon his stated ambition was to be No 1 on and off the course, the best golfer in the world and the highest earner. For a spell he was both, before the golfing juggernaut that is Tiger Woods re-established pre-eminence on the course, and after the consequent restoration of his reputation, off it as well, with lucrative deals to appear in China and Turkey in the next month. There could be no greater evidence of his commercial rehabilitation than the willingness of emerging golf nations to seek out Woods to project on their behalf.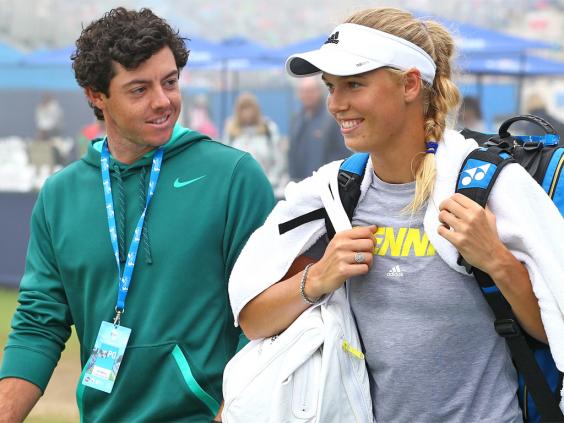 McIlroy is beginning to understand that McIlroy Inc is predicated on what happens on the course. For the dollars to keep rolling in the golf has to add up. The need to arrest the slide has brought the end to the global love-in that has been the relationship with Wozniacki. At 24 he is entitled to a day off and a girlfriend, but that is not what he had with the ex-world No 1 in women's tennis.
The endless pursuit of romantic gratification has taken him to tennis tournaments around the world in order to piece together enough time to make their relationship worthwhile. That is clearly incompatible with the demands of a schedule based on 20-plus weeks of tournament golf around the world, supported by commensurate practice.
McIlroy is competing against rivals who are mostly married or settled with partners who are largely anonymous outside the confines of the golfing world. Private lives are wedded to professional demands. Barring the need to attend to life's great rituals – births, deaths and marriages – the golf comes first. It has not been that way with McIlroy during his high-profile romance.
Gary Player has his own deeply traditional view on this and has shared it with McIlroy, counselling that the sooner he settles down to matrimony, the quicker his golf will return to a peak. Player might be wrong about the detail but not the principle that a professional life ought to be governed by professional duty not hedonistic pursuits hither and thither.
Assuming McIlroy has made that equation we ought to see the gradual reconnection with the genius that made him the youngest player to win two major championships and took him to the world No 1 ranking. From South Korea he plays successive tournaments in China as the European Tour builds towards a climax in Dubai next month.
It would be calamitous were McIlroy not to make the 60-man field at the final event of the season, the Dubai World Championship, where he won in stunning fashion a year ago, denying Justin Rose with five successive birdies at the close. Those were the days, eh Rory?
Gallacher goal is having more defibrillators
Ryder Cup-winning captain Bernard Gallacher plans to lead a campaign to make defibrillators available at courses after recovering from a heart attack.
The 64-year-old suffered a sudden heart arrhythmia in August while attending a corporate event. Gallacher is already planning a return to golf but will do so with an important message. "Thanks to the composed and quick thinking of staff and guests at the engagement, as well as quick access to a defibrillator, Bernard is now on his way to making a full recovery," said a statement from his management company.
"The availability of a defibrillator was central in giving Bernard a chance of survival and he will be championing a campaign to make defibrillators widely accessible at golf courses around the UK."