Craig Wood, Ben Hogan, Jack Nicklaus, Arnold Palmer, Tiger Woods and Jordan Spieth are the only golfers in history to win the Masters and US Open in the same year. That's some club, and Spieth, 21, is the youngest, clipping Woods by five years.
None has converted the perfect start into a calendar grand slam, though Hogan went close, notching a hat-trick at the Open in his golden year of 1953. Do not bet against Spieth surpassing that after moving the needle with one of the most thrilling victories in major golf at Chambers Bay late on Sunday, by a stroke at the expense of Dustin Johnson.
"How crazy is that," he said reflecting on his achievement, and contemplating what might be when he pitches up at St Andrews a month hence. Spieth has yet to play at the home of golf in a competitive event though he did take in the Old Course en route to the Walker Cup in Aberdeen in 2011.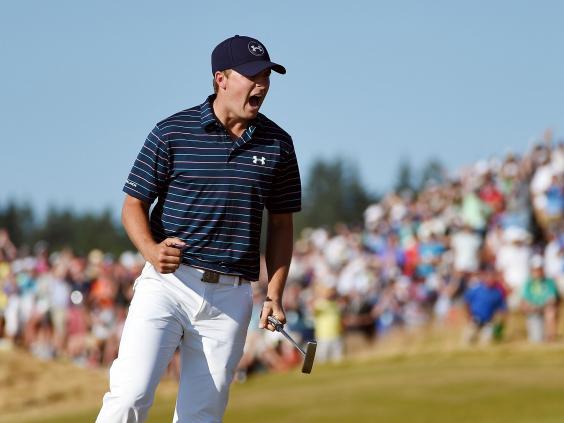 "I remember walking around the R&A clubhouse and seeing paintings of royalty playing golf, and it was dated 14-whatever, 1460-something. I'm thinking, 'our country was discovered in 1492 and they were playing golf here before anyone even knew that the Americas existed'. And that really amazed me and helped me realise exactly how special that place is." 
He could not have imagined then as a 17-year-old boy that he would return as a history-maker at the centre of what might yet be the greatest golfing story ever told. Even Rory McIlroy is starting to look passé at 26. Woods, who's he?
"I'm focused on the Claret Jug now," Spieth said. "I think that the grand slam is something that I never could really fathom somebody doing, considering I watched Tiger win when he was winning whatever percentage of the majors he played in and he won the 'Tiger slam', but he never won the four in one year. And I figured if anybody was going to do it, it would be him.
"I've proven to myself that I can win on a British-style golf course. Now I take it to the truest British course of any. I'm just excited for the opportunity coming then, and I'm not going to think about what could possibly happen after."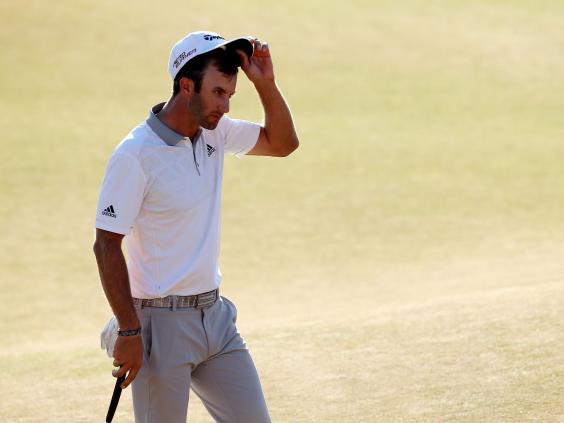 Chambers Bay was roundly dismissed by players screaming blue murder at the state of the greens, yet it produced a pulsating end and it all unfolded at a hole dismissed as "dumb" by Spieth in its par-four configuration. His closing birdie for a round of 69 edged him one shot clear of the field on five under par. But behind him Johnson was whipping up a storm.
After reaching the turn with a two-shot advantage, Johnson proceeded to butcher the back nine, falling three adrift following Spieth's birdie at the 16th. That appeared to be that until Spieth threw in his worst swing of the week at 17, offering Johnson a lifeline with a double bogey. Spieth finished with a birdie at the 18th but when Johnson responded with a birdie of his own one hole back the water in Puget Sound began to boil.
Leading by one shot, Spieth sat nervously in the scorer's hut as Johnson split the fairway with one final heave on the 18th. And he thought the trophy had gone when Johnson rolled his approach shot to within 20 feet. Behind the 18th green Johnson's family gathered to share in what ought to have been his coronation. Instead he choked, not only missing the eagle putt for outright victory but the four-footer coming back that would have earned a play-off.
Suddenly it was Spieth spilling into a series of embraces with members of his family. "It's amazing. It really is," he said. "It's incredible to win a major championship. You only get a few moments in your life like this, and I recognise that. And to have two in one year and to still be early in the year, that's hard to wrap my head around. But sitting here right now I am understanding that this is a special time for me until the next major starts."
Spieth was having trouble processing the outcome, the scale of his achievement too great to interpret in the immediacy of victory. "I watched DJ's second shot funnel up. He has to split the small fairway and he is just pounding his driver all week, he has mid-iron into the green and he hits it right up onto the shelf. I'm thinking maybe I'll catch a break and it will be below the ridge and he's got a two-putt and we can go to tomorrow.
"Instead he just hit two phenomenal golf shots. I was probably more nervous then than I was on the course at any point. He hit the putt and with about three feet to go I knew it was going to slide by. I don't really know what to say on the second one. It looked like he hit a decent putt. It's all kind of a blur."
Spieth's victory inevitably stirs the rivalry with McIlroy, who at least finished in a blaze of glory with a closing 66. A raking 70-footer at the 13th took McIlroy to six under par for his round and within two of the lead, raising the prospect of an unlikely lunge for the line after starting the day eight behind on four over par.
McIlroy has no peer tee to green. He claimed the quality of his ball striking was the best of his career at a major. A couple of weeks to reset the putting stroke is the priority ahead of the defence of his Open crown. Two missed putts coming home made his point, leaving him in a tie for ninth, five adrift of Spieth on level par.
An honourable mention to Louis Oosthuizen, who played the last 54 holes in 199 strokes, a record in US Open history, to close one adrift on four under.
Reuse content