Not a bead of sweat on the face of Bubba Watson. Not the faintest lick of breath in the air as he stood on the ninth green and the sun rose to the top of the sky, yet his collar was zipped right up to his neck.
That's how it is when you are a Masters champion, possessing what Rory McIlroy wants and what Tiger Woods wants again. There doesn't really seem to be sweat.
Watson was two under par at that stage and, though a challenging finish to his round brought him less reason than last year to linger at the 18th, the scene of his second triumph, it was clear from the first knockings of an azure east Georgia day that he has the mind to win this Masters.
In part that's because it is also clear what, to his mind, it actually means to be a Masters champion. There is no obligation for those who have slipped into the Green Jacket to be present at the ceremonial first tee off. But he was one of three, with Keegan Bradley and Rickie Fowler, who wanted to take that place not long after sunrise.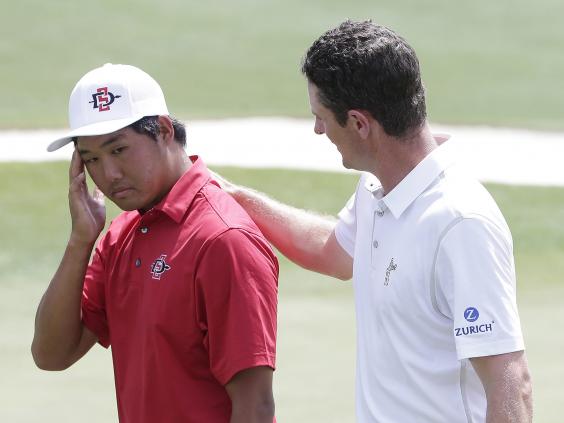 This was dignity hardly commensurate with the image of a redneck who has just taken the title of most unpleasant player on the tour and caused that international incident with his discussion of the Eiffel tower ("the big tower"), Arc de Triomphe ("arch in the middle of the road") and Palace of Versailles ("that castle next to where I am staying") because of a bad afternoon in Paris.
The home crowd's response to Watson has always deconstructed that superficial notion of his badness, though the response to him when he reappeared at the first tee and launched his attempt to become only the third man to defend his title was subdued.
It suggested that McIlroy is not the only one who has been shielded from some of the searing scrutiny by the morbid fascination with Tiger Woods.
Just a "let's go, Bubba", "Bubba Watson now driving" – and he was away. It was not an instant stamp of Augusta ownership from him: not the best first tee shot of the three and even Gunn Yang – the Korean amateur in that group, whose punishment by the Augusta National was painful to behold – was on the first green before him.
But there was to be no impediment to progress for a long time and nothing to cause him to flinch. When McIlroy arrived at the first green, an hour or so later, the American's stealthy progress through the first four holes was visible on the scoreboard through the pine trees. A birdie and three pars was what he would have read, up in numbers.
The fairways were reached with a kind of monotony, Watson being happy to leave Justin Rose to generate the loudest acclaim of their first half-dozen holes, with his second shot deep into rough, under a magnolia bush, at the second. The Englishman turned his back to the fairway and executed a controlled slice through two pines to the edge of the green. "There's no way!" echoed the response through that place. Rose scraped par. Watson just marched straight on down the fairway and birdied the hole.
Masters 2016 - Augusta National hole-by-hole guide
Masters 2016 - Augusta National hole-by-hole guide
1/18 1st (Tea Olive), 445 yards, par four

deep bunker on the right of the fairway and trees both sides make for a daunting start, while long and left of the undulating green both spell big trouble. Unsurprisingly played the hardest hole on the course in 2012 and ranked second in 2013.

2015 average: 4.23 (rank 4)

2/18 2nd (Pink Dogwood), 575 yards, par five

Driving into the trees on the left cost Padraig Harrington a nine in 2009, but Louis Oosthuizen memorably holed his second shot for an albatross in the final round in 2012 before losing in a play-off to Bubba Watson. An important early birdie chance.

2015 average: 4.61 (rank 16)

3/18 3rd (Flowering Peach), 350 yards, par four

Shortest par four on the course but a pear-shaped green with steep slope in front allows for some wicked pin positions. Charl Schwartzel pitched in for eagle in the final round en route to title in 2011.

2015 average: 3.95 (rank 14)

4/18 4th (Flowering Crab Apple), 240 yards, par three

The back tee - not always used - turns it into a beast with the green sloping from back to front. Phil Mickelson took six here in the final round in 2012 and finished two shots outside the play-off. Jeff Sluman's ace in 1992 remains the only hole-in-one here in Masters history.

2015 average: 3.29 (rank 2)

5/18 5th (Magnolia), 455 yards, par four

Jack Nicklaus twice holed his second shot in 1995 and Colin Montgomerie did it in 2000, but it is another devilishly difficult green. To clear the fairway bunkers requires a 315-yard carry.

2015 average: 4.14 (rank 8)

6/18 6th (Juniper), 180 yards, par three

From a high tee to a green with a huge slope in it. Five holes-in-one - including Jamie Donaldson in 2013 - but Jose Maria Olazabal took seven in 1991 and lost by one to Ian Woosnam, while Arnold Palmer has also run up a seven.

2015 average: 3.08 (rank T10)

7/18 7th (Pampas), 450 yards, par four

What used to be a real birdie chance has been lengthened by 35-40 yards, while trees were also added and the putting surface reshaped. More bunkers - five - around the green than any other hole.

2015 average: 4.24 (rank 3)

8/18 8th (Yellow Jasmine), 570 yards, par five

The bunker on the right, about 300 yards out, pushes players left and from there it is harder to find the green in two up the steep hill. Still a good birdie chance and Bruce Devlin made an albatross two in 1967.

2015 average: 4.65 (rank 15)

9/18 9th (Carolina Cherry), 460 yards, par four

The tee was pushed back 30 yards in 2002. The raised green, with two bunkers on the left, tilts sharply from the back and anything rolling off the front can continue down for 50-60 yards.

2015 average: 4.08 (rank T10)

10/18 10th (Camellia), 495 yards, par four

A huge drop from tee to green on this dogleg left and over all the years of the Masters the most difficult hole. It was here that Rory McIlroy began to fall apart in 2011 with a seven, while Watson clinched the title in 2012 by making par in the play-off from the trees.

2015 average: 4.16 (rank 6)

11/18 11th (White Dogwood), 505 yards, par four

The start of Amen Corner. Toughest hole in 2011, 2014 and 2015, with the water front and left scaring many. Best remembered for Larry Mize's chip-in in 1987 and Nick Faldo's back-to-back play-off wins.

2015 average: 4.32 (rank 1)

12/18 12th (Golden Bell), 155 yards, par three

Probably the most famous par three in golf. Narrow target, water in front, trouble at the back, it has seen everything from a one to Tom Weiskopf's 13 in 1980. McIlroy four-putted it in 2011.

2015 average: 3.12 (rank 9)

13/18 13th (Azalea), 510 yards, par five

The end of Amen Corner. Massive dogleg left with scores ranging from Jeff Maggert's albatross two in 1994 to Tommy Nakajima's 13 in 1978. Bubba Watson's enormous drive here in 2014 left him with just a sand wedge into the green to set up a birdie.

2015 average: 4.54 (rank 18)

14/18 14th (Chinese Fir), 440 yards, par four

The only hole on the course without a bunker, but three putts are common on the wickedly difficult green. Course record holder Nick Price took eight here in 1993, while Phil Mickelson holed his approach en route to 2010 victory.

2015 average: 4.08 (rank 12)

15/18 15th (Firethorn), 530 yards, par five

Often a tough decision whether to go for the green in two across the pond on the hole where Gene Sarazen sank his 235-yard four-wood shot for an albatross in 1935. There have also been three 11s here.

2015 average: 4.60 (rank 17)

16/18 16th (Redbud), 170 yards, par three

Tiger Woods' memorable chip-in in 2005 came the same year as 73-year-old Billy Casper's 14, while Padraig Harrington and Ian Poulter are among 15 players to record holes-in-one.

2015 average: 3.01 (rank 13)

17/18 17th (Nandina), 440 yards, par four

The famous Eisenhower Tree has been removed after suffering storm damage, making for an easier tee shot on the hole Justin Rose double-bogeyed when one off the lead in 2007. Jack Nicklaus birdied here to take the lead as he won his 18th major in 1986.

2015 average: 4.15 (rank 7)

18/18 18th (Holly), 465 yards, par four

The drive through an avenue of trees was made much harder when the tee was moved back 60 yards in 2002. The fairway bunker from which Sandy Lyle got up and down to win in 1988 is now 300 yards away.

2015 average: 4.21 (rank 5)
Even then, before McIlroy's full frustration came into plain view, the weight that he wore on his shoulders cut a contrast with Watson.
McIlroy was setting off down the second fairway when a lone shout of "Tiger" went up behind him. He had not long scuffed his second shot at the par-four third, watched it roll back down the front of the green towards him, when he exchanged a nervous grin with Phil Mickelson at the fourth tee. His caddie JP's attempts at conversation with the 25-year-old fell on deaf ears. He just wanted to be at the tee shot which he'd twice sent short and wide of the green on Monday.
This was not the kind of countenance we saw in Watson, the man with the pigeon walk whose pace was steady and unbroken until deep into the round. "Factory lite" reads the message on the back of his shirt and there was no baggage. A momentary repose caused by the need for silence for Yang's tee shot at the ninth was all that affected his onward progress. Watson had just taken a biscuit from a polythene bag and started to eat it at the time and was caught, his mouth half-full, while he waited.
It did not seem to affect him that his was not golf of the kind which has caused some to ask whether Augusta might be somehow "Bubba-proofed".
Watson has talked often of how he wants to alter the parameters of the game. "My game isn't based on hitting fairways and hitting greens," he observed recently. "It's not based on a mechanical thing. It's based on having fun, feeling a shot and pulling a shot off." That philosophy has invited comparisons with Seve Ballesteros, which he has welcomed.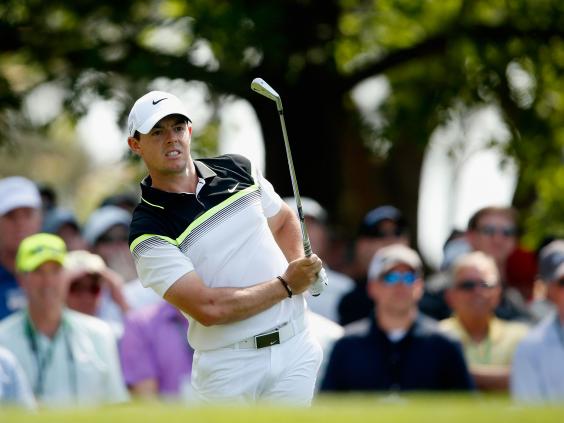 But the eighth was upon us before the first guttural roar to accompany Watson's 64ft, arcing putt, which so nearly delivered him an eagle. That was when the memories of last year were at their strongest. Back then, it was at the eighth that his five-iron into the green secured him a birdie four.
The putter deserted him at the 11th, sending him back to one under when something spectacular was needed. There was something more human at the par-five 13th this time than the 366-yard shot which brushed the trees on the left and cut out convention.
It was with the home straight in sight that the game which had looked so secure began to desert him. The best of his touch was required at the 17th for the chip in for par and then came a poor tee shot at the 18th which put him in trouble, followed by the wood approach shot which put his ball in the midst of spectators' seats. The people's champion might have thought he had been saved by the people, as his ball would certainly have travelled beyond that spot and placed him in trouble had they not been there. But he could not rescue a par.
It was a blip for Watson; a disappointment compounded by a day in which the weather made scoring so much easier on greens still full of grass.
But his reflections on the round revealed a man with a clear mind. There had been a lack of the winning touch, he said, and aspects of the course to which his mind must be reapplied. But none of the talk of the nerves and the tension and the sense of expectation that so many others, McIlroy included, have defined as part of the challenge.
Watson's face, reddened as he played by the effort that leaves him at one below par heading into the next round, hinted at only the mildest exertion. There have been better starts for a defending champion but his first round displayed enough to preoccupy McIlroy.
Reuse content