It comes to something when the man with the world at his feet is not the main event. Rory McIlroy could speak as he wished, wear brash fluorescent yellow if he pleased – and he did – because the individual who had just vacated his press-room seat was the box-office ticket.
Augusta still hummed to the reflections of Tiger Woods. The room was not even full to hear the boy from Holywood, Co Down, talk of taking the Masters and a career Grand Slam.
There's no pretence from the 25-year-old that he doesn't want those two accomplishments like hell. "My mind wanders to winning this tournament and what it might mean," he admitted.
And there was no pretence that he intended to fuel the momentum of the Woods roller coaster, which has been powered by sentiment and morbid fascination here in the past two days. Yes, the two had embraced on the practice range today. Yes, of course McIlroy once had posters of Woods on his wall – "I did idolise him, really," he admitted. But he could not agree with the suggestion that he had been "concerned" for the man to whom he famously dared write that letter to say "I'm coming to get you" 14 years ago, and has been as good as his word.
"Was I concerned for him?" McIlroy asked, searching for a respectful response to the question that had been put. "I mean, not really. It's hard to be concerned for someone that's won 14 [majors] and 80 PGA Tour events and earned over a billion dollars in his career. I think he's done OK."
McIlroy has seen enough to know that Woods has the capacity to write the story that everyone seems to want – "such a big story; Tiger coming back at the Masters after a bit of a lengthy period where he has not been around."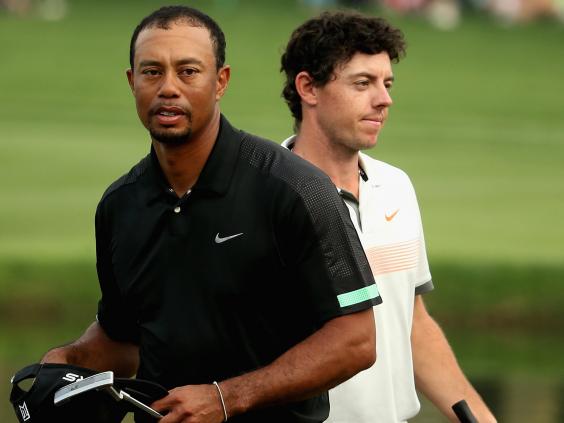 It was when they played a private round at this course together here at the back end of November, away from the hubbub and the 50,000-strong crowds, that he saw all he needed to know about Woods' game. "I mean, he played great," McIlroy said. "He birdied six of the first seven holes. He played really, really well."
There are equally good omens for McIlroy. Half an hour after he had finished talking, the heavens opened up, drenching and slowing the course in a way which will only help him. His previous four majors have been won on courses softened by several days of rain.
But there are also the doubts which can drain a man at a moment like this.
For all the ebullience he has shown in the practice rounds these past few days, his record at this course deconstructs that gilded, romantic storyline about the mop-haired young Irishman becoming only the sixth player to claim a golf career Grand Slam. His best finish in six appearances  here was eighth, last year. His one Sunday in contention, four years ago, ended in that infamous 80 after he had led by four.
The broader story is of McIlroy and the par-fives – holes that need patience, a five, six or seven-iron, and an easy, stress-free birdie. He is 21 under for the 88 par-fives he has played at Augusta and was at even par for those holes last year, while Bubba Watson, the winner whom McIlroy selected as his favourite for the title, came out eight under from the same holes. McIlroy lost to Watson by eight shots.
He will also know precisely what Woods' own record for the par-fives looks like: 41 under par for 80 of them. "If I can just play the par-fives a little better, hopefully that  will help me do better and obviously have a chance to win," he said.
Masters 2016 - Augusta National hole-by-hole guide
Masters 2016 - Augusta National hole-by-hole guide
1/18 1st (Tea Olive), 445 yards, par four

deep bunker on the right of the fairway and trees both sides make for a daunting start, while long and left of the undulating green both spell big trouble. Unsurprisingly played the hardest hole on the course in 2012 and ranked second in 2013.

2015 average: 4.23 (rank 4)

2/18 2nd (Pink Dogwood), 575 yards, par five

Driving into the trees on the left cost Padraig Harrington a nine in 2009, but Louis Oosthuizen memorably holed his second shot for an albatross in the final round in 2012 before losing in a play-off to Bubba Watson. An important early birdie chance.

2015 average: 4.61 (rank 16)

3/18 3rd (Flowering Peach), 350 yards, par four

Shortest par four on the course but a pear-shaped green with steep slope in front allows for some wicked pin positions. Charl Schwartzel pitched in for eagle in the final round en route to title in 2011.

2015 average: 3.95 (rank 14)

4/18 4th (Flowering Crab Apple), 240 yards, par three

The back tee - not always used - turns it into a beast with the green sloping from back to front. Phil Mickelson took six here in the final round in 2012 and finished two shots outside the play-off. Jeff Sluman's ace in 1992 remains the only hole-in-one here in Masters history.

2015 average: 3.29 (rank 2)

5/18 5th (Magnolia), 455 yards, par four

Jack Nicklaus twice holed his second shot in 1995 and Colin Montgomerie did it in 2000, but it is another devilishly difficult green. To clear the fairway bunkers requires a 315-yard carry.

2015 average: 4.14 (rank 8)

6/18 6th (Juniper), 180 yards, par three

From a high tee to a green with a huge slope in it. Five holes-in-one - including Jamie Donaldson in 2013 - but Jose Maria Olazabal took seven in 1991 and lost by one to Ian Woosnam, while Arnold Palmer has also run up a seven.

2015 average: 3.08 (rank T10)

7/18 7th (Pampas), 450 yards, par four

What used to be a real birdie chance has been lengthened by 35-40 yards, while trees were also added and the putting surface reshaped. More bunkers - five - around the green than any other hole.

2015 average: 4.24 (rank 3)

8/18 8th (Yellow Jasmine), 570 yards, par five

The bunker on the right, about 300 yards out, pushes players left and from there it is harder to find the green in two up the steep hill. Still a good birdie chance and Bruce Devlin made an albatross two in 1967.

2015 average: 4.65 (rank 15)

9/18 9th (Carolina Cherry), 460 yards, par four

The tee was pushed back 30 yards in 2002. The raised green, with two bunkers on the left, tilts sharply from the back and anything rolling off the front can continue down for 50-60 yards.

2015 average: 4.08 (rank T10)

10/18 10th (Camellia), 495 yards, par four

A huge drop from tee to green on this dogleg left and over all the years of the Masters the most difficult hole. It was here that Rory McIlroy began to fall apart in 2011 with a seven, while Watson clinched the title in 2012 by making par in the play-off from the trees.

2015 average: 4.16 (rank 6)

11/18 11th (White Dogwood), 505 yards, par four

The start of Amen Corner. Toughest hole in 2011, 2014 and 2015, with the water front and left scaring many. Best remembered for Larry Mize's chip-in in 1987 and Nick Faldo's back-to-back play-off wins.

2015 average: 4.32 (rank 1)

12/18 12th (Golden Bell), 155 yards, par three

Probably the most famous par three in golf. Narrow target, water in front, trouble at the back, it has seen everything from a one to Tom Weiskopf's 13 in 1980. McIlroy four-putted it in 2011.

2015 average: 3.12 (rank 9)

13/18 13th (Azalea), 510 yards, par five

The end of Amen Corner. Massive dogleg left with scores ranging from Jeff Maggert's albatross two in 1994 to Tommy Nakajima's 13 in 1978. Bubba Watson's enormous drive here in 2014 left him with just a sand wedge into the green to set up a birdie.

2015 average: 4.54 (rank 18)

14/18 14th (Chinese Fir), 440 yards, par four

The only hole on the course without a bunker, but three putts are common on the wickedly difficult green. Course record holder Nick Price took eight here in 1993, while Phil Mickelson holed his approach en route to 2010 victory.

2015 average: 4.08 (rank 12)

15/18 15th (Firethorn), 530 yards, par five

Often a tough decision whether to go for the green in two across the pond on the hole where Gene Sarazen sank his 235-yard four-wood shot for an albatross in 1935. There have also been three 11s here.

2015 average: 4.60 (rank 17)

16/18 16th (Redbud), 170 yards, par three

Tiger Woods' memorable chip-in in 2005 came the same year as 73-year-old Billy Casper's 14, while Padraig Harrington and Ian Poulter are among 15 players to record holes-in-one.

2015 average: 3.01 (rank 13)

17/18 17th (Nandina), 440 yards, par four

The famous Eisenhower Tree has been removed after suffering storm damage, making for an easier tee shot on the hole Justin Rose double-bogeyed when one off the lead in 2007. Jack Nicklaus birdied here to take the lead as he won his 18th major in 1986.

2015 average: 4.15 (rank 7)

18/18 18th (Holly), 465 yards, par four

The drive through an avenue of trees was made much harder when the tee was moved back 60 yards in 2002. The fairway bunker from which Sandy Lyle got up and down to win in 1988 is now 300 yards away.

2015 average: 4.21 (rank 5)
It is some ask, though, to take that deep breath and quell your reflective instinct to hit the optimum shot when you are standing on an Augusta tee, gazing down through the pines and the colour, and the adrenalin is coursing.
Consider the contradictions between what he said today and the advice he offered the teenage Scot Bradley Neil when they played 18 holes here together on Monday. "A lot of times you can question yourself, but if you've chosen a club, commit to it," McIlroy told the 19-year-old. "Don't doubt yourself at all."
There was distinctly less sunshine in this McIlroy appearance than we are accustomed to – confirmation, it seemed, that the burden of expectation is heavy, despite the way Woods has deflected a little of it away from him.
The backstory of McIlroy has absorbed America – retold as it was at the weekend when the New York Times Magazine selected him as its window on the tournament.
The choice of vignettes from that piece was significant. McIlroy's grandfather, Jimmy, the crane repairman from near the Belfast docks where the Titanic was built. McIlroy chipping golf balls into the open door of the family's front-load washing machine – a skill he would later perform in 1999 on a popular TV talk show, with his parents sitting in the audience.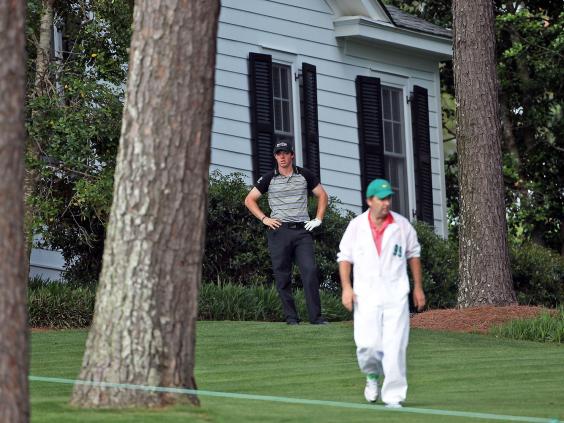 But the source of all this fascination will feel like a rookie all over again come 10.41am local time on Thursday, when the Green Jacket request he has probably rehearsed mentally a hundred times – it would be a 38 regular – is a distinct hope.
It was difficult not to draw comparisons with the struggles that have assailed Woods when McIlroy described how "longevity, injury prevention, trying to prolong my career as much as I can" and, specifically, concerns for the state of his back, had led him to his weightlifting regime. And to draw the same parallel when he then talked about how ephemeral success in this sport can be.
"I've just really tried to key in on focusing on the next [tournament]," McIlroy said. "And, hopefully, if I do win  my next golf tournament, my next major, the focus again will just be on the next one and just try to keep doing that.
"Because it is very important to stay in the moment and stay in the present, and you can't get too far ahead of yourself. We've seen in the past what this game can do to people, and you see guys that look to be at the top of their game one minute and the next minute they struggle. Golf is a very fickle game."
He was right. As sport gives, so it takes away. That's why it is best not ask McIlroy to express pity for the man who is occupying his spotlight.
Augusta tee-off times: Woods forced to wait till late
Tiger Woods faces a long wait before he can free the tension in his shoulders at the first tee on Thursday. He has been drawn in the penultimate group  alongside fellow American Jimmy Walker and Welshman Jamie Donaldson, teeing off at 6.48pm UK time.
Rory McIlroy has been drawn alongside three-time champion Phil Mickelson and Ryan Moore at 3.41pm.
England's Danny Willett will begin his Masters debut in the second group at 12.56pm, alongside 1987 winner Larry Mize and US amateur public links champion Byron Meth.
Selected first-round tee-off times
(US unless stated; all times BST)
1.29pm V Singh (Fij), D Clarke (Nl), R Henley
1.40 J-M Olazabal (Sp), B Todd, K Na (Kor)
2.02 P Reed, K Bradley, I Poulter (Eng)
2.13 M A Jimenez (Sp), A Lahiri (India), L Westwood (Eng)
2.24 B Watson, J Rose (Eng), G Yang (Kor)
2.35 A Scott (Aus), D Johnson, A Murdaca (Aus)
3.19 W Simpson, H Matsuyama (Japan), P Casey (Eng)
3.41 P Mickelson, R McIlroy (NI), R Moore
3.52 JB Holmes, M Kaymer (Ger), B Snedeker
4.03 I Woosnam (Wal), E Compton, M Leishman (Aus)
4.47 B Langer (Ger), B Wiesberger (Aut), G Ogilvy (Aus)
5.09 Z Johnson, J Furyk, E Els (SA)
5.20 A Cabrera (Arg), L Oosthuizen (SA), M Dominguez (Chi)
5.42 P Harrington (Ire), R Palmer, T Bjorn (Den)
6.04 M Kuchar, B Koepka, G McDowell (Nl)
6.15 H Stenson (Swe), J Spieth, B Horschel
6.37 V Dubuisson (Fr), L Donald (Eng), J Senden (Aus)
6.48 J Donaldson (Wal), T Woods, J Walker
6.59 J Day (Aus), S Garcia (Sp), R Fowler
Reuse content