Luke Donald will be grateful, for another 24 hours at least, that Colin Montgomerie is not wearing the king's clothes at Wentworth on Tuesday when Paul McGinley makes his three Ryder Cup selections to complete the 12-man team to face the United States. Donald is one of five on the X-Factor stage awaiting the verdict. Lee Westwood, Ian Poulter, Stephen Gallacher and Francesco Molinari are the others widely agreed to be in the frame.
Were Monty Europe's captain, Donald, whom he selected at Celtic Manor four years ago, would not make the cut alongside the nine automatically qualified. "Paul will have to let somebody down. It is the hardest thing he will have to do as a captain. What he is saying is X is better than Y, and it is not going to please everybody. I had to leave out Paul Casey. He was No 7 in the world and it was very difficult to do, nigh on impossible. There was nothing personal in it. There won't be with Paul. It is about the team."
Montgomerie remembers the final qualifying weekend of 2010 as if it were yesterday, locked in a suite with his generals and Sergio Garcia on conference call. "I was in a room with Thomas Bjorn, McGinley, Darren Clarke and we had Sergio on the phone. I would say it was 50-50. The decision was on me in the end. How is this team going to get 14.5 points? You need to pick for flexibility, consistency, the course conditions and chemistry.
"That is why, had Graeme McDowell missed out, he would have been picked any way not least because he is Rory McIlroy's partner. One of the reasons I wanted to pick Edoardo Molinari in 2010 was because his brother needed a partner. The team has to fit together."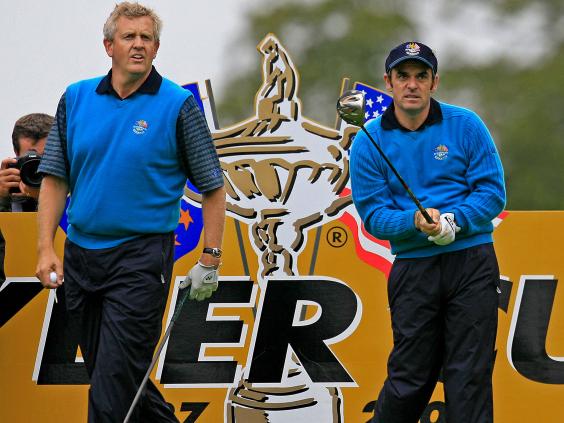 Montgomerie cannot be far off Ryder Cup form himself, winning two majors on the seniors beat this season, finishing second to another European hall-of-famer, Bernhard Langer, at the Senior Open, and dominating the Woburn leaderboard last week at the Travis Perkins Masters. He will be appropriating the Ryder Cup via the commentary box, cycling in each day, he claims, to beat the traffic.
The rush to claim a place on the team has been impressive. Jamie Donaldson's victory at the Czech Open last week secured the eighth spot. Gallacher came up a fraction short in Italy yesterday in what came down to a duel with Graeme McDowell but his desire and commitment to cross the line automatically, plus the leap in stature during this cycle, would win Monty's vote.
"Gallacher fought until the last minute to get there. He is the most improved player on the European Tour over the last couple of years on our tour. That's the kind of form Paul has been talking about. I had the same with Peter Hanson. Gallacher strikes the ball as well as anyone and Gleneagles will suit him. Around a long, wet golf course he is as good as any."
As Montgomerie and most of the world see it, Poulter is a no-brainer. "He is a certainty. He's also 12th on the list. So now you have two from four. It's a toss of the coin almost. The only thing Donald and Westwood have over Gallacher is experience, and it's a lot of experience. Both have been world No 1s, have played in this event for ever it seems. And then there is Molinari. It would be wrong to ignore him. If you want the fairway hit he is your man. He is very dependable and a great foursomes man. He has played in the last two cups so has experience.
"Paul is very stat-oriented and knows all the figures that matter. He will be talking to vice-captains Des Smyth and Sam Torrance, and to his players – McIlroy, Justin Rose, Sergio – to see how they feel about the make-up of the team. He will want their views because the team has to work together as a unit.
"One thing in his favour he has players in serious form. I always thought Woosie's 2006 team was Europe's strongest. This team is as strong, if not stronger, with players like Rory, Rose, Garcia, Henrik Stenson and Martin Kaymer at the top of their games. When Rory walks into the European team room everybody thinks: 'Thank God he is on our side.' The Americans know that too. He could be the first European to win five points. Seve and I both won four and a half,' Montgomerie laughs. "Just thought I'd throw that one in."
We can, according to Montgomerie, discount the idea that the form that makes Europe favourites to retain the trophy.
"Tom Watson is not coming to finish runner-up. He is a very, very competitive man, and as hard as they come in the field. And he has Raymond Floyd at his side, arguably the toughest I have ever played against. Andy North might come across as a lovely, soft, teddy bear-type guy but he is as hard as nails too."
Montgomerie's career is indelibly associated with the Ryder Cup, perhaps more than it would have been had he closed out any of the majors that might have been his. His failure to capitalise at the 1997 US Open at Congressional, where he lost by a stroke to Ernie Els after a bogey at the penultimate hole, was particularly costly since it deprived him of the opportunity to ascend to golf's highest ranking. He made his debut in 1991, since when the event has grown in a way none could have foreseen.
"The Ryder Cup has been a big part of my life. Coming home to Gleneagles will be a great celebration of golf in Scotland. It has changed massively even since I made my debut. Every event is bigger than the last.
"Today it is a business, by far the most important economic driver for our tour. That is why the win is so important. The United States can afford to sustain a loss in a way Europe can't. When Europe wins, the chief executive, George O'Grady, does not have to knock on any doors. Sponsors come to him. Being on my doorstep it will be weird, in a sense, not to be involved. At least I can come home to my bed at night. I might even cycle home from the commentary box."
McGinley was the overwhelming choice to follow Jose Maria Olazabal after the improbable recovery at Medinah two years ago.
He does not boast anything like the credentials of his immediate predecessors in the role but bears the European Tour stamp in every way and brings to the piece a fiercely analytical brain. If Montgomerie has any advice it is this: "Two words, patience and flexibility. There are 28 matches. That's a lot of golf. And don't go in thinking, 'He has to play with him', etc. I put Poulter with Ross Fisher on the first morning. It didn't work. I had to change it. It worked with Fisher and Padraig  Harrington."
OK Monty, so you have Poulter and Gallacher in your team. If not Donald to make up your final three then who? "Westwood. There is not much in it. As I said, you can make a case for Francesco and Luke. But in the end you have to make a call. Though Lee has not had the season he would have liked he has a win and has shown up well in some big events.
"He played well recently at the Bridgestone, where he closed with a 63, and at the PGA Championship, where he led on the first day with a 65. That shows he is in decent shape at the right time. Yes, it would be Lee for me."
Powwownow, the UK's leading conference call provider for SMEs, sponsored the Travis Perkins Masters, part of the European Senior Tour, at Woburn Golf Club this past weekend