It was too dark to tell but the man who blubbered his way up the 18th hole of the Old Course as he accompanied Jack Nicklaus on his farewell 10 years ago said he did not shed a tear as he said goodbye to The Open on Friday evening.
"Not a single one," Tom Watson said. "My son almost cried, I know that. He almost cried on the 18th tee when I told him 'Michael, there should be no tears, this should be all joy'."
It was not quite the grandstand finish that Nicklaus enjoyed in 2005, there was certainly no closing birdie. It was touch and go whether he would finish at all, given the earlier rain delay. But with the agreement of his playing partners, Ernie Els and Brandt Snedeker, the group got to complete the sentimental journey of Watson's 129th and last round in The Open.
The Open 2015 - best pictures
The Open 2015 - best pictures
1/59 Day 5

Jordan Spieth applauds the crowd after finishing fourth at The Open

Getty Images

2/59 Day 5

Zach Johnson kisses his wife Kim after winning The Open

PA

3/59 Day 5

Zach Johnson kisses the Claret Jug after winning The Open

PA

4/59 Day 5

Zach Johnson is presented with the Claret Jug after The Open

PA

5/59 Day 5

Zach Johnson fist pumps after a birdie on the first play-off hole

Getty Images

6/59 Day 5

Marc Leishman salutes the crowd after a birdie at 5

Getty Images

7/59 Day 5

Jordan Spieth throws his ball into the crowd after a double bogey at 8

Getty Images

8/59 Day 5

Marc Leishman watches in angst at a birdie putt

Getty Images

9/59 Day 5

Zach Johnson's inspired final round saw him reach -16

Getty Images

10/59 Day 5

Louis Oosthuizen took an early lead on Monday

Getty Images

11/59 Day 5

Padraig Harrington started brightly with three birdies in his first five holes

Getty Images

12/59 Day 5

Paul Dunne had a difficult start with back-to-back bogeys

Getty Images

13/59 Day 5

Padraig Harrington stands on the tee at the first

Getty Images

14/59 Day 5

Adam Scott celebrates a birdie at the third

Getty Images

15/59 Day 5

Phil Mickelson reacts during his final round at The Open

PA

16/59 Day 5

Oliver Schniederlins belied his amateur statues to move into the top five

Getty Images

17/59 Day 5

Brendon Todd set the pace as the clubhouse leader at -9

Getty Images

18/59 Day 5

Phil Mickelson was all smiles until he hit a hotel balcony on 17 to lose three shots

PA

19/59 Day 5

Fans of Oliver Schniederjans show their support for the American amateur on the final day

Getty Images

20/59 Day 4

Jason Day enjoyed a -5 round on Sunday to share the lead heading into the fourth round

PA

21/59 Day 4

Paul Dunne waves to the crowd on the 18th after carding a six-under-par 66

Getty Images

22/59 Day 4

Jordan Spieth roars after a birdie on 15

PA

23/59 Day 4

Danny Willett hits out of the rough on 13 after finding trouble off the tee

PA

24/59 Day 4

Irish amateur Paul Dunne stunned fans at The Open when he took the lead

PA

25/59 Day 4

Paul Lawrie enjoyed a good start to Sunday before hitting trouble at the sixth

PA

26/59 Day 4

Eddie Pepperell tied Johnson for the lead before a double bogey at 17

PA

27/59 Day 4

Jordan Spieth made a big move on Sunday to take the lead of The Open

PA

28/59 Day 4

Eddie Pepperell hit eight birdies and a double bogey to finish on -8 overall

PA

29/59 Day 4

Marc Leishman has a storming start to his third round with seven birdies in his first 13 holes

Getty Images

30/59 Day 4

Lee Westwood carded a -3 on Sunday

Getty Images

31/59 Day 4

The leaderboard from day four at The Open

Getty Images

32/59 Day 3

Dustin Johnson and Jordan Spieth at the end of the second round on Saturday

PA

33/59 Day 3

England's Danny Willett is in contention at The Open

Getty Images

34/59 Day 3

Jordan Spieth's approach shot on the 18th on Saturday

Getty Images

35/59 Day 3

Charmed I'm sure: A policeman comes under the spell of some wizards

PA

36/59 Day 3

Jordan Spieth hits into the teeth of the wind at the 15th

PA

37/59 Day 3

A seagull is blown away in the wind

Getty Images

38/59 Day 3

There was little to watch for fans at St Andrews

Getty Images

39/59 Day 3

Dustin Johnson speaks with officials after his ball is blown off the green

Getty Images

40/59 Day 3

Jordan Spieth plays a shot early on Saturday morning

Getty Images

41/59 Day 3

A flag bows in the wind as play is suspended

Getty Images

42/59 Day 3

Play is suspended on day three at The Open

Getty Images

43/59 Day 2

Five-time champion Tom Watson waves a poignant goodbye in the twilight on the Swilcan Bridge

Reuters

44/59 Day 2

Nick Faldo salutes the crowd as he stands on Swilcan Bridge after his final round at St Andrews

GETTY IMAGES

45/59 Day 2

Danny Willett tests the wind

GETTY IMAGES

46/59 Day 2

John Daly on the second day of The Open

GETTY IMAGES

47/59 Day 2

Padraig Harrington out on course following the deluge

GETTY IMAGES

48/59 Day 2

A view of The Open on the second day

GETTY IMAGES

49/59 Day 2

Englishman Danny Willett pushing into the lead

GETTY IMAGES

50/59 Day 2

The Open was hit by heavy rain on day two

GETTY IMAGES

51/59 Day 2

Rain relayed the Open on the second day

GETTY IMAGES

52/59 Day 1

Dustin Johnson (L) and US Open winner Jordan Spieth on the first day

GETTY IMAGES

53/59 Day 1

Dustin Johnson on the opening day on his way to an overnight lead

GETTY IMAGES

54/59 Day 1

Jordan Spieth carded an opening round of -5 to remain in contention

Getty Images

55/59 Day 1

Tom Watson during the opening round at St Andrews

GETTY IMAGES

56/59 Day 1

Paul Kinnear in action

GETTY IMAGES

57/59 Day 1

Tiger Woods looks on at St Andrews

GETTY IMAGES

58/59 Day 1

Tiger Woods enduring a difficult afternoon

GETTY IMAGES

59/59 Day 1

Nick Faldo on his way to 11-over par on the opening day

GETTY IMAGES
In a way the circumstances made the five-time champion golfer's farewell all the more poignant. As darkness descended, the lights on the buildings lining the fairway shone ever brighter and the illuminated R&A clubhouse acted like a welcoming beacon.
Sure, the stands had all but emptied out on a cold, blustery evening but, just before 10 o'clock, people spilled out of the town's pubs and restaurants, and R&A members left their warm sanctuary to line the fairway. These were not spectators who were there anyway, but people who made an effort to be there, fans who could not miss the opportunity to pay homage to the most successful Open competitor of the last 40 years. Among players gathered at the back of the 18th green were Graeme McDowell, Matt Kuchar and Tom Lehman.
Through Watson's mind flickered the legend of another beloved American golfer, the amateur Bobby Jones, returning to St Andrews for an unannounced outing on the Old Course. Jones had won the 1927 Open and the 1930 British Amateur, the first leg of his unprecedented and unrepeated Grand Slam. "Bobby's back," was the word that went round the town and thousands spilled onto the final fairways to engulf the returning hero.
"I'm not putting myself in the same shoes as Bobby Jones," Watson said, "but as I was going across the road down the 18th fairway, I think I had an inkling of what he probably felt like when he walked up the 18th hole that day."
Watson stopped on the Swilcan Bridge for the traditional photos, as Sir Nick Faldo had done earlier in the day. Watson also stopped and turned to the heavens.
Included in his thoughts were a couple of former caddies, Alfie Fyles and Bruce Edwards. "I didn't know how I was going to feel walking across the bridge but I do know that I looked up in the sky and knew there were a lot of people watching, not just right here, a lot of loved ones."
Earlier in the afternoon the stands rose as one when Watson teed off. "Right from the start of the round, the fans were so appreciative and their applause made me feel very humble," he said.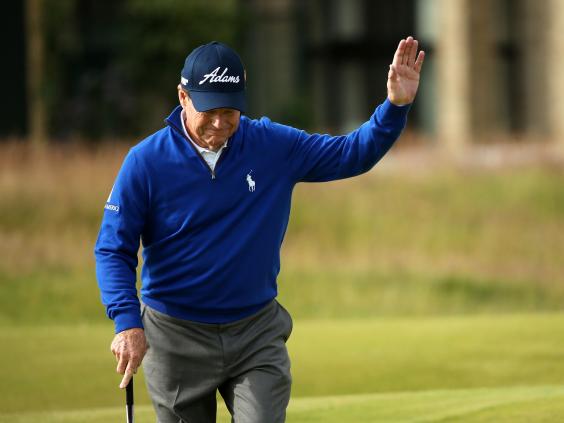 Watson won his first claret jug at his first attempt, just across the estuary at Carnoustie in 1975. Two years later he defeated Nicklaus in the Duel in the Sun at Turnberry, still the most sustained and dramatic head-to-head showdown in The Open. At this stage Watson did not even like links golf, was still irritated by balls bouncing off into weird and less-than-wonderful places.
He grew to appreciate the ground game while playing in all sorts of weather at the likes of Ballybunion in Ireland and Royal Dornoch in Scotland. Open titles followed at Muirfield, Troon and Birkdale but at St Andrews in 1984 his quest to tie Harry Vardon's record of six claret jugs floundered when he overshot the 17th green while Seve Ballesteros birdied the 18th.
At Turnberry in 2009 came another chance but the 59-year-old aged before our eyes in the playoff.
"I can't be more grateful for what I've accomplished, but the thing is, it wasn't so much what I've accomplished but what I overcame to get there," he said. "Now it's all joy. There's no reason to be sad. I played a game for a living and played it pretty well at times."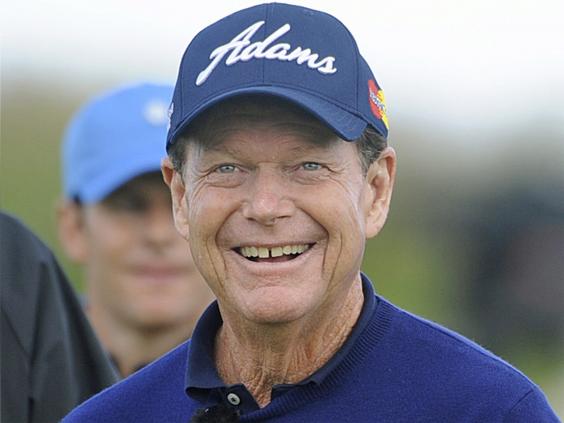 At 65, Watson is out of exemptions for The Open but admits his "toolbox" is not as well stocked as it once was. He will make his last appearance at the Masters next April. But he promised to return for any repeat of Wednesday's Champion Golfers' Challenge, which featured Arnold Palmer and Peter Thomson, the only other player in the last 100 years to win five Opens.
"I've been rambling a lot, I'm sorry," Watson said, concluding his last press conference. "I guess emotion has taken a hold of me to a degree and I apologise for that. But it's been a heck of a run.
"Now it is time to get on with the real golf tournament," he added. If only the weather gods agreed.
Reuse content