And you thought football was a game of two halves. Justin Rose was seven off the lead after his first nine holes, one behind walking off the last, and no Fergie time. This is what winning a major can do for the mental marbles.
Starting at the 10th, Rose began with a pair of bogeys and filed another for good measure at 18. He was 37 for his outward journey and back in just 29, one short of the record nine-hole low at a major.
The US Open champion attributed his change of fortune to the sudden stop placed on nature's hose pipe, which had doused Oak Hill pitilessly for hours. A new glove and dry grips triggered an upswing in outcomes, but the radical hike in results was not rooted in a material change in conditions alone. It came from within,  from the memory of what it takes to prevail in the most testing of circumstances.
"It's wonderful to be in this situation right now, talking about having done it [won a major] and feeling like you can win more. Believing in yourself, not talking about how you hope it can happen. That alone makes it easier," Rose said. "I feel like this year I'm getting to the point where I'm  really focused on my preparation and come to the majors ready. I feel like I'm getting into that mindset. My game suits the tougher courses. I've worked hard and feel that ball-striking wise the tougher courses lend themselves to that." 
The start Rose made was damaging enough, but, since he was playing in the same group as the flying Adam Scott, it brought added anguish. The Masters champion three times stretched the lead to eight under par before signing for a 68 and a seven under total, precisely where he stood at the turn, seven better than Rose. Almost as the group were placing their tee pegs at the first the threatened weather interruption was lifted. The rain had slackened to a trickle and would soon be gone, taking the Gore-Tex suits with it.
Suitably unencumbered Rose rattled off a hat-trick of birdies at the start of his back nine, another at the fifth and a smart combination to close on eight and nine. Bang, bang. "Yeah, the rain stopped. That was pretty much it. Fresh glove, I took the rain pants off and began to feel that you could get the better of the golf course. The front nine was very difficult. Obviously I started bogey, bogey and had a sense that it was going to be a struggle. Holes 17 and 18 were playing incredibly tough.
"I was all the way back to even so I kind of said to myself, 'right, let's just rebuild from here, let's not look back, let's see where we can get to.' Adam had showed us how you could play this golf course, so I hit the tee shot down one, a seven-iron to 15 feet and made a nice putt to get myself back under par. Then it was my turn to go low."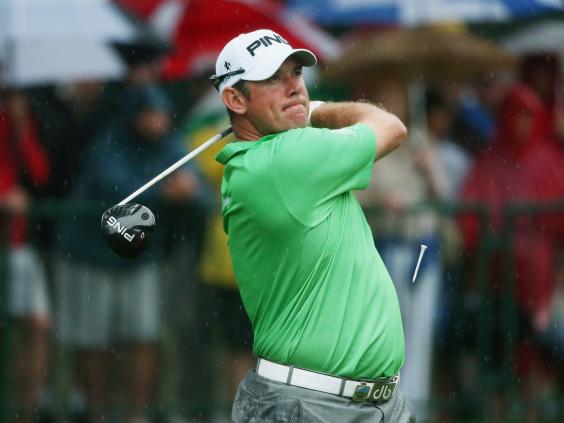 Low sums up Lee Westwood's mood after a round that might have turned out so differently. When he moved his family to the United States it was partly to escape weather like this.  So saturated had Oak Hill become when Westwood was called to the 10th tee five minutes before eight yesterday morning the course had about it the aroma of over-cooked sprouts, a dense, deeply unappealing veggie pong.
At the close of his round the smell was coming from his card, a double bogey, bogey finish spoiling a chase that began with such promise. His 73 left him one under for the tournament and six off Scott's clubhouse lead. Not a disaster, certainly, but not the bounty trailed by the two birdies posted in his opening five holes. His first bogey of the tournament came at the 17th, his eighth. There would be another at the second hole and then the cruel finish. Unlike Muirfield, where Westwood fell apart on the last day, he has time to repair the damage. Save for four holes, he has played beautifully. If that continues he may yet mount the challenge worthy of his talent.  "Obviously I'd like to finish par, par or better, but with red figures going into the weekend, I still have a chance," Westwood said.
Defending champion Rory McIlroy was the inverse of Westwood, and will take much from his recovery after drifting to a position that looked fatal at four over par courtesy of four  bogeys in five holes around the turn. McIlroy has battled throughout his career to convince in trying circumstances. Despite his upbeat projections before this tournament and his flying start on Thursday, which yielded three birdies in the opening four holes, the elements weighed heavily on his unsettled soul.
Perhaps this marks a turning point. The conditions were appalling but not unplayable. Webb Simpson advanced his station from two over par overnight to three under after 12 holes. With three to play Simpson was par golf from setting an Oak Hill record of 63 and a birdie from history. No golfer has carded a 62 in a major. He did deviate from par at the seventh hole, but negatively to come home in 64. 
McIlroy, too, was suddenly feeling the weather love, posting successive birdies of his own at holes three and four. Another back-to-back jackpot at seven and eight would take him comfortably inside the cut line and guarantee there would be no lost weekend here.
"I'm standing up pretty happy about the day," he said. "I was letting the round get away from me somewhat, but making four birdies on the last eight holes was nice to sort of  redeem the round a little bit and keep myself in the tournament."
Alas that was not the fate of Luke Donald, whose disappointing run continued with a 74 to leave him five over par, the wrong side of the cut at a second successive major, a career first for him.
Reuse content