He has always made a big play about the Monaco Grand Prix because it is the jewel in the Formula One crown, but the other race Lewis Hamilton is burning to win is the British Grand Prix at Silverstone, his home track.
He took pole position there in his rookie season in 2007 and won there majestically in the rain in 2008; but losing last year, when a rear tyre exploded while he was heading for victory, still really burns. Especially as the man who benefited from his misfortune that day was Mercedes team-mate Nico Rosberg, with whom he is locked in battle for this year's World Championship crown.
The luck has been running Rosberg's way recently, after Hamilton clawed back the 25-point deficit conceded when he retired in the opening race, and now Hamilton wants nothing more than to kick-start a second recovery with a win in front of home fans.
"I'm definitely gunning for Silverstone," he says ahead of this weekend's race. "Last year I was more hopeful than ever since I won in 2008. That weekend it was definitely gutting to not win, to not bring it home for the country and for the fans. We have another chance this year and I'll be doing absolutely everything to make sure we're in front."
Naturally, not winning last year was hugely disappointing, but Hamilton was bucked up to recover from last place to fourth after a never-say-die recovery drive.
"Doing that, I felt like I had won. When I have races like that I still feel like I've triumphed. In my mind I've gone away thinking I've won.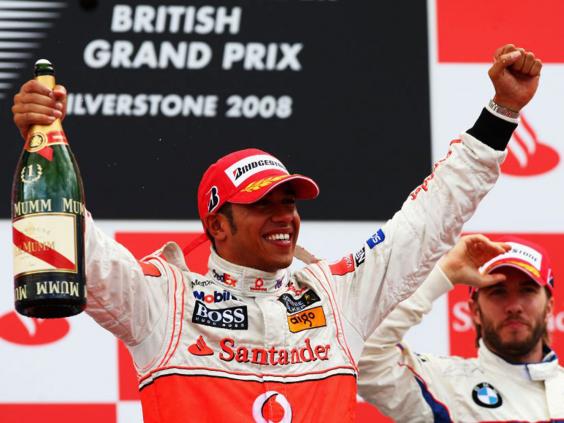 "It's quite a huge challenge. You get a puncture just as you've gone past the pits, you tiptoe around without spinning, and then you get new tyres and just gun it. At the time you don't know where you are. You're hoping that you're going to win and with maybe another 10 laps I would've had a chance to. I really felt like I had done myself proud that day."
Starting this weekend, he is going to need another four consecutive victories like those he took in Malaysia, China, Bahrain and Spain, in order to close the 29-point gap to Rosberg, who has finished all eight races thus far, while Hamilton has had two retirements. The odds say Rosberg's car will also falter at some time, but Hamilton is a racer and is adamant that he does not even want to consider that.
"I want Nico to finish every race. But I want to finish ahead of him. If he finishes every race and I finish ahead then you can't say I'm in the lead because he's had problems, it can only be that I've done a better job."
The world knows that they have been mates – though not absolute best friends, as Hamilton stressed recently – ever since they were karting together as kids.
"One time, when we were in Italy, we were talking about how cool it would be one day if we were in Formula One. At the time the big team was McLaren Mercedes, and we said just how cool it would be to be team-mates. We said it several times. I can't remember if I really believed back then. Nico would say ,'When I'm in Formula One…' And for me it was, 'If I ever get to Formula One.' Because Nico's dad was a Formula One driver so there was no other course – he knew he was going to make it. For us we never really knew what was going to happen, we just kept at it."
Unlike in 2014, when Rosberg has been proving such a robust challenger, the German was not Hamilton's toughest rival back then. "Nico was quick, but he wasn't as fast as the strongest rival I had in karting, which was Robert Kubica. He was the fastest driver I raced. It chopped and changed quite a lot in England, but when I got to Europe it was Robert. He was very, very fast, the best at the time. But he just kept blowing engines. He always had his hand down, covering the intake on the carburettor, and the engine would blow up."
The Lewis and Nico Show has electrified the sport this season and maintained interest as their Silver Arrows have hit the performance bullseye in seven of the eight races. But despite Rosberg's speed, Hamilton says it has not been tougher than he expected.
"It isn't, because I didn't come into it thinking it was going to be easy. I knew from the get-go it was going to be really close.
"Back in the karting days we didn't really have data. One time there was a system that came out called the PI System, and they had this data pack. We eventually had that, but still you couldn't really see the speed trace. The cool thing back then was that if you were in a team of kids they couldn't ever see how you drove, apart from on the track. They might follow your line but it's harder to follow on the line than it is to look on data. When you get data it's like showing someone's mathematics equation.
"So I knew it was going to be a difficult season. It was a real reminder after Malaysia. I used a lot of different skills in Malaysia to pull the gap that I did, but it's very transparent. Whatever advantage Nico gets I can see it on the telemetry that we have access to, and vice versa, so that makes it very difficult to extend an advantage."
 When asked the toughest question of all – how hard it will be if he doesn't win the title this year, in other words, if Rosberg beats him – Hamilton replies equably, without heat.
"That's not really something I want to think about or put out there. Why would I even consider it? It's all about positive energy. You've got to have in your mind, 'I'm going to win. I'm going to do everything that I can. I'm going to get up and I'm going to train and get to that race next week and be P1, P1, P1.' You can't ever think 'what if this?' or 'what if that?' because you'll never get anywhere. What's that expression? Positive thoughts create positive actions…"
On another positive note, he was recently deemed the world's most marketable sportsman. "I heard something about that," he says. "Ultimately, it doesn't really mean much but it's cool to be recognised as one of the top sportsmen. I admire so many different sports and I like to meet some of those individuals that are at the top of their game in those sports. It's good that we share something in common, we can travel round the world and be recognised."
And it suits his off-track aspiration nicely. "Ultimately, I don't want to just be a driver; I would hope that I've had a positive influence on the kids I saw today here at Rye House [the karting circuit where his career began]. Maybe after today they'll want to come back and do some go-karting. Maybe they will, maybe they won't. Maybe they don't have the money. But just that little spark that you can create could turn into a huge fire…"
Home Runs: Hamilton at Silverstone
2007 McLaren, third
Took ninth successive podium with a third-place finish from pole as Kimi Raikkonen won.
2008 McLaren, first
Passed Heikki Kovalainen in heavy rain to become the first home winner in eight years on his way to a maiden title.
2009 McLaren, 16th
Disappointing season continued as he failed to score.
2010 McLaren, second
Finished behind Mark Webber for his fourth successive podium finish.
2011 McLaren, fourth
Finished out of the top three as Fernando Alonso eased to victory.
2012 McLaren, eighth
Dropped to fourth in the standings after failing to impress in front of home fans as Webber triumphed again.
2013 Mercedes, fourth
Fell away from pole and suffered an early tyre failure, leaving team-mate Nico Rosberg to take the victory.