It takes a special mentality to come back from the brink when others have written you off, but to do it on the most testing stage of them all, a 24 hour race against the best drivers on the planet in some of the fastest sportscars available, takes something extraordinary.
After a shocking Formula 3000 accident at Brands Hatch in 1988 that nearly led to the amputation of his left foot, Johnny Herbert embarked on a Formula One career clouded in uncertainty – was he the same racer, could he pushed a car to its limit and would there be lasting effects from the extensive injuries the British driver suffered?
Some answers would come in Herbert's F1 debut, when he defied the odds to finish fourth at the Brazilian Grand Prix in Rio de Janeiro in 1989. But Herbert would go on to prove his credentials – and then some – when he crossed the line on the famous Circuit de la Sarthe to give Mazda their first and to date only victory in the Le Mans 24 Hours.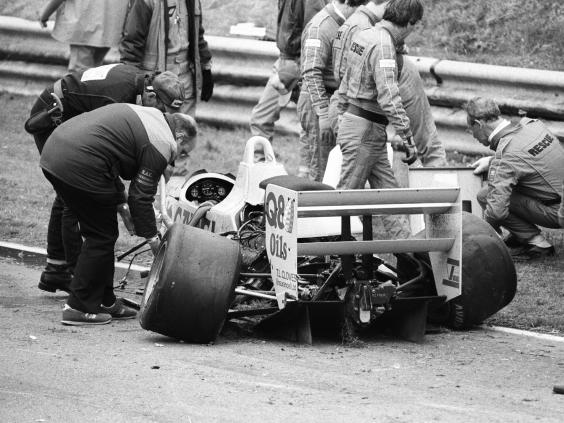 Herbert's story is being documented by the tyre manufacturer that carried his Mazda 787B to victory 25 years ago, Dunlop, as they recount 10 of the Greatest Fightbacks seen on the track. Joined by German Volker Weidler and Frenchman Bertrand Gachot, Herbert overcame the challenge posed by the faster Sauber Mercedes C11's and Tom Walkinshaw-run Jaguars XJR-12's, but it was his own personal comeback that puts the achievement up there with other names such as Jackie Stewart, Mike Hailwood and John McGuinness, which can be viewed in the gallery below.
Dunlop's 10 Great Fightbacks
Dunlop's 10 Great Fightbacks
1/10 1950 Le Mans 24 Hours: Rosier the toast of France

Louis Rosier's Dunlop-shod Grand Prix Talbot was the class of the field at the first 24 Hours of the 1950s. But a broken rocker valve early on in the race delayed him by 45 minutes. What followed was one of the great fightbacks as Rosier drove almost the entire race to score one of the most remarkable Le Mans wins. His son Jean-Louis drove all of 30 minutes, before handing back to his determined 44-year-old father. His performance had everything, including the first lap record at La Sarthe to crack 100mph. During the night his windscreen and goggles were smashed, his face cut, when he struck an owl. And after the mechanical delay that cost him his seven-lap advantage and more, he spent the next four hours regaining the lead, as a huge crowd clung to his every lap.

2/10 1968 German Grand Prix: Stewart masters the deluge

Jackie Stewart scored what he and many others consider to be his greatest victory in heavy rain at the fearsome Nürburgring on Dunlop's superb wet-weather tyres. An accident in a Formula 2 race a couple of months earlier at Jarama had left him with his arm in plaster, and the extra physical strain placed on his wrist by a dry and bumpy track placed doubt on his participation at the German GP. However, he reported for duty and visited a local doctor to have his plaster cut off, forearm covered in Vaseline and plastic support fitted. As the race began, Stewart, whose morning time put him sixth on the grid, swerved onto the concrete pit apron to skirt the faltering Ferrari of pole-sitter Jacky Ickx and arrived at the first corner behind leader Hill's Lotus and Ickx's team-mate, Chris Amon. He soon passed them both and drove off into the spray to win by an incredible four minutes.

3/10 1977 Le Mans 24 Hours: Agony and ecstasy for Ickx

It was Porsche versus Renault, as the German manufacturer took on the Regie's Alpine prototype. Jacky Ickx's car, shared with Henri Pescarolo, was an early casualty, so he switched to the sister car of Jurgen Barth and Hurley Haywood who themselves had lost half an hour with an engine problem. Taking over the car in 42nd place, Ickx put in perhaps his greatest shift at Le Mans to ensure Porsche won the 24 Hours once again. In the last hour, the car dropped a cylinder, forcing Barth to nurse it home. Thanks to the huge lead Ickx had helped build up, the 936 made it. He'd driven sublimely, arguably harder for longer than anyone ever had at Le Mans, but his hat-trick and record-equalling victory would be won at an agonising crawl.

4/10 1978 Isle of Man TT: Getting back on the island

Mike 'The Bike' Hailwood had retired from motor racing after multiple world titles on two wheels and an F1 career cut short by injuries sustained in an accident at the German GP in 1974. He'd retired to New Zealand when the lure of the Isle of Man brought him back to the TT in 1978. It had been over a decade since he had last raced in TT. Overweight and still limping from his crash four years earlier, no one can gave him much of a chance in the Formula One race – but typically, he defied the doubters with an inspired performance. He not only won, but set his fastest ever lap on the Mountain Course at more than 109mph. It remains one of the most emotional and glorious comebacks in motor racing history.

5/10 1991 Le Mans 24 Hours: Herbert's longest day

In 1988 Johnny Herbert had been tipped to become Britain's new Jim Clark. However, an F3000 crash at Brands Hatch left him with devastating leg injuries and his career looked likely to be over. Incredibly, he made his F1 debut the following year in Brazil, finishing fourth for Benetton, but it would prove to be a false new dawn and, as his injuries continued to take their toll, he would soon lose his drive. Herbert rebuilt his career and reputation out of sight in Japan, driving in F3000 and sports cars. His comeback was completed by an unlikely victory at Le Mans in 1991, when he led Mazda to what remains the only victory for a Japanese manufacturer at the great race. His performance was one for the ages, the effort of which left him so exhausted he was unable to make it to the podium.

6/10 Bernd Schneider: Out of the murk… Into the Merc

He should have preceded Michael Schumacher as Germany's first modern-era F1 star, but two painful years at back-of-the-grid Zakspeed left Bernd Schneider's Grand Prix career in tatters. He chose to reinvent himself as a touring car ace, going on to become the king of the DTM for Mercedes and adding an FIA GT title in 1997. But it was in the relaunched DTM series from 2001 in which he cemented his legend, winning three titles in four years, and a fifth in 2006. He continues to race in GT endurance events, winning 24 hour races at Spa and Nürburgring in 2013, and is considered among the greatest racers of the modern era outside of F1.

7/10 Pedro Lamy: Light at the end of the tunnel

Young and raw, but with the potential to carve out a top-line F1 opportunity, Lamy had the world at his feet in 1994. However, disaster was fast approaching as a shunt in testing that year left him with two badly broken legs and a summer of operations ahead. Despite battling back to the grid the following year, his F1 career was all but over at the age of 24. After switching to GTs, his enjoyment for motor racing returned and, on top of six podium finishes at Le Mans, he came to dominate the Nürburgring 24 Hours with five victories between 2001-2010.

8/10 2010 Estoril 125cc Grand Prix: Rising from the crashes

Marc Marquez's Portuguese GP win in the junior class is considered an early marker in the growing legend of this Spanish sensation. Then just 17, he was running second in a race that was red flagged because of rain. He then fell off on his way to the grid for the restart, forcing his team to make frantic repairs to his damaged machine. But from the back of the grid, Marquez was up to third before the end of the first lap and forced his way into an incredible last-lap duel with title rival Nico Terol before taking the win. The victory would be his 10th of the season and set him on course for what is expected to be the first of many world titles.

9/10 2014 Le Mans 24 Hours: Jota turns a page… or two

The British Jota team's LMP2 class win in 2014 is one of the great comeback stories of modern motor sport. Simon Dolan's team struggled in the wake of adversity in the build-up to the race, losing lead driver Marc Gene to the Audi LMP1 team after qualifying. Oliver Turvey was flown in as a replacement at the last minute, and together with another young Brit, Harry Tincknell, battled against the odds to secure victory in the final hour. The Zytek was delayed early in the race, but Tincknell inspired a great comeback as the team had to balance looking after the car with a constant attack philosophy. Turvey's showed true coolness under pressure as he established track position before increasing the gap over their rivals to take a fairy tale victory.

10/10 2015 Isle of Man TT: A senior moment to remember

John McGuinness is the modern king of the Isle of Man TT, but in recent years his crown had slipped. Michael Dunlop had emerged as the man to beat, racking up multiple wins and leaving McGuinness and co in his wake. After one of his worst race weeks during the previous year's TT, when he failed to win any of the big races while struggling with a broken wrist, you had to wonder if John would ever win another. However, he proved we should never have been in doubt as he scored his 23rd TT win in the Senior race, reminding the world that he was far from finished yet. Joey Dunlop's record of 26 TT victories is still very much in his sight.
"After the accident in 1988, Le Mans was almost a stepping stone for me to prove to other people in Formula One, and probably out of Formula One, that my injuries were really not an issue and that is really the biggest and toughest race that you can go and prove that," Herbert tells The Independent.
"What I remember, at the beginning of the race to the end of the race, we never eased off even when we were leading, even with maybe 20 minutes to go. We still had the Jaguar following us behind because they were in second and third and you had to be aware that with Tom Walkinshaw running that Jaguar outfit at the time that you couldn't allow that Jag to get close to you because you never know what they might try, so you have a whole 24 hours of basically different experiences merging into one."
Should a driver go about trying to prove they can still mix it at the top, it would be ill-advised to tackle Le Mans in order to do so. Yet it was Herbert that remained in the Mazda beyond his final stint to take it to the finish line and, to this date, give a Japanese manufacturer victory in the historic race. It took its toll on Herbert though, as he was unable to take to the podium after collapsing from a combination of dehydration and malnourishment shortly after taking the chequered flag.
"Unfortunately the only experience that I missed – and I still don't know to this day if I'm the only one not to make it – is the podium," he explains. "But even at school I was always after attention so that's one way of getting it I suppose!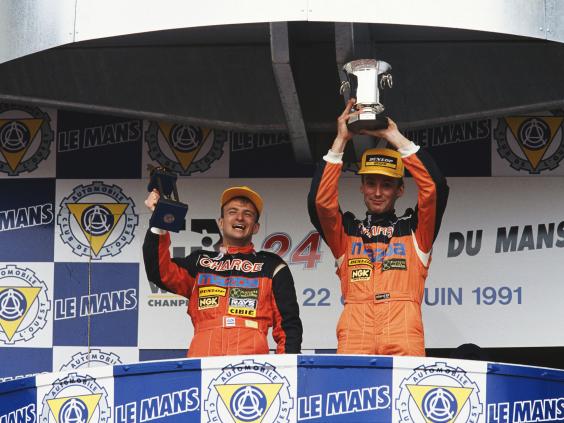 Herbert adds: "There were reasons for that. In Formula One it wasn't such a big problem. I was a bit like Nigel Mansell, I tried muesli, I tried bananas, I tried all that sort of stuff. It never helped my stomach when I felt like I wanted to be sick, so a fry-up was something that was a lot better. But being in a Japanese team, fry-up and Japan - they don't get on very well.
"So the only thing I survived on – although effectively I nearly didn't because I keeled over at the end of it – was Pot Noodles, which have got no nourishment or goodness in them whatsoever.
"I was only meant to do a double stint and then I was out and Volker would get back in the car. But because we were in the lead, everything was going so well and we were consistent, they asked 'are you ok to stay in the car to the end of the race?' and I think there was maybe another stint-and-a-half remaining, and typically being a racing driver you want to drive across the line at 4 o'clock and win one of the biggest races at that point in your career. So I stayed in the car but of course had no fluid, no noodles, and my body ran out of puff after the race.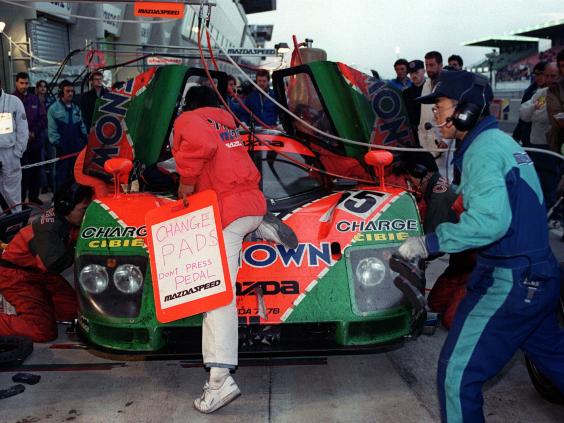 "But it didn't matter because my concentration was there throughout the race, I got across that 4 o'clock line and we had won the 24 Hours of Le Mans. It would have been lovely to get up onto the podium but I can still look back at it today with a lot of happiness that eventually we did achieve a pretty might win because it was unexpected, the little Mazdaspeed car with a rotary engine – a very noisy one at that – and it's still the only Japanese victory at Le Mans today which Nissan and Toyota have tried many times. That's something quite nice to look back at, that that victory today still hasn't been broken."
To read Herbert's full story as well as Dunlop's nine other Great Fightbacks, click here.