Lewis Hamilton's face said it all as his eighth victory of the season – at yesterday's Japanese Grand Prix – brought him level with his childhood idol's tally of 41 wins. "Knowing this would be the race where I equalled Ayrton Senna, on a circuit where he had quite a bit of a history, made it quite an emotional day," Hamilton said. "But I'm not a teary guy, so I'm just so full of joy and happiness and light."
From the moment the defending world champion sat it out with his pole-sitting team-mate Nico Rosberg through the first and second corners before squeezing ahead on the exit of the latter, he had it covered.
"That was such an amazing race," he added. "I wanted to come and dominate, but I haven't always been comfortable here. But we were able to get the balance right, and being out front there in the final stint it was just a beautiful race. It was like sailing, with the corners flowing. I wish I could tell you how great it felt."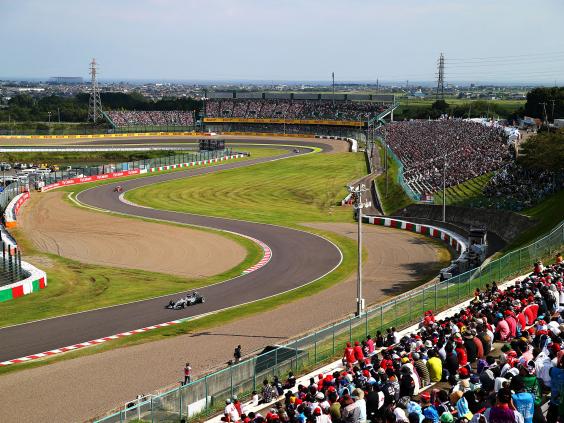 Rosberg had beaten him in qualifying to take pole for only the second time this year, but did not make a great getaway. "Lewis got the better start," the German said. "He got the inside and he made it stick. It was very close on the exit to turn two and I had to back out to avoid a collision, so that lost me the race. The championship fight is going the wrong way, definitely. I had to win today but it didn't work out."
Hamilton himself was matter-of-fact about their brief encounter: "I don't feel it was particularly that close, but the inside line is the inside line and it was my corner."
As Rosberg dropped to fourth behind Ferrari's fast-starting Sebastian Vettel and Williams' Valtteri Bottas, Hamilton opened up an advantage he maintained to the end. He was 18.9 seconds ahead after Rosberg had fought back to pass Bottas approaching the chicane on the 17th lap and then got the undercut on Vettel during his second. He now has 277 points to Rosberg's 229 and Vettel's 218. With five races left, a third title looms. On the all-time winners' list, he now sits joint fourth with Senna, behind Michael Schumacher (91), Alain Prost (51) and Vettel (42).
Mercedes' return to form was emphatic, but Vettel was always a threat to Rosberg as they battled through late-race traffic. In the end the Ferrari was only 1.8sec adrift of the second Mercedes, with Kimi Raikkonen a distant fourth. 
"It was important for us to strike back after Singapore," Hamilton said. "Ferrari were incredible there and we didn't take our A game there, so we really had to bring it here."
Vettel refused to concede that his own title aspirations are over. "It's not done till it's done," he said. "What kind of racing driver would I be if I stopped believing? Of course I know it's difficult because the opponent is very strong. But you have to keep believing, otherwise it's pointless rocking up and trying to fight. I think it will be very difficult but who knows what will happen?"
The race was barely over when McLaren's inner turmoil was exposed as neither Jenson Button nor Fernando Alonso chose to confirm team boss Ron Dennis's pre-race assertion that they would "both be in Melbourne next year, 100 per cent".
"Jenson has a two-year contract," Dennis had said. "I told him – probably too late – that we have no intention of letting the option lapse. I told him on Thursday, probably I should have told him on Tuesday."
Dennis also admitted he had tried to beat his driver down again on remuneration. "I'm a businessman and I did explore that. But that's my job."
McLaren appear to need Button more than he needs them. Sponsor Diageo, the drinks conglomerate, is about to launch a new advertising campaign in 50 countries. It features Button and actor Jude Law. You have to be 25 to participate in such things, which would rule out McLaren's back-up youngsters Stoffel Vandoorne and Kevin Magnussen, should Alonso and Button decamp.
Reacting to Dennis's comments, Button said: "It's still not public. You don't know the truth of the matter. It's not the time to share it because nothing is done."
Both he and Alonso were harsh in their criticism of Honda's engine after finishing 16th and 11th respectively. Button said he felt like "a sitting duck," and was concerned about the closing speed of cars overtaking him. Asked if he intends to stay with McLaren, he added: "It's so tough. Fernando and I are used to fighting, but we're not even fighting. It's like a samurai without his armour and sword."
Alonso began the weekend reacting to suggestions he is leaving by saying: "Definitely I can tell you that I will not go anywhere else." He ended it being rebuked by Dennis for suggesting his engine was like one from a GP2 car. Asked whether he would be at McLaren next year, he replied: "I don't know."