As he became the most successful British driver in Formula One history by winning Sunday's United States Grand Prix in Austin, Lewis Hamilton thanked the man whose record he took, Nigel Mansell, for his support over this season and the preceding years and promised to support future generations of Britons in the same way.
Mansell, whose record of 31 grand prix victories Hamilton matched in Russia last month and then overtook in America, tweeted his congratulations. "Nigel has been very, very supportive, and it's been good to have that support because I've seen a lot of negative things said by fellow legends," Hamilton said.
"It's been great to see Nigel's support, and he's been great about another Brit doing it. One day when I'm retired – which I hope will be a long way away – I want to come back and watch and want to support and encourage the next Brit doing this and to say, 'I was there once and know what it's like…' Why would I want to kick them in the guts?"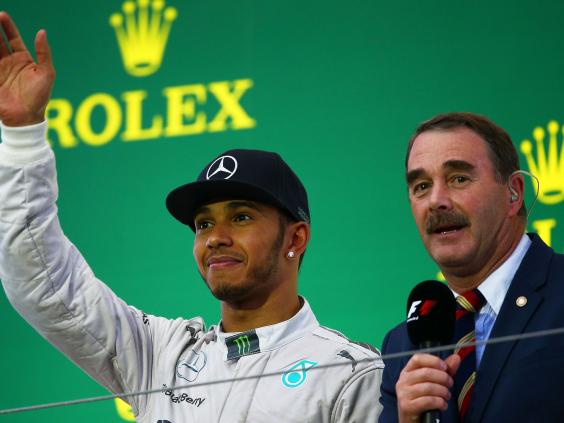 Hamilton also admitted that at the time of victory, the significance of his achievement had passed him by. "It hadn't even crossed my mind," Hamilton said. "I was just so excited that I hadn't had time to think about it, but then someone said something and I thought, 'Wow'. To be up there with those greats, I do feel really proud. Who would think that us Hamiltons would get there when we first turned up in racing? I mean, it was, 'What are they doing?' The others had awnings, and we had an umbrella. We had a box trailer with our kart on the top. It was so funny. But I'm so proud of this."
In theory Hamilton can now afford to finish second to Mercedes team-mate Nico Rosberg in Sunday's Brazilian GP in Sao Paulo and again in Abu Dhabi on 23 November, even with the finale's dreaded double points, and still win the title. But were he to win at Interlagos with Rosberg failing to finish and Rosberg to triumph in Abu Dhabi with Hamilton retiring, the German would win the title by a single point – small wonder he is not even considering the matter.
"It is what it is," Hamilton said. "I'm not changing my mindset. I just want to improve, not change. I'm driving better than ever this year, and I hope that's obvious to everyone. I'm confident if I continue to do what I'm doing, and there are no doubts in my mind.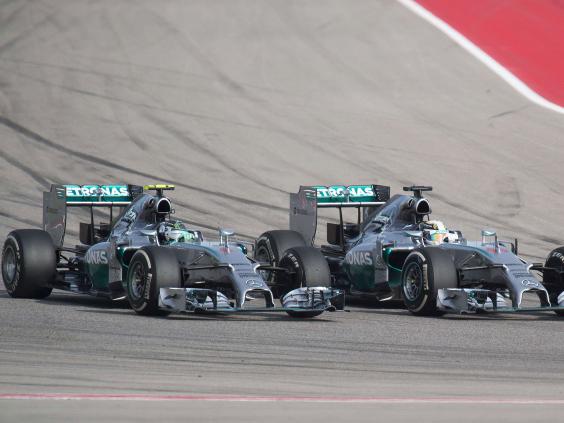 "After the retirement in the first round I got my head down and four wins happened so fast. Then I had another bad patch but after Spa I turned it up and said, 'This is war'. I just reflected on it like it was an energy boost, and turned a negative into a positive. But it's not been that I've turned it up and that Nico's made mistakes. I'm not really sure that's the case. He comes in and resets every race and he does some smoking laps and takes pole positions, and he's still there and he's still fighting.
"It's not easy driving with someone in your mirrors, but he didn't make any mistakes after he'd run wide on the opening lap. He drove really well considering he had me breathing down his neck."
--
Hamilton makes history
British drivers with GP wins
32 Lewis Hamilton
31 Nigel Mansell
27 Sir Jackie Stewart
25 Jim Clark
22 Damon Hill
16 Sir Stirling Moss
15 Jenson Button
14 Graham Hill
13 David Coulthard
10 James Hunt
6  Tony Brooks, John Surtees
5  John Watson
4  Eddie Irvine
3  Mike Hawthorn, Peter Collins, Johnny Herbert
1  Innes Ireland, Peter Gethin
Reuse content