The portents for Moe Sbihi could not have been more ominous – the British rower can hardly be said to have taken to the sport like a duck to water. But Sbihi has been transformed to become one of the British team's top athletes, to the extent he recently broke Matthew Pinsent's long-standing rowing-machine record.
Twelve years ago, the picture was infinitely different, Sbihi forced by his school under a talent identification programme to take to the water despite attempting to slope off to play football.
"The teacher saw me try to get on the bus for football but stopped me and said I needed to try out for the rowing," the 27-year-old recalls. "So I went there with a chip on my shoulder, had some random guys shouting at me and didn't think anything of it."
Two weeks later, his parents were told their son was in the basic parameters to aspire for gold at London 2012, a trio of coaches talking to the three of them at the family home in Surbiton. "I remember sitting between Mum and Dad and these coaches telling me, 'You could be this and this', and I remember thinking, 'Are they talking about the right kid?' 
"I never would have rowed without that one moment and there's so many things that could have gone wrong but they didn't, thankfully. If it hadn't happened, I'd probably be serving your lunch today. It was a really surreal experience, bit of a fairy tale."
Like any good fairy tale, it lent itself to inauspicious beginnings, the rowing debutant giving little indication of being an Olympic champion in the making.
"I had no clue, I was hopeless," he remembers. "I was constantly falling in, continually being slower than the girls in my age group and the lower age group. I don't know why I didn't give up.
"My first coach [Sue McNuff] was incredibly good and very patient. There were three of us 15-year-old lads all messing about together – like three Dennis the Menaces.
"She was on the right side of motherly and had to push the right buttons to get us doing it and, without her, I would have gone back to tennis or football in a flash and I wasn't good at either of those, really."
Now Sbihi is in contention to be selected on the bow side in British Rowing's top boat, which will again be coached by the legendary Jürgen Grobler.
Four years ago at London, Sbihi missed out on the four, instead being placed in the eight that came away with bronze. It is a result that haunted him for a time and has acted as a large factor in the intervening four years, bringing with it a completely changed attitude.
"Four years ago I was like a moody teenager," he admits. "Looking back, I'm a little bit embarrassed and was a bit of a dick. For me, this time around my thing was to not be as much of a dick. For a lot of guys in 2012, they don't get another chance, that was their last race and they will have to live with that for the rest of their lives. I'm fortunate to get another chance to end up on the right side of a result."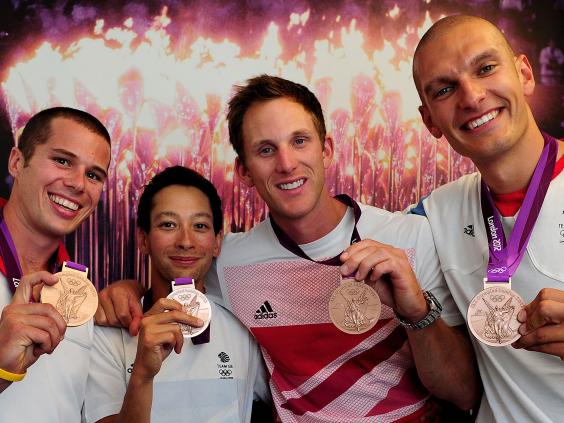 Sbihi is not your archetypal rower, that stereotype of a white, middle-class, privately educated oarsman, a standpoint that is changing within British Rowing thanks in part to various talent ID schemes.
Sbihi's journey to the sport was via Surbiton and Tangiers. His father is Moroccan and the family relocated there every summer to be reunited with uncles, aunts and cousins. As a result, Sbihi views himself as being as much Moroccan as English, so intrinsically linked has he become with the north African nation.
"It was so exciting as a kid that those memories really stick in your mind," he says.
A pocket of Tangiers typically crowds round a TV – or, in the case of his World Championship win in the eight last season, around a small mobile phone – to cheer on Britain's rowers.
It is for that wider family as much as himself that he is driven to push himself. However, rowing has brought him into direct conflict with his Muslim faith, Sbihi usually struggling to fast at Ramadan. Last year it fell during July when he was at a training camp and his hopes of delaying it by six months were scuppered by intensive winter testing. Instead, under the guidance of the Koran, he will pay – as he did in the build-up to London 2012 – for 1,000 meals in a charitable donation. "It's not me being good giving to charity," he explains. "It's a punishment basically for not being good.
"I feel like I'm missing out on the fasting as it's such a communal event and was such a part of my bond with my dad growing up. But it would be dangerous for me to fast and that's not the only reason. Just last season, for example, I would have potentially let down eight other people [including the cox] in the boat."
The sacrifice is one he is willing to take with the Rio Olympics on the horizon, a chance to make amends for the bronze from London 2012 in whatever boat he is selected for.
Sbihi has already travelled to Rio and witnessed the rowing waters with the captivating backdrop of Christ the Redeemer, which he says means "rowing will be one of the iconic moments of the Games because of that".
Rio now dominates his thoughts, with Britain aiming to top the rowing medal table with a team Sbihi believes is "the best we've ever had, more harmonious than ever".
The collective goal remains the same, with anything less than gold seen as failure within the squad.
"I want to be one of the few people that's won a gold medal," he concludes. "I want to continue the success and be a part of that elite club."
Moe Sbihi will be a columnist for 'The Independent' at this summer's Olympics
Mighty Moe: Sbihi's career
Born 27 March, 1988, Kingston upon Thames
Height 6ft 8in Weight 16st 7lb
Major medals:
Olympics
Bronze in the men's eight in 2012
World Championships
Gold, men's eight, 2013
Gold, men's coxless four, 2014
Gold, men's eight, 2015
Silver, men's eight, 2010
Silver, men's eight, 2011
European Championships
Gold, men's coxless four, 2014
Silver, men's eight, 2015
Resides in Surbiton and rows for Molesey, having joined the GB Rowing programme in 2003 at the age of 15. 
Won bronze at 2012 London Olympics and followed that with three successive World Championship crowns and a European title.
Reuse content