There is no gold more precious in these Sochi Olympics than the gold that will be awarded on their final day: that in the men's ice hockey, the blue riband event which starts today.
When America's National Hockey League let its players compete for the first time at the Winter Olympics in Nagano in 1998, hockey usurped figure skating as the marquee event. The quality of hockey was higher than anyone had ever seen in the NHL, where bad teams can succeed by playing systems that slow down the flow of play. In the Olympics, the reins come off. Skill, speed and beauty flourish. There are no higher stakes. Consequently, the tournament has become bigger than anyone dreamed. The winter equivalent of the Fifa World Cup.
However, the distinct possibility exists that these will be the last Olympics the NHL will let its players enter. Those who love the sport believe they'll never see it played at this level again.
Cue uproar. In the aftermath of the Vancouver Games, the NHL hinted it wouldn't let its players go to the Sochi Games prompting Russia's biggest star Alexander Ovechkin to publicly proclaim that he would disobey the order to ensure he could represent his country– even if it meant forfeiting his US$124m (£75m) contract with Washington Capitals of the NHL. Other Russian stars followed suit.
The league's official concern is insurance issues. Hockey Canada, for example, couldn't afford to insure the CAD$259m (£142m) collective payroll that assembled to try out for the team in August and had to hold their training camp in a gym.
Of course, what the NHL really wants is a piece of the revenue that the IOC generates off these human assets. After letting its Europeans play in Turin in 2006, its Canadians on their home ice in Vancouver, its Russians now in Sochi, there's less pressure to capitulate for South Korea in 2018.
This taps into a larger global question: who owns hockey?
The NHL wants to grow its brand internationally without yielding ownership. The Russian billionaires who have bought teams in the Kontinental Hockey League have recently shown a willingness to chew into that brand. Ilya Kovalchuk walked out on a $100m contract in New Jersey last summer to return home to play for St Petersburg. Meanwhile, the Helsinki club Jokerit recently announced plans to leave Finland's elite league for the KHL.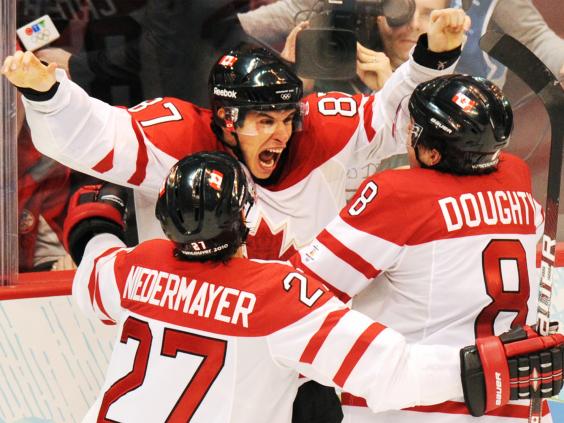 So who should you support in this tournament? Well, it's a bit like asking if you are a fan of Woody Allen's films right now. Can you enjoy a piece of art, regardless of your feelings for its creator? If so, Russia are your team. If you believe, on the other hand, that ice hockey gold would glorify Vladimir Putin's reign, then know that nothing would be more crushing than a repeat of what Canada did to the Russians in Vancouver four years ago.
Casual fans are more interested right now in teams like Sweden, which have been outspoken on human rights in Russia. While other NHLers bound for Sochi refer elliptically to everybody's right to play hockey – trumpeting lines from an official campaign the NHL recently launched in conjunction with the LGBT community – captain Henrik Zetterberg is on the record, stating, "It's unbelievable that it can be this way, especially in a country as big as Russia."
Sweden were supposed to be powered by the Sedin twins, who have played their entire careers on the same line, communicating telepathically on the ice. Previous coaches couldn't tell them apart. In fact, Daniel had never played an NHL game without Henrik – 12 straight years – until Henrik bruised some ribs last month. Daniel has been like a lost dolphin, pointless in the nine games Henrik has missed, leading into these Olympics. Sweden's odds have fallen to 5-1.
If you're betting, though, and want some value, consider Finland at 13-1. While the Finns don't have a single skater who can get into a professional team in Canada, they do have three different goaltenders capable of stealing the tournament, the most likely being Tuukka Rask, who is 18-1 to win the tournament MVP if you want an even better bet.
Jarmo Kekäläinen is one of Finland's general managers. He is also the only European ever named general manager of an NHL team, the Columbus Blue Jackets. He's thought to be the shrewdest evaluator of talent in the world. "I want guys that have the spark in their eyes when we go into overtime," he told me when I asked him about assembling a team for such a tournament. "It's not a coincidence that Sidney Crosby [the star for Canada at the last Games] scores the overtime winner in Vancouver. That's not luck. He wants the puck."
Ice hockey is both a faster and more precise game than football. In a 12-day tournament, team chemistry becomes even more pronounced. Canada have built their team with successful pieces of established NHL lines. Ryan Getzlaf and Corey Perry for the NHL leading Anaheim Ducks; Jonathan Toews and Patrick Sharp for defending champions Chicago (currently in third place); Crosby and Chris Kunitz for fourth place Pittsburgh; Jay Bouwmeester and Alex Pietrangelo, anchor the defense for second place St Louis.
The Canadians are big, fast, skilled, physically intimidating. They're well coached. They have Crosby. They have a sense of destiny. They are feared by the other teams. "They came like gorillas coming out of a cage," said Russian goaltender Ilya Bryzgalov after the last time they met, a 7-3 slaughter in the quarter-finals in Vancouver.
Canada would be the overwhelming favourites this month – except they have no goaltender. The country has reached an existential crisis about who will start in net. Adding to this is the realisation that every other country has at least one elite goalie that can stand up to wave after wave of Canadian attack in a single elimination game.
The Americans, who took Canada to sudden death overtime in the 2010 gold medal match on the strength of one such goaltender, Ryan Miller, have come a long way since trashing their Olympic Village rooms after flaming out of Nagano in 1998 with a 1-4 record. They've also come a long way since the Miracle on Ice – the last time they won gold in hockey. They're no longer considered underdogs. They've controversially rebuilt their 2010 team with a focus on "heart" over talent.
Meanwhile, many say Russia's roster is loaded with talent, but devoid of heart. Their fantasy is not just to win the tournament; it's to beat Canada in the gold medal game.
Russia have the dominant players (if not the dominant pairs like the Canadians) and are the bums-on-seats team to watch. They play wildly and brilliantly. Their star players are kooky and outwardly resentful at having to make a living in North America.
Putin has the mobile phone number of Ovechkin, who was the first athlete to touch the torch after it left the stadium in Greece last September. Ovechkin and Crosby have battled not just to be the best players on the ice, but the most valuable brands off it. Crosby has a Stanley Cup and the tournament-winning goal in the Olympics. Sochi will define Ovechkin's career.
If it's victory for Ovechkin and Russia, it will raise the profile of the Russian League and more top players may head east. The golden momentum may very well serve as more than an exclamation point on Putin's Games.
Chris Koentges lives in Vancouver. His article about the improbable rise of Finnish goaltending is in this month's Atlantic magazine. twitter.com/@cskoentges