As Elizabeth 'Lizzy' Yarnold wins Great Britain's first gold of the Sochi Games with victory in the skeleton, here is all the information you need to know about the Kent slider.
The 25-year-old was born and raised in Sevenoaks, Kent but has since moved to Bath to be closer to the skeleton track and training facilities in the Somerset city.
Having been a track athlete for 8 years, achieving regional and national medals in doing so, Yarnold switched sports after coming through the Girls4Gold talent search and found to have a natural affinity with skeleton racing. She joined the national squad in 2010 and her raw talent for the sport shone through immediately, winning just her third ever race in the European Cup series.
Two years later she won 2012 Junior World Championships and cemented her place at the top of the sport by also medalling at the 2012 World Championships, finishing with a bronze medal.
The 2013/14 season has been a superb and record breaking year for Yarnold. She won the gold medal in the FIBT World Cup series in dominating and comprehensive style.
After winning the first race in Calgary in controversial circumstance following US athlete Noelle Pikus-Pace disqualification for a technical infringement, a rivalry sparked between the two athletes that would continue all season long but Yarnold never looked back.
The 10 British gold medal winners at the Winter Olympics
The 10 British gold medal winners at the Winter Olympics
1/10 Men's curling 1924

Laurence Jackson, William Jackson, Robin Welsh, and Tom Murray won the first Winter Olympic Gold medal in curling at the inaugural Winter Olympics in Chamonix, France, in 1924.

2/10 Men's Ice Hockey 1936

Captain Earl Erhardt, became the oldest ice hockey gold medallist, aged 39. John Davey, who was Britain's top scorer with seven goals, was born in London and raised in Ontario, Canada. Other members: Alexander Archer, James Borland, Edgar Brenchley, James Chappell, John Coward, Gordon Dailley, James Foster, John Kilpatrick, Archie Stinchcombe and James Wyman.

3/10 Jeannette Altwegg (Figure skating) 1952

Jeannette won World, European, and Olympic titles within 1951 and 52 and then immediately retired at the age of 22. She went on to work for a children's orphanage in Switzerland, despite being offered the opportunity to turn professional.

4/10 Two-man bobsleigh 1964

Robin Dixon and Tony Nash won gold in the bobsleigh by 12/100ths of a second. The following year they won the world title.

5/10 John Curry (Figure skating) 1976

John finished 11th at the 1972 Olympics, but was spotted by Ed Moseler who assisted the British skater to move to Denver, where he was given tuition from Carlo Fassi, helping him to eventually win World, European and Olympic titles.

6/10 Robin Cousins (Figure skating ) 1980

Robin managed to finish 10th when John Curry won Olympic gold. He won world title medals two years later, then seizing the gold at the Olympics in 1980.

7/10 Jayne Torvill and Christopher Dean (Figure skating) 1984

Jayne and Christopher became European and world champions in 1981, defending those titles in 1982 and 1983. They won gold at the Olympics thanks to their routine to Ravel's Bolero. More than 24 million television viewers tuned in to watch their performance.

8/10 Women's Curling 2002

Rhona Martin, Debbie Knox, Fiona MacDonald, and Janice Rankin. The women's curling team won Britain's first gold medal since 1984.

9/10 Amy Williams (Skeleton) 2010

Williams didn't qualify for the 2006 Winter Olympics in Turin, but progressed to win gold in Vancouver in 2010 - the first individual gold medal winner since 1980. Amy broke the track record twice along the way and won by more than half a second.

10/10 Lizzy Yarnold (Skeleton) 2014

Lizzy Yarnold became the 10th Briton to win a Winter Olympic gold medal with success in the skeleton in Sochi

GETTY IMAGES
She went on to podium in every race throughout the season, claiming 4 gold, two silvers and a bronze. Her seven podium finishes is also a Great British record for the sport. She secured the World Cup title in last race in Konigssee.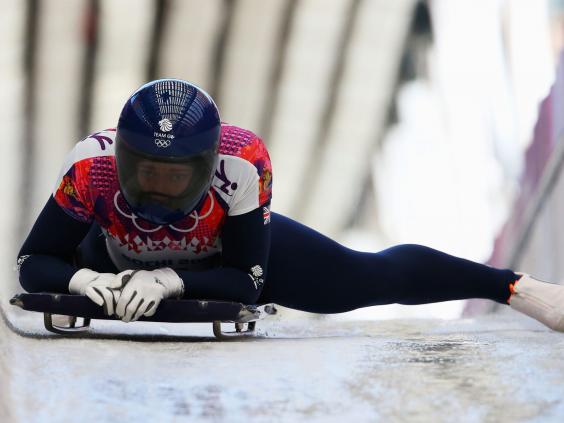 Reuse content