The kick, step and turbo acceleration are already part of the Jonathan Joseph showreel. That explosive burst of creativity for Bath at Toulouse was a repeat dose of the heat dished out at the Recreation Ground all season. On Friday Stuart Lancaster throws Joseph the keys to the Millennium Stadium for a Six Nations debut that he hopes might unlock the England midfield.
Lancaster arrives at his umpteenth centre pairing of his England reign. Like the others, this one is forced upon him as much by injury as design, but it reflects Lancaster's desire to inject pace and imagination into a three-quarter line that has lacked cohesion and conviction.
Though his last cap came in 2103, Joseph has been the outstanding 13 in the Premiership this term. He stands on its head the current vogue for the overly muscled battering ram in midfield, deploying instead the ancient qualities of stealth, swivel hips and quick feet to take him across the gain line.
Friday's test will not only be about ability but mettle as Cardiff converts itself into the most inhospitable of surroundings for the Red Rose to bloom.
Joseph earned the first of his six caps against South Africa in Johannesburg. While that brought its own intensity and physical demands, Ellis Park does not harbour quite the same anti-English sentiment maintained so enthusiastically by the Welsh.
There is also the small matter of international experience, or lack of it. Joseph and his centre partner, Luther Burrell, have only 13 caps between them. Inside them at fly-half, George Ford has six, a piffling return compared to the authority inherent in a Welsh three-quarter line of Lions boasting more than 100 caps. Jamie Roberts, Jonathan Davies and stand-off Dan Biggar have amassed 137 caps.
The scale of the task might put off lesser beings. Not Joseph. The disappointment of being left out of the England set-up after the summer tour to Argentina in 2013 hurt. He returns with a greater appreciation of the opportunity Lancaster has laid before him and is minded to take it.
"I'm really excited about it. I want to challenge myself and be the best player I can be," he said. "This is the stage I want to be playing on. There won't be many better occasions against such world-class centres, so I'm looking forward to it, and hopefully I'll put in a good performance. They are great players. They are a great side, we can't just focus on those two."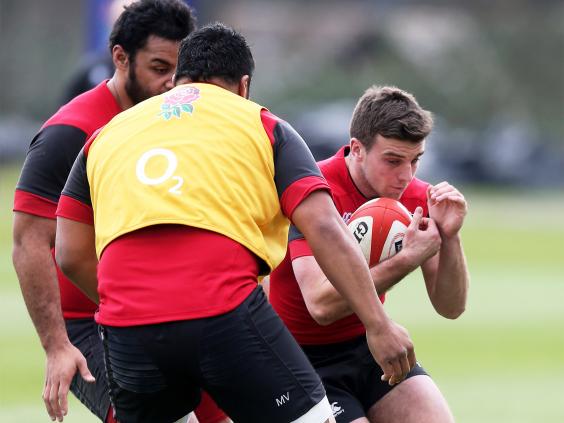 Of the wall of noise and sense of occasion trademarked by Wales in Cardiff, bring it on, says Joseph, a player who is fired rather than fried by the big occasion. "Ellis Park was my first cap, a tough environment. They are passionate fans out there, likewise in Wales. You can't get too drawn in. Obviously it's going to be a great occasion. The adrenalin will be flowing. I'll just focus on what I'm good at and how I can influence the game."
Lancaster was much persuaded by the club relationship Joseph enjoys with Ford, particularly the testimony provided by his No 10 about the constant feed of information coming from his outside centre. "I spoke to George about that," Lancaster said. "He has a lot of good information that he passes on to George. He takes the role of organiser, a second voice if you like.
"He's confident, he's got a good kicking game and he deserves his chance. He's played for us before, obviously. He was in the camp during the autumn internationals so he's up to speed with the game plan. He and Luther have trained well together and this is a big opportunity for both of them."
Joseph would be happy to play in any configuration, of course, but you sense a degree of anticipation at being paired with the contrasting and rather more direct Burrell. "We are all good players," he said. "Luther is a big guy, likes to get across the gain line. It is just a case of adapting. You don't think you need to think about it too much. Rugby is a pretty simple game, it's passing and running.
"We have to be smart and do it in the right areas. There is no reason with turnover ball if we see opportunities we can't work the ball, really attack it and take it to them. There is never a definite thing you need to do in one moment. You just have to make the right decisions. If that is to run the ball, you run it.
"They have great players but for us the focus is on what we do and making sure I'm at the top of my game on Friday night, and that the relationships with George, Luther and the outside backs are firing."
The relationship with Ford is well established and ultimately his passport into this team. They are moving through the career gears at broadly the same pace.
If England are to conjure some meaningful magic in the middle of the park, it must come in games like this. There is another big tournament looming in October. Though Lancaster insists the outcome on Friday will have no bearing on the World Cup, it might on his thinking.
In that regard Joseph is grateful to have Ford at his side. "He is one of the best fly-halves I've played with. His understanding of the game at such a young age is phenomenal. His preparation is world-class, his knowledge. It's all there. He is a real talent who will only get better, a joy to play outside of.
"Mentally he is one of the toughest guys I know. In training he is always on the money and driving standards. And it helps the fly-halves if you have another voice outside them that tells them the right options, where the space is. That has worked well for us at Bath. Hopefully we can bring that on Friday."
Red-rose route: Joseph's career so far
2010 Centre enjoys a breakthrough season with London Irish, having come through the club's youth system, playing in 13 Premiership games and scoring five tries.
June 2012 Earns England recognition by being selected for tour to South Africa, featuring in three Tests.
Dec 2012 Comes off the bench as England record famous victory over New Zealand at Twickenham.
June 2013 Features twice for Stuart Lancaster's side in triumphant tour of Argentina.
Reuse content