Andy Murray does not think Maria Sharapova or other doping offenders should be given wild cards into tournaments but understands why the Russian is being welcomed back.
The five-time grand slam champion will be unranked when she makes her return from a 15-month doping ban next month.
She has already been guaranteed wild cards into tournaments in Stuttgart - her first match will be the day her ban runs out on April 26 - Madrid and Rome.
Maria Sharapova's career defining moments
Maria Sharapova's career defining moments
1/25 19 April 2001

Makes professional debut at the age of 14

2001 Getty Images

2/25 14 January 2003

Makes Grand Slam debut at Australian Open

2003 Getty Images

3/25 3 July 2004

Wins first Grand Slam title at Wimbledon at age of 17

2004 Getty Images

4/25 22 August 2005

Ranked world No 1 for the first time

2005 AFP

5/25 March 2006

Forbes names Sharapova the highest-paid female athlete in the world

2006 Getty Images

6/25 10 September 2006

Wins the US Open by beating Justine Henin

2006 Getty Images

7/25 27 January 2008

Wins the Australian Open without dropping a set

2008 AFP

8/25 August 2008

Long-standing shoulder injury requires surgery, forcing Sharapova to miss the 2008 Olympics

2010 AFP

9/25 14 January 2010

Launches the Nike Maria Sharapova Collection after the success of the 'Little Black Dress' from the 2006 US Open.

2006 Getty Images

10/25 January 2011

Splits with coach Michael Joyce, appoints Thomas Hogstedt

2009 Getty Images

11/25 January 2012

Ends engagement to Slovenian professional basketball player Sasha Vujacic after three-year relationship

BURAK KARA

12/25 10 June 2012

Completes career Grand Slam after winning the French Open

2012 AFP

13/25 June 2012

Named the 15th highest-paid athlete in the world by Forbes

2012 Getty Images

14/25 5 August 2012

Wins Olympic silver medal at London 2012 after losing to Serena Williams in final

2012 AFP

15/25 11 January 2013

Global launch of Sugarpova sweets line alongside Jeff Rubin

2013 Getty Images

16/25 September 2013

Considers changing her name to Maria Sugarpova for the US Open but decides against it

2013 AFP

17/25 September 2013

Third shoulder injury ends her season prematurely

2013 AFP

18/25 7 June 2014

Wins second French Open title by defeating Simona Halep

2014 Getty Images

19/25 July 2015

Splits up with boyfriend and fellow tennis professional Grigor Dimitrov

2014 Getty Images

20/25 26 January 2016

Knocked out in Australian Open quarter-finals by Serena Williams and doesn't play again due to injury

2016 Getty Images

21/25 February 2016

Announces deal to make Sugarpova Premium Chocolates with Polish company Baron Chocolatier to be released in May this year

Getty Images

22/25 7 February 2016

Sharapova reveals she has failed a drug test after testing positive for the banned substance meldonium, with the ITF provisionally suspending her from 12 March.

2016 Getty Images

23/25 8 June 2016

Sharapova is given a two-year ban by the ITF for her positive drugs test.

AFP/Getty

24/25 October 2016

Sharapova's ban is reduced from two years to 15 months on appeal.

Getty

25/25 26 April 2017

After serving her ban, Sharapova made her return to professional tennis at the Porsche Grand Prix in Stuttgart, defeating Roberta Vinci.

Getty
The Russian will definitely need a wild card to play at the French Open and, unless she does very well at her comeback tournaments, is likely to face a similar situation at Wimbledon.
The All England Club will no doubt be hoping Sharapova earns her place by right, for if she does not it faces a tricky decision.
Not giving entry to a former champion would be a big call, but being seen to support a player who has served a doping suspension would also be controversial.
Tennis has come under fire for its anti-doping practices, and tournaments and governing bodies have been keen to stress their strong stance on the issue.
Murray is one of the sport's most hardline critics of doping offenders, and he told The Times: "I think you should really have to work your way back."
But the world number one has not been surprised to see Sharapova invited to play at tournaments, with the Russian one of tennis' biggest stars.
He added: "The majority of tournaments are going to do what they think is best for their event. If they think having big names there is going to sell more seats, then they're going to do that.
"She (Sharapova) has an opportunity to try to improve her ranking and potentially not need a wild card (for Wimbledon).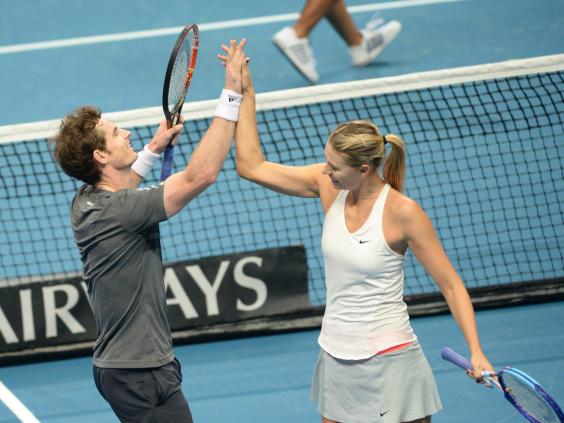 "But then if she doesn't, that becomes Wimbledon's decision and how they want to play that. I'm sure they'll think long and hard about it and how they feel people will view it and then make the right decision for them."
The Internazionali BNL d'Italia in Rome, the last big warm-up event for the French Open, became the latest tournament to announce a wild card for Sharapova on Wednesday.
Reuse content