Andy Murray and Novak Djokovic meet at the 02 Arena for the finale of the ATP World Tour Finals, with the title and the world number one ranking both at stake.
This is the first time the season has ended with the No 1 spot on the line as the two players face off for the 35th time in their professional careers.
After dethroning Djokovic as world No 1 earlier this month, the Scot is out to defend his title but faces a player who has clinched victory at the ATP Finals four years on the trot.
The two have not met since last June's French Open final, where the Serb beat Murray for the 13th time in 15 matches. 
Murray heads into Sunday's final as the in-form player of the moment, having won four titles in four different cities in the past six weeks, but given his record against Djokovic it's a tough one to predict.
Vital information…
Time and location: The match is scheduled to start at 6pm GMT at London's O2 Arena.
TV: The final will be broadcast on BBC Two from 6pm and Sky Sports Three from 5.45pm. Alternatively, follow our live coverage here.
The road to the final…
The tournament features the top eight men's singles players who are split into two separate groups based on rankings.
After winning all three of his matches in Group John McEnroe, Murray progressed to the semi-final where he claimed victory over Milos Raonic in a thrilling 3hr 38min showdown.
On the other side of the tournament, Novak Djokovic similarly came through all three of his group matches before thrashing Kei Nishikori 6-1 6-1 in 66 minutes in the second semi-final last night.
What they had to say ahead of Sunday's match…
Andy Murray: "I'll try and probably sleep as late as possible," Murray said after his draining match with Raonic.
"Since the match I did ice bath, stretched, had a massage from my physio. I'll do a little bit more stuff, I would think, when I get back to the hotel.
"I fought hard. It would have been easy when I was behind to have gone away a little bit, but I didn't. Even after serving for the match twice, having a bunch of match points in the tiebreak, I still stayed tough, chased balls down. It was enough to get me the win."
Novak Djokovic: "This has never happened in the history of tennis," Djokovic said of the winner-takes-all match on Sunday. "I'm privileged to be part of the history. This is one of the biggest matches we will ever play against each other."
"My level had been going in the right direction. I'm very glad I get to experience this feeling on the court. Now it's coming up to the last match of the year, the match everybody anticipated."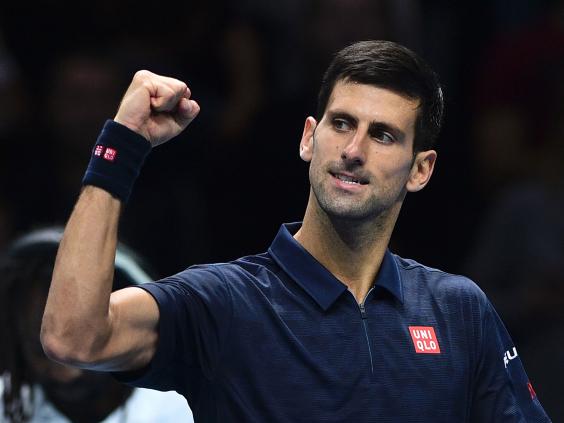 Past winners…
2010 - Roger Federer
2011 - Roger Federer
2012 - Novak Djokovic
2013 - Novak Djokovic
2014 - Novak Djokovic
2015 - Novak Djokovic
Last five encounters…
Roland Garros: Djokovic (Result: 3-6, 6-1, 6-2, 6-4), June 2016
ATP World Tour Masters 1000 Rome: Murray (Result: 6-3, 6-3), May 2016
ATP World Tour Masters 1000 Madrid: Djokovic (Result: 6-2, 3-6, 6-3), May 2016
Australian Open: Dkokovic (Result: 6-1, 7-5, 7-6), January 2016
ATP World Tour Master 1000 Paris: Djokovic (Result: 6-2, 6-4), November 2015
Odds…
Andy Murray: 7/4
Novak Djokovic: 4/9
Reuse content