Novak Djokovic wants to clear the air with Andy Murray following their controversial Australian Open final here on Sunday.
Djokovic said on his return to Melbourne Park yesterday that he had a "good and very fair relationship" with Murray, which he hoped would not be spoilt by the Scot's unhappiness over the manner of his four-set defeat.
Djokovic appeared to be in physical difficulty at the start of both the second and third sets of the final as he stumbled and struggled to chase down shots. On both occasions Murray took an early lead, only for the world No 1 to rediscover his strength almost instantly. Murray, who admitted that he had allowed himself to be distracted by his opponent's physical issues, said he had been surprised by the speed of Djokovic's recovery.
Asked yesterday whether he feared that the incident might affect his relationship with Murray, Djokovic said: "From my perspective, no. How he feels about it, it's obviously still very fresh to talk about that. He's definitely disappointed about losing that match. It's normal that some time has to pass. We'll see.
"If there is a chance, if he's willing to talk, I'll talk, no problem. I have nothing to hide. I'm not the sort of guy who is pretending, who is trying to do something behind anyone's back or is saying bad things about anybody, especially about someone I have known for a long time. I have respect for him.
"I don't want to point a finger at him or the media or whoever might be trying to cause some kind of unnecessary tension. Hopefully, things will be right in the future."
Murray and Djokovic have known each other since they first met at an under-12s tournament in France, though the Serb admitted their relationship had changed in recent times. "Not in a bad way," he said. "It's just because we have been rivals for the last couple of years, he has his own team, I have my team, so we don't get to be together as we would maybe like to, on and off the court. But when he gets married and maybe has a kid we will spend more time. We'll have an excuse. Things will, hopefully, be different in the future.
"I do look at him, Rafa [Nadal] and Roger [Federer] as my friends, honestly, because I see them so much, more than my parents and sometimes more than my wife. There is this special relationship that has been created with the number of years that we spend on the tour together.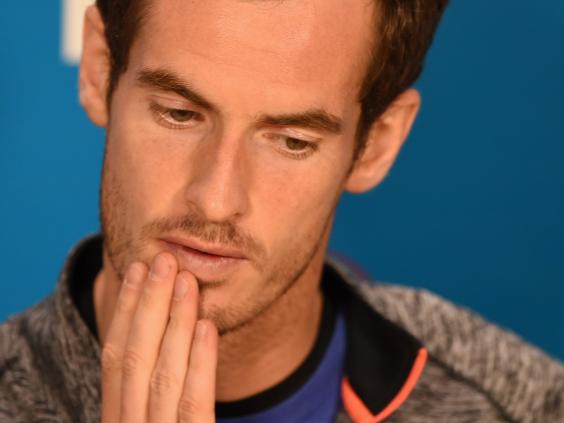 "Yes, we are rivals and, of course, you can't really sit down and have dinners and chat about some intimate things because tomorrow you're going to be on the court fighting for the biggest trophies. So at this point of our careers maybe that intimate and close relationship is not possible yet. But we're all humans at the end of the day and I think we should consider that human side as a priority before sport."
Djokovic admitted that he had already started to think about the French Open, where he will attempt again to claim the only Grand Slam trophy that has so far eluded him. "I wasn't too far from winning the title a couple of times in finals there," he said. "I lost to Rafa in both finals.
"It's the Grand Slam which is played on the slowest surface, which is physically the most demanding one. That is something that makes it more difficult. In terms of winning against Nadal, he has lost only one match in his entire career at the French Open.
"This is probably the most impressive record in tennis history of all time in any tournament, especially in Grand Slams. He is definitely the ultimate player to win against in any clay-court tournament, but especially in Paris on that Centre Court."
Australian Open men's final - in pictures
Australian Open men's final - in pictures
1/12 Australian Open men's final

Murray's girlfriend Kim Sears wore this top in response to being caught swearing in his semi-final win over Tomas Berdych

Getty Images

2/12 Australian Open men's final

A member of security (bottom) prepares to pull down a banner displayed by protesters (wearing white shirts) in the stands. Two women were later arrested

GETTY IMAGES

3/12 Australian Open men's final

Murray's coach Amelie Mauresmo looks on in shock as the Briton falters in the fifth set, going down 6-0

GETTY IMAGES

4/12 Australian Open men's final

Djokovic celebrates Championship point

5/12 Australian Open men's final

A distraught Murray takes a seat after his match

6/12 Australian Open men's final

Djokovic holds his trophy next to runner-up Murray

GETTY IMAGES

7/12 Australian Open men's final

Murray looks on as Djokovic is presented with the title

8/12 Australian Open men's final

Djokovic poses with his trophy - winning the Australian Open title for the fifth time

9/12 Australian Open men's final

Djokovic's coach Boris Becker applauds from the stands

10/12 Australian Open men's final

A downbeat Murray talks to the press

11/12 Australian Open men's final

Djokovic raises a celebratory toast in his press conference

12/12 Australian Open men's final

Djokovic is all smiles in the locker room
Djokovic and Murray are due to meet next at the Dubai Championships, which begin in three weeks' time. The Scot has entered next week's Rotterdam tournament as well, but will reassess his immediate plans after a few days at home.
"I deserve a rest," Murray said. "I've only spent a couple of days at home in the last couple of months and I worked tirelessly in Miami in December. When I got here I spent a lot of time in the gym and in Perth at the Hopman Cup to make sure my body is in the best shape it could be.
"I'm looking forward to getting back and spending a bit of time at home with my friends and family and my dogs, and being away from the tennis court and the gym for a few days when I get back. It's been a busy few months with quite a lot of travel. The Slams take a lot out of you physically and mentally."
Meanwhile Britain's Kyle Edmund rose to a career-high No 148 in the world rankings yesterday. The 20-year-old from Yorkshire won the Hong Kong Challenger tournament at the weekend without losing a set in the five matches that he played.
Reuse content